Here's Where You Know The Song In The Michelob Ultra Super Bowl Commercial
Michelob Ultra's commercial for Super Bowl LV is one of those ones that seems to be trying to send a message. Specifically, the question they are asking is, "What if joy is the whole game, not just the end game? So ask yourself, 'Are you happy because you win, or do you win because you're happy?'"
Chances are, all of the super-famous, incredibly successful athletes featured in this commercial — including Serena Williams, Peyton Manning, Anthony Davis, Jimmy Butler, Brooks Koepka, and Alex Morgan — don't actually have to ask themselves this question too often, since for them it's more of a chicken-or-egg thing: they've had tons of success, they appear to be incredibly happy, it's all good. Plus, drink Michelob Ultra! (Whether any of them does actually prefer this beverage off-camera is beyond the scope of our investigation.)
What underscores this 30-second spot, however, is a hauntingly familiar, yet perhaps just of-so-slightly elusive bass line... where have we heard it before? iSpot supplies the answer: The commercial's soundtrack is "Can I Kick It?" by A Tribe Called Quest. If you're still thinking "wait, what, no, that's not it..," you're not entirely wrong, since the part that's played during the commercial was actually sampled from another song entirely.
The Tribe were walking on the wild (and not entirely legal) side by using that sample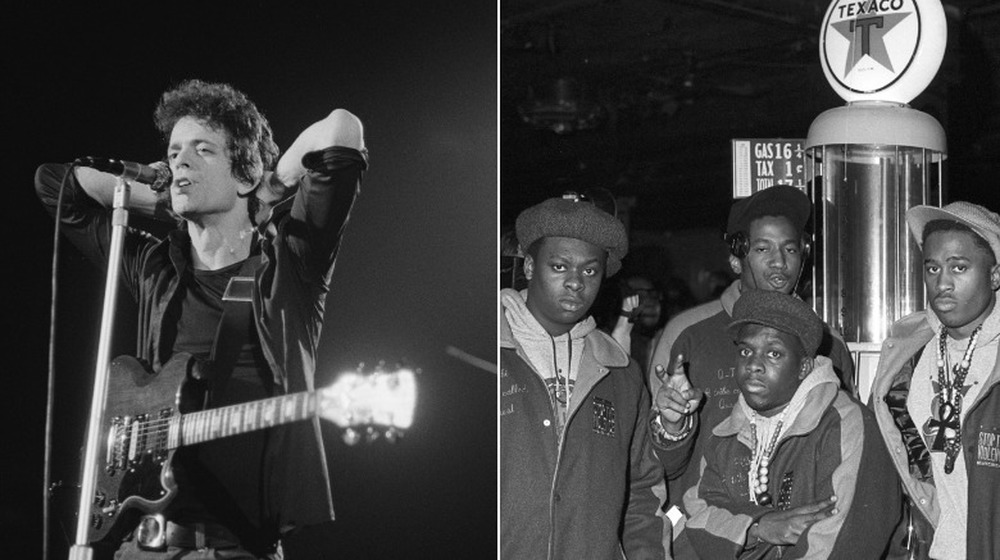 Michael Putland, Al Pereira/Getty Images
When A Tribe Called Quest came out with their 1990 single "Can I Kick It?", the third one released from their album People's Instinctive Travels and the Paths of Rhythm, they used a generous sample from "Walk on the Wild Side." This 1972 solo hit from former Velvet Underground frontman Lou Reed prominently featured that same bass line, played by session player Herbie Flowers (via WRRL FM), that is heard in Michelob's Super Bowl spot.
Reed was initially not credited with the part he played in creating the hit that may well have "kicked in the door" for the Tribe, as Phife Dawg later told Rolling Stone, but once Reed found out about his inadvertent contribution, he made sure to get his props (and his Benjamins). It seems the record label had never cleared the use of this sample, but when Reed learned of its use, he took a pragmatic approach. Instead of telling the group they couldn't use it or even suing them for damages, he negotiated a settlement very much to his advantage.
As Phife reported it, Reed said, "Y'all can use it, but I get all the money from that," adding (in his own voice) "to this day, we haven't seen a dime from that song." Well, Reed passed away in 2013, Phife in 2016, so we don't know who's making bank off that Michelob commercial. If its music sticks in your head all day after watching it, though, at least you now know what to call it.