Here Are The Athletes That Starred In The Oikos Ugly Face Commercial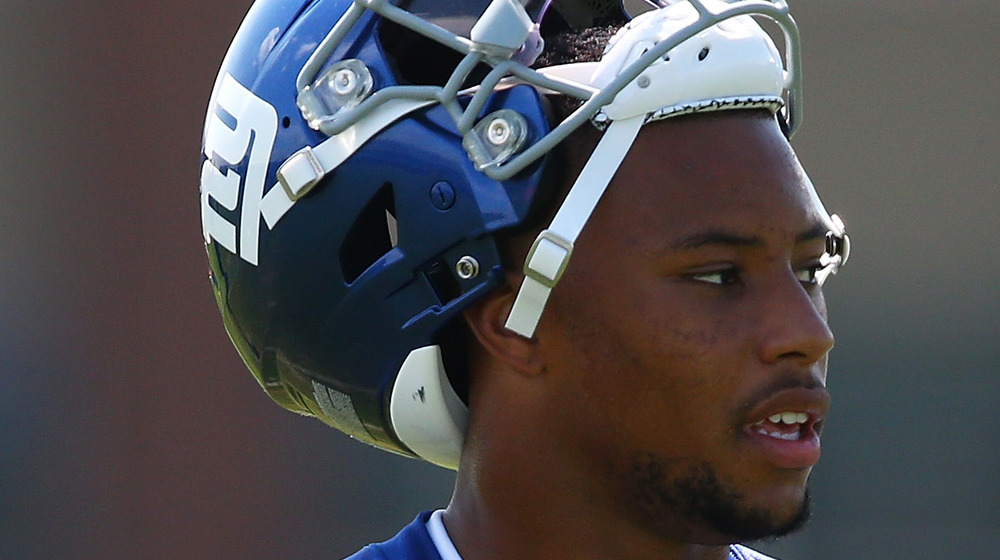 Mike Stobe/Getty Images
Yogurt brand Oikos is back with another internet-shattering Super Bowl ad for 2021. After enjoying success with its 2020 Super Bowl ad "YoGlutes," Oikos is planning to keep the energy going this year.
Surbhi Martin, the brand's Vice President of Marketing, told Ad Age that the digital-only 2020 ad led to a 7-point sales lift for the company. "We were pretty astounded by the results. It exceeded all of our expectations."
The theme this year? "Ugly Face," aka the funny and sometimes bizarre faces that athletes make while they're working out and training. In addition to SpongeBob SquarePants, the ad will also star some pretty famous faces. According to Ad Age, NLF players Jalen Hurts, JuJu Smith-Schuster, Darius Polk, and A.J. Brown will be featured in the ad, as will NFL star and Oikos spokesperson Saquon Barkley, who was in last year's ad as well. New York-based fitness trainers Angela Gargano and Nina Saunders are also part of the commercial.
The athletes behind the 'ugly faces'
Each of the athletes in the upcoming "Ugly Face" commercial are already fairly well known. Saquon Barkley is most known as the running back for the New York Giants, though he's been out this season with a nasty ACL tear that happened last year. He recently spoke on the AP Pro Football Podcast about his injury.
"I'm doing really well in rehab, Barkley said. "Very lucky to have a great team around me, great trainers, great doctors. Everyone has been very beneficial to me and very helpful to me. So whenever the opportunity I'm able to get back on the football field with my team, I'm definitely going to cherish that moment, and I just honestly can't wait for that day to happen soon."
Jalen Hurts is the quarterback of the Philadelphia Eagles, A.J. Brown is a wide receiver for the Tennessee Titans, Darius Polk plays for the Indianapolis Colts, and Ju-Ju Smith-Schuster is currently a free agent who most recently played wide receiver for the Pittsburgh Steelers. Smith-Schuster recently told ESPN's Bart & Hahn show that he'd love to keep playing any position for the team. "Honestly, [I'd be happy] wherever they play me," he said. (via Steelers Depot).
The ad is about more than athletes making funny faces, though. The inclusion of trainers Angela Gargano and Nina Saunders is likely a nod to those in the fitness industry — who have had a tough year. "[The ad] demonstrates our support of the fitness community and those pros who dedicate their time and energy to keeping us strong," said Oikos' Martin (via PRNewswire). "Fitness professionals are one of the many groups in need of our support right now and we wanted to ensure they get the helping hand they deserve."