What You Didn't Know About Jennifer Garner And Jessica Biel's Relationship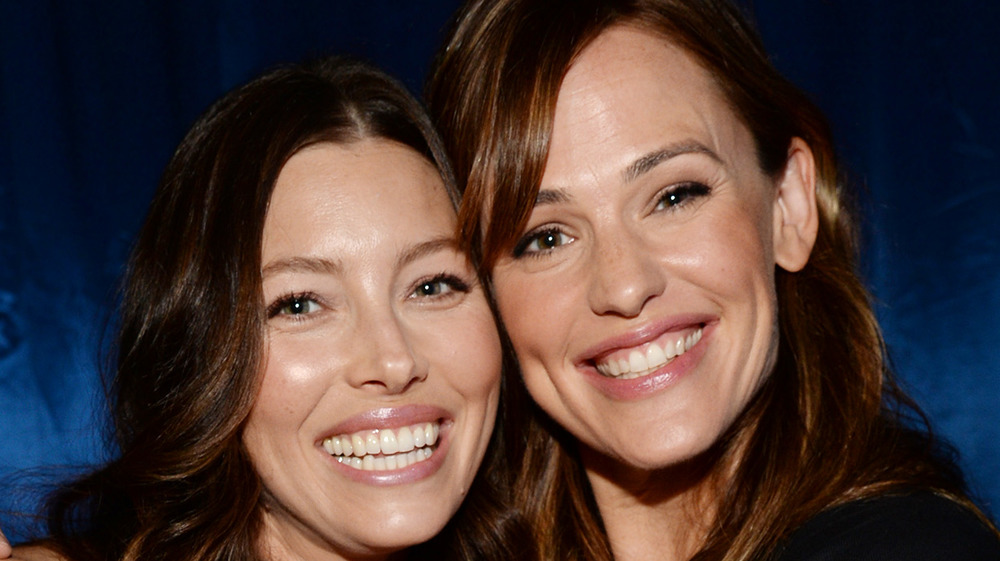 Handout/Getty Images
When filming on set for months at a time, it's not surprising that some actors develop lasting friendships. That was certainly the case for Jennifer Garner and Jessica Biel, who co-starred in the 2010 rom-com hit Valentine's Day. The difference with that film, however, was that the majority of the cast didn't actually meet with each other until the premiere due to the nature of its storyline. Luckily for Garner and Biel, the two actors did share some scenes meaning they had plenty of time to hang out and become BFFs.
For Biel, it seemed that she could immediately tell that she and Garner would get along. "It's like, you're beautiful, you're cool, and look and seem like somebody I would want to hang out with," she said about the actor (via ABC News). Garner had similar sentiments for her co-star, telling Vogue that Biel is "incredibly girly and warm and open. All of the things she seems to buck against when she's looking at roles." 
The actor goes on to explain their first scene together in Valentine's Day, where their characters were drunk. "She did it in such a subtle, real, kind of pathetic but very, very deeply funny way. I was, take one, totally impressed." 
Valentine's Day co-star Jamie Foxx compared the BFFs to these sitcom icons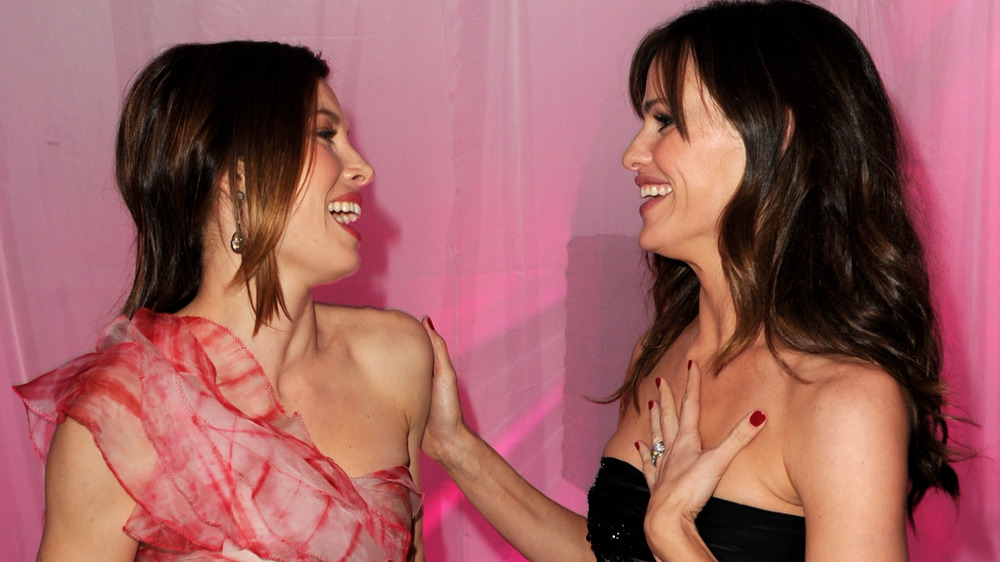 Kevin Winter/Getty Images
It seems one of their co-stars from Valentine's Day, Jamie Foxx, certainly noticed the blossoming friendship between Jennifer Garner and Jessica Biel. After gushing over their friendship during a Good Morning America interview (via YouTube), host Robin Roberts harkened back to a recent interview with Foxx where he told her to "watch out" because he thinks Garner and Biel are the new Laverne & Shirley. "She's clearly Shirley," Garner said pointing at Biel. Throughout the interview, Roberts couldn't get over how close the two were. "Everyone makes such a big deal out [of us being friends]," Garner said. "Women don't get to work together very often." Biel agreed and noted it was a joy "and a dream come true" to work opposite her co-star.
"I look to you, Jennifer, and I am a bit in awe," Biel said in a joint interview with Marie Claire, admiring how Garner balances her work and family life. "I feel like my seconds are full all day long, and then I look at your life, and I wonder how you do it."
While Garner and Biel haven't acted together since Valentine's Day, hopefully (sooner rather than later) a project will come their way that fits their friendship perfectly. A Laverne & Shirley reboot perhaps.