Here's Why Donald Trump Has 'I Quit' Trending On Twitter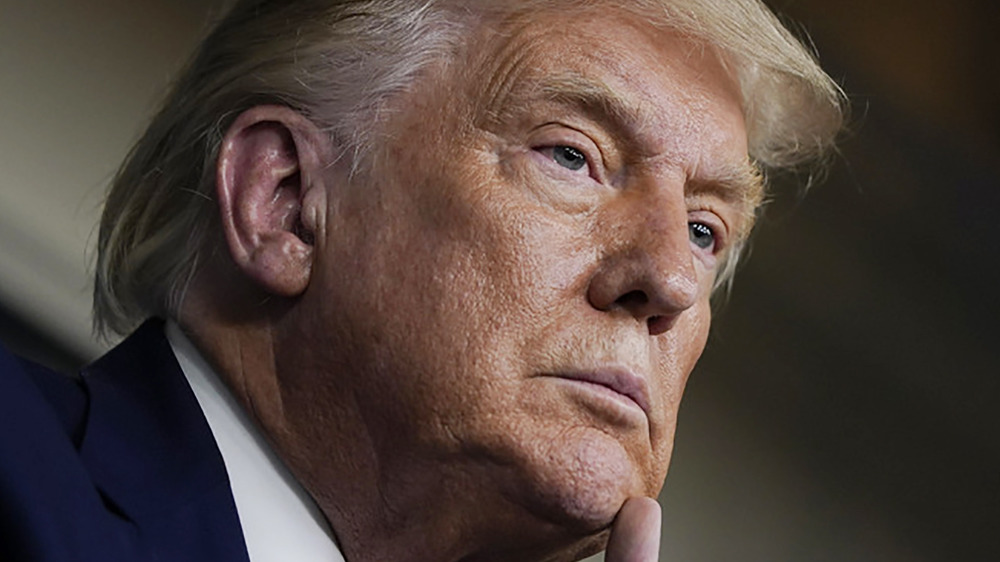 Drew Angerer/Getty Images
Former President Donald Trump is trending on Twitter, but the reason why may surprise you. Trump has resigned from the Screen Actors Guild (SAG-AFTRA), which he has been a part of for 30 years, after coming under fire for his apparent role in the Jan. 6 attack on the U.S. Capitol (via Deadline). Before he turned in his resignation, SAG-AFTRA national board voted on Jan. 19 to reconsider Trump's membership to the union, and was preparing to bring it up to their disciplinary committee for a final vote.
The SAG-AFTRA originally posted a press release expressing their concerns about his membership on their website. The guild cited a "probable cause of a violation" by Trump, with spreading misinformation and endangering journalists listed as some of the reasons. "Donald Trump attacked the values that this union holds most sacred — democracy, truth, respect for our fellow Americans of all races and faiths, and the sanctity of the free press. There's a straight line from his wanton disregard for the truth to the attacks on journalists perpetrated by his followers," SAG-AFTRA's president Gabrielle Carteris wrote in the statement.
Trump resigned before his case could be presented to the disciplinary committee. What he wrote in his resignation letter raised eyebrows, and made "I QUIT" start trending on Twitter.
Donald Trump did not hold back in his resignation letter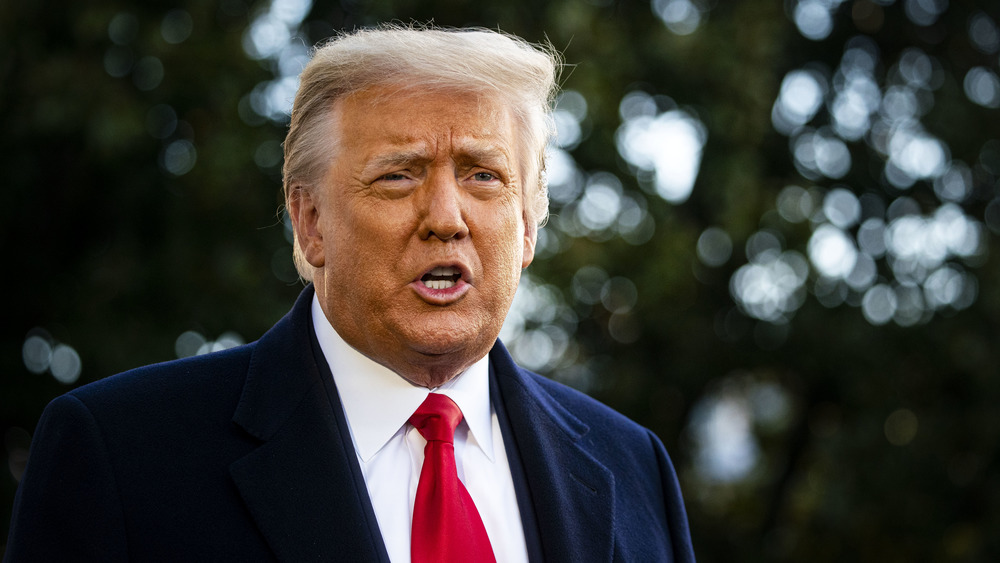 Bloomberg/Getty Images
The SAG-AFTRA posted Donald Trump's resignation letter on their website, according to CNN. Trump, who hosted the reality-TV competition show The Apprentice before becoming president, opened his response by criticizing both the union and its president Carteris, before listing his contributions to the entertainment industry (via IMDb). "While I'm not familiar with your work, I'm very proud of my work on movies such as Home Alone 2, Zoolander and Wall Street: Money Never Sleeps; and television shows including The Fresh Prince of Bel-Air, Saturday Night Live, and of course, one of the most successful shows in television history, The Apprentice — to name just a few," Trump's letter read.
Trump ended his letter by sharing more of his frustrations with the union. "Your organization has done little for its members, and nothing for me — besides collecting dues and promoting dangerous un-American policies and ideas — as evident by your massive unemployment rates and lawsuits from celebrated actors who even recorded a video asking, "Why isn't the union fighting for me?'" he added. 
Trump's resignation letter was met with a negative response on Twitter, with many users pointing out the use of the presidential seal on his letter and his sign-off as "President."