The Truth About Buddy And Chase's Relationship On My Big Fat Fabulous Life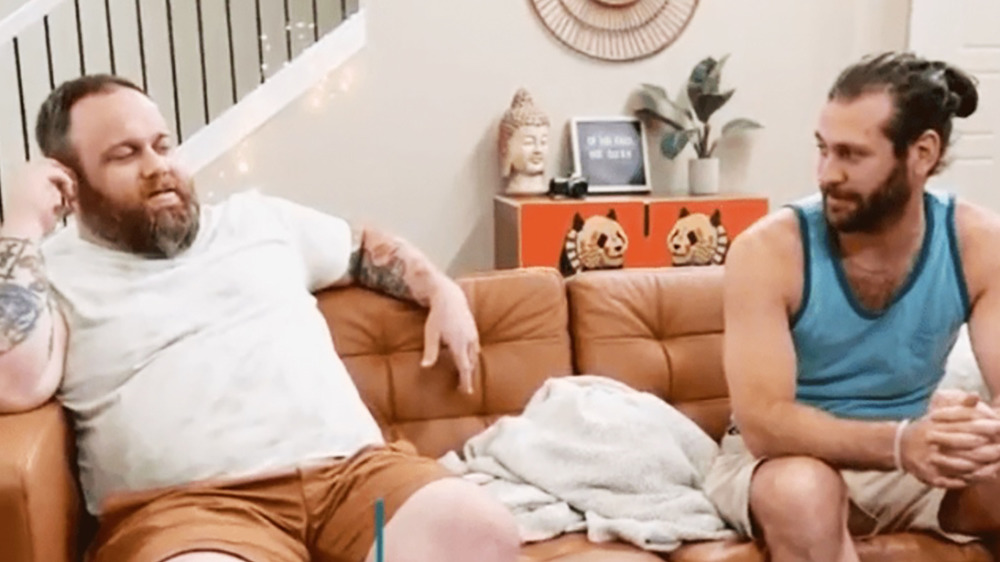 TLC
Whitney Way Thore has been on a quest to encourage self-love and end body shaming since her run on TLC's My Big Fat Fabulous Life, which premiered in 2015. While there is no doubt we need way more of that positivity in our lives today, the once slender dancer's body changed drastically due to polycystic ovary syndrome, per ScreenRant. In its eighth season, the hit series follows Whitney and her best friends around Greensboro, North Carolina, while they navigate their inner circle drama.
As fans may recall, Thore found herself engaged in Season 7 to Chase Severino, but the happily ever after never came according to his Instagram. As the text in the May 2020 post suggests, the two separated after Severino got another woman pregnant. 
Since the announcement, Thore's best friend and biggest supporter Luby Francis "Buddy" Bell III has been there to pick up the pieces. Bell, who is a recovering addict, never particularly liked Severino, and the two often butted heads on camera. In fact, Severino made it clear to his ex-fiancé that he did not trust her best friend and found an issue with the two spending so much time together.
Is Buddy Bell overprotective?
Chase Severino made it very clear — almost since the couple's first date — that he did not approve of Whitney Way Thore's close friendship with Buddy Bell (via The World News Daily). Both Bell and Thore had pet names for one another and would often be found on the couch or in her bed cuddling. The straw that broke the camel's back for Severino was when he visited Thore at her home right before the coronavirus pandemic hit Charlotte, North Carolina, and found Bell sitting in his boxer shorts. Even though it was a surprise to Severino, most viewers did not think it was fair for him to place limitations on Bell and Thore's friendship as it often caused unnecessary tensions.
Along with his dislike for Severino, Bell was also not a fan of Severino's best friend and fraternity brother Ryan Andreas, who was also Thore's business partner. TV Show Ace first reported that Andreas stood by Thore in the breakup, fans learned that the two ended their partnership and have gone their separate ways due to differences in how to proceed during a worldwide pandemic. It looks like Bell is two for two when it comes to calling out another lousy friendship.
Buddy and Whitney are besties for life
TLC fans are celebrating Buddy Bell as the unsung hero of Season 8, as he immediately knew all along Chase Severino was a bad idea. Even though he got a bad vibe from Severino, Bell (for the most part) stood by Whitney Way Thore's side. According to Cheat Sheet, when the first quarantine hit North Carolina, Bell was at her side, even picking her up from the hospital after having a panic attack caused by severe depression. Many viewers were worried Thore's romantic relationship with Severino came between her friendship with Bell per Soap Dirt. 
For a very long time, the two were inseparable; Bell has been Thore's rock. Thore has also been the friend he could turn to in times of need, especially when he struggled with his addiction. Although fans in the internet speculated that the two belonged together, a romantic connection never blossomed between the besties. 
Even though Thore claimed the two never had sex — with a whole episode being dedicated to Bell's denial of the suspected incident — the relationship is platonic. A fair amount of fans found their friendship and Bell's overprotectiveness toxic. Whatever is going on, the pair make each other happy.