The Long-Lost Robin Williams Movie People Are Loving On Netflix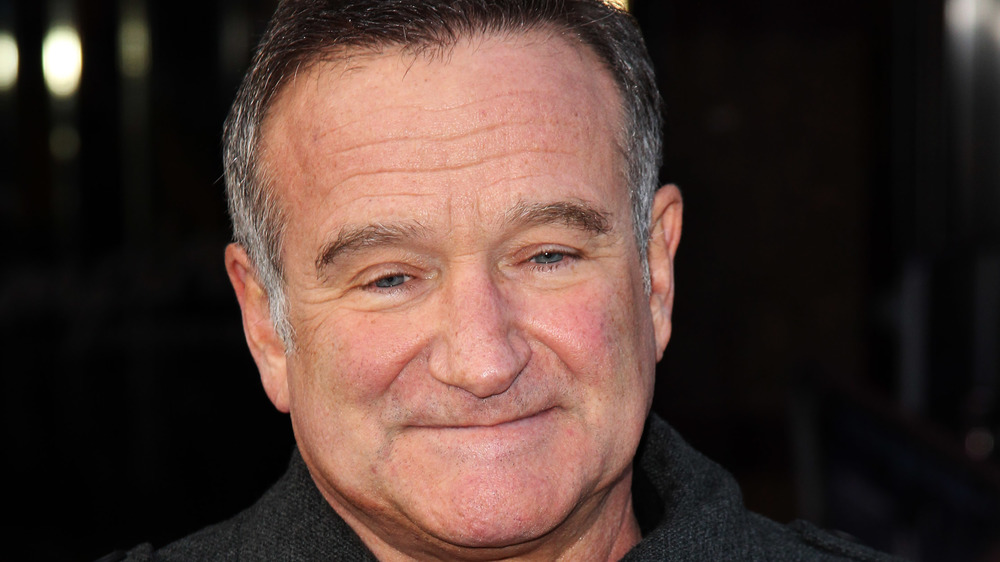 Dave Hogan/Getty Images
One movie that has been showing up in the "Popular on Netflix" cue in many people's feeds lately is a live-action film from 1991 called Hook. The movie, directed by Steven Spielberg and starring the late Robin Williams (via IMDb), is one younger people may have never heard of before — and older generations may have forgotten about. But as they say, everything old is new again — and Hook is back. 
It's a swashbuckling fantasy film with an all-star cast that follows an adult Peter Pan, played by Robin Williams, who gave up his childhood in Neverland to become a career-driven husband and father — only to get pulled back to the land of the Lost Boys when his own children are kidnapped by his nemesis Captain Hook, played by Dustin Hoffman (via IMDb). Peter Pan has help returning to Neverland from Tinkerbell, played by Julia Roberts.
According to Netflix, Hook landed on the streaming service January 15, and viewers have either discovered or rediscovered the unique take on the timeless classic in recent days.
Hook wasn't a critical success when it opened
Hook earned five Academy Award nominations, but did modestly at the box office and had mixed reviews upon opening (via Screen Rant). Variety called the movie "messy and undisciplined." Spielberg himself later reflected that he was disappointed in much of the final product. He told Entertainment Weekly, "I'm really proud of my work right up through Peter being hauled off in the parachute out the window, heading for Neverland. I'm a little less proud of the Neverland sequences, because I'm uncomfortable with that highly stylized world that today, of course, I would probably have done with live-action character work inside a completely digital set."
Fans reacted much more positively to the movie, and it has since gained a cult following. When it dropped on Netflix in January, viewers took to social media to share their reactions. One person tweeted, "Just re-watched recently and I was instantly transported to the memory banks of seeing it in theaters and all the joy and sorrow and laughter that the movie puts me through. Love it forever."
Another wrote, "No movie since has ever held such a genuinely engrossing magical quality like the movie Hook had."