How Joe Biden Really Feels About Trump Receiving Intelligence Briefings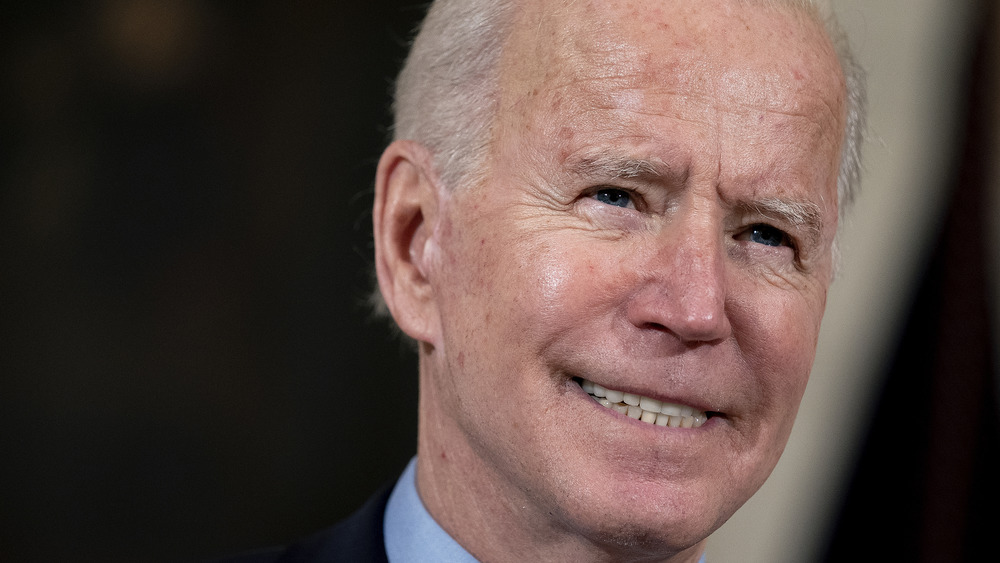 Pool/Getty Images
Even though Donald Trump is no longer in office, he can still receive intelligence briefings. However, President Joe Biden believes that's not a good idea. According to The Daily Mail, Biden believes that Trump's "erratic behavior unrelated to the insurrection" is the reason the former president should be left out. Instead of going into detail about what would happen if Trump had access to the top-secret information, Biden said, "I just think that there is no need for him to have the intelligence briefings," according to CBS News. 
Biden believes that there is nothing that Trump could do with the information except accidentally "slip and say something." Twitter would have been the platform for Trump to slip up and reveal something he shouldn't, but the former president was banned from the social media platform in January. Since then, he has found a new home on Gab, according to The Independent. The self-proclaimed "free speech social network" is where a bunch of conservatives flocked to after the Twitter ban and subsequently after another conservative-run site, Parler, was shut down. 
Donald Trump's Senate impeachment trial nears
Bloomberg/Getty Images
The Senate impeachment trial for Donald Trump will begin Feb. 9, 2021. This is where the Senate will decide if the former president helped to incite the insurrection at the U.S. Capitol on Jan. 6. According to AP News, it's very likely that Trump will be acquitted, which would mean he could run again for the presidency in 2024. When asked about the impeachment trial, Biden said that he fought hard in his campaign to defeat Trump, because he "thought he was unfit to be president," but he wouldn't say more and instead is letting the "Senate make that decision" (via CNN). 
This the second time Trump is facing an impeachment trial. The first time was around this time in 2020. The first time, Trump was under trial for obstruction of Congress and working with the Ukraine (via The New York Times). Throughout Trump's presidency, there were also allegations that he had been working with the Russian government, especially in the 2016 election (via CNN). Whether any of it is true or not, it makes sense that Biden would want to withhold any intelligence briefings, just in case.