Who Played Vince Lombardi In The Super Bowl Preshow?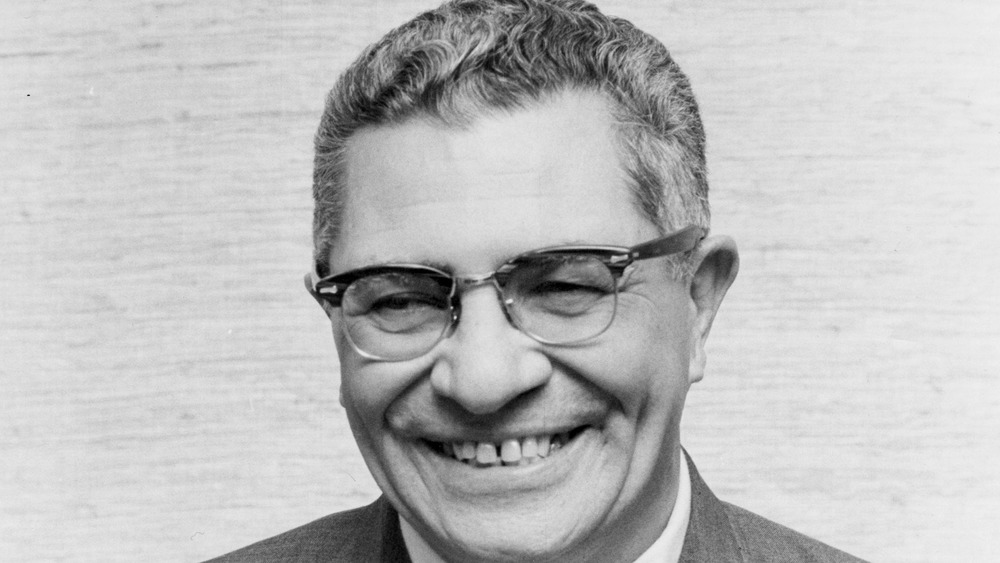 Paul Fine/Getty Images
Super Bowl LV is here. Some are watching for the action on the field while others are watching for the commercials. And if you tuned before the coin toss, you may have seen a football legend brought back to life. Legendary NFL coach Vince Lombardi died more than 50 years ago, but he was brought to the screen with the help of a special effects team working with footage of Lombardi and an actor named Russ Hutchison.
Hutchison lives in Topeka, Kansas, where's he's also a realtor (via WANE). While Lombardi was a long-time coach for the Green Bay Packers, Hutchison is a Kansas City Chiefs fan, and he told his local news station, "The only reason I put my name in the hat, and that's the God's honest truth, was because Lombardi had a gap in his teeth."
On Facebook, Hutchison posted some behind-the-scenes pics from the commercial and wrote, "Thank you all and to Vincent Thomas Lombardi ... What It Takes To Be Number One was the speech/monologue I memorized and recited during a Zoom interview to lock in the role. That speech ... not the same words as the commercial ... but Damn! Read it if you have a few minutes. Old school rules. (via The Kansas City Star).
Russ Hutchison researched Vince Lombardi to play the role
He went on to say, "And in my research of 'The Coach' I found that what he really wanted to say later in life is, you don't have to be perfect. NO ONE IS PERFECT. But as we strive toward perfection, we hope to reach Excellence. Thank you all so very much for your well wishes and support. And, I will never have one single fan. I will have many, many, many friends! Namaste my friends."
The idea for the commercial, called "As One," all came about with a question: "If Vince Lombardi were to come back, what would he have to say to us?" explained NFL executive vice president and chief marketing officer Tim Ellis (USA Today). To write the script, Ellis explained, it was "an amalgamation of his speeches that are essentially re-articulated for today. And I think what comes through is a very strong, positive, human, compassionate, inspiring message for all of us." The NFL worked with the Lombardi family, who, according to Ellis, "[...] were very excited, because they felt like this was a realistic human portrayal of their father, and it found a way to express the best things about their father."