This Is The Swimmer From Toyota's Heartwarming Commercial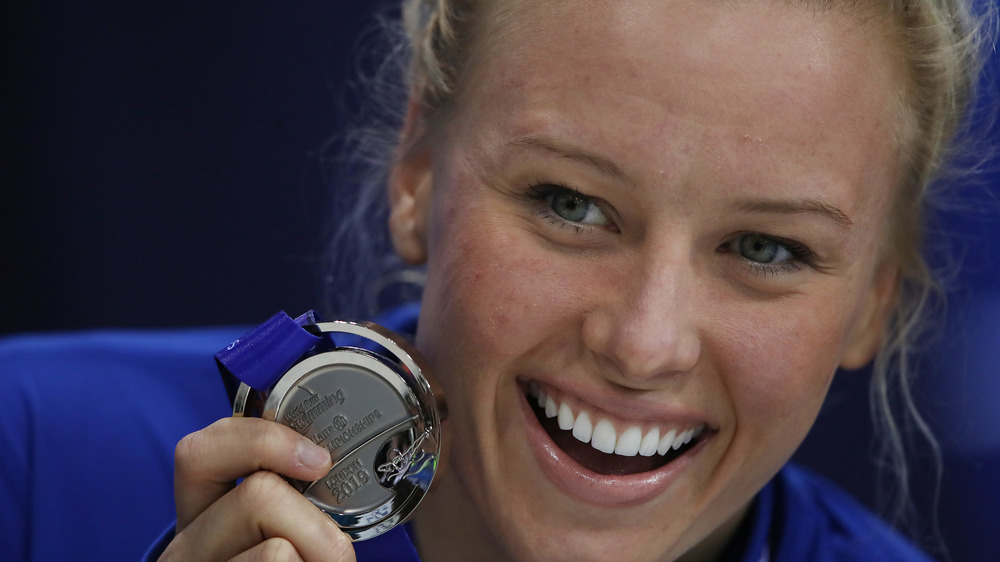 Ian Macnicol/Getty Images
What do actor Matthew McConaughey and Paralympic swimmer Jessica Long have in common? They were both in Super Bowl LV commercials, but while McConaughey's went for humor, Long's moved people to tears.
The 60-second ad for Toyota, titled "Upstream," tells the story of Long's life from being born without much of her legs from the knee down, getting adopted from a Russian orphanage, and growing up to become a 23-time Paralympic medalist, with 13 of those as gold medals (via Swimming World), and it ends with the line: "We believe there is hope and strength in all of us."  
Long was born with fibular hemimelia, which meant she was missing fibulas, ankles, most of the bones in her feet. She was adopted at 13 months old; then at 18 months, she had her legs amputated from below the knees (via NBC Sports). She started swimming competitively at age 10 and just two years later, Long was competing in Athens at the 2004 Paralympic Games where she earned three gold medals.
Jessica Long started swimming in her grandparent's pool
Paralympian Jessica Long got her start swimming in a backyard pool. Long told The Washington Post, "Ever since I can remember, I swam in my grandparents' pool. Every Sunday after church, we'd go over there for brunch and I' d eat as fast as I could to be the first one in the pool. I'd swim in that pool for hours, until my eyes were bloodshot. I loved it. There's something about it to me, the feeling of the water, and feeling, I don't know, equal, and like everyone else."
Long shared the commercial in a long Instagram post this past week. She wrote, in part, "This process has reminded me that my parents wanted me truly and completely, and loved me even before my success. I feel such grace towards them for what they went through when they adopted me. [...] Here you get to see little Jess for the first time, hands on her hips and joining her first swim team. The scene when little Jess swims under me and I swim over her — that's who I'm still swimming for — that little girl in the locker room who never gave up."
A longer version of the story of her life is captured in the documentary Long Way Home: The Jessica Long Story, streaming on Peacock, which shows her meeting her Russian birth family for the first time.