Is The Jason Alexander Hoodie From Tide's Commercial For Sale?
How do you get the lead role in a Super Bowl commercial by appearing for a few seconds at the end of a one-minute spot? By being the literal face of a much-loved, really abused hoodie, of course. Which is exactly what happened to Jason Alexander when he starred in Super Bowl LV's Tide spot.
We didn't realize Jason Alexander could take so much abuse. And by abuse we mean getting drooled on, sat on, stepped on, and had food scraps dropped on to the theme song of the 1980s hit series The Greatest American Hero. A fun fact: As People pointed out, "Believe It or Not" is notable for Alexander and Seinfeld fans as it was the song parodied on George Costanza's answering machine in the season 8 episode "The Susie" (via YouTube).
Alexander tells People that filming the commercial wasn't easy: "I think I've used every facial muscle I have to create those expressions. I think there are maybe a dozen expressions in the finished commercial, but I can tell you that there were close to 1,500 photographs taken in that one day."
Tide is offering a limited number of Jason Alexander hoodies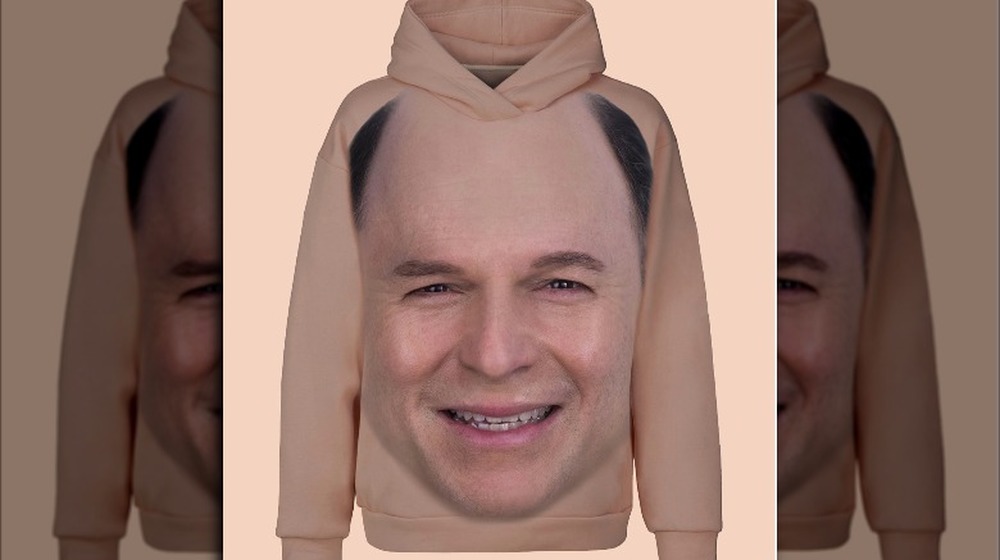 Tide
While ad-Alexander isn't too happy about people wearing his face, in real life he's not too fussed about it, which is a good thing because Twitter exploded with requests — nay, demands — to pick up the Jason Alexander hoodie ("I will buy a Jason Alexander hoodie if it is the last thing I do" tweeted one fan).
In fact, you can wear his face and be a part of a charity campaign that does some good. Alexander tweeted: "Ok, you *can* just wear my face. Contribute to a good cause for the chance to win the #TideHoodie 100% of contributions benefit @FeedingAmerica and @M25M_org"
To bid for the opportunity to own the Jason Alexander hoodie, you can go to https://charityhoodie.tide.com where Tide says it will be giving away the hoodie (one facial expression only) if you make a contribution of between $5 to $25. The sweepstakes stays open until 11:59 p.m., Feb. 10.