What You Probably Missed In Jason Alexander's Tide Commercial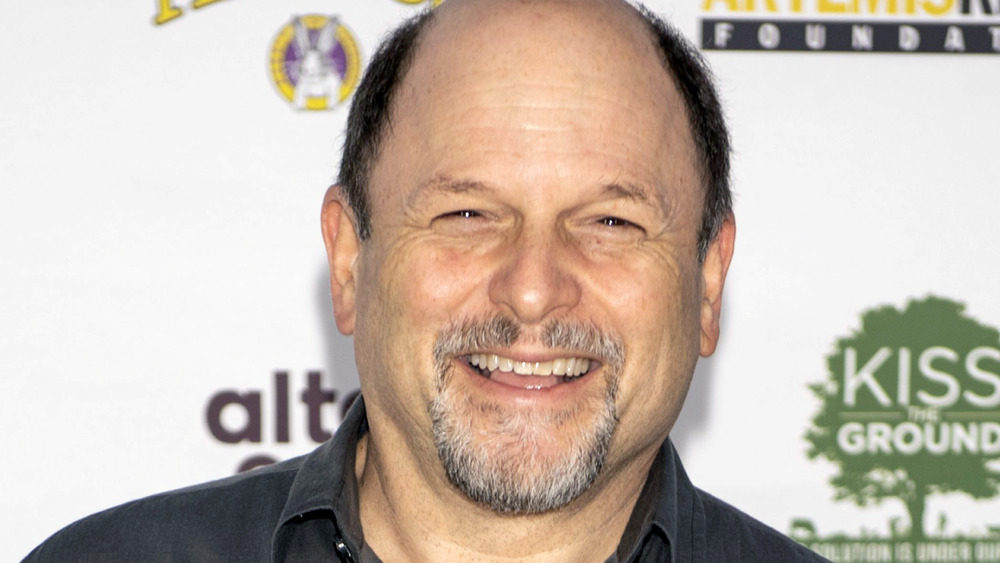 Michael Bezjian/Getty Images
Super Bowl LV has been dishing up some seriously fascinating commercials. And Seinfeld fans were excited to see Jason Alexander, who played George Costanza in the iconic series, appear in Tide's contribution to the big game.
The actor appears in the 60-second Tide spot as a teen's hoodie. Different expressions of Alexander's appear at different moments throughout the commercial as the hoodie gets dirty. Alexander loved the creative idea for the spot. What's better, they filmed the commercial in Alexander's neighborhood. "Not since I was 6 did I get to make a living making faces. It was really the first time since the pandemic that I've been back in front of a film crew. So it was kind of thrilling," he told Us Weekly. 
"I mean, a little nervous making [it] because you're going, 'Oh, I don't want to get sick.' But it was thrilling to be back in show business for a day. It was very comforting. The whole thing has been great and they did a fantastic job. I love the way the spot came out," he added. "And then the car location was blocks from my house. When I take my daily walk, I walk by where we shot the car scene."
Yes, you can get the hoodie for yourself
Of course, the internet immediately wanted to know if the hoodie was real. It is, and better yet, you can try for it and also help a great cause. You can visit Tide's website for details. "Tide is giving away a limited supply of the same hoodie from our Super Bowl LV commercial. All you need for your chance to win is to contribute to a good cause. Believe it or not, doing a little good can be a lot of fun," the site states.
Also, "Believe It or Not" by Joey Scarbury heard in the commercial is certainly familiar to Seinfeld fans (per The Looper). The song appeared in a season 8 episode of the series called "The Susie." It's George's answering-machine track, personalized for him, of course. The message goes: "Believe it or not, George isn't home. Please leave a message after the beep. I must be out or I'll pick up the phone. Where could I be? Believe it or not, I'm not home."
And believe it or not, all contributions will be split evenly between Feeding America and Matthew 25: Ministries. You only have until Wednesday, Feb. 10, for your chance at the sweepstakes so grab it before you miss out!