Fiverr's Trump Diss Has Super Bowl Fans Talking
One of the biggest names in ad news is talking about Fiverr, and it's not just for their services. Via their Twitter account, Ad Age shared the serious shade thrown by the freelancer group in a short and concise explanation, "Fiverr's #Superbowl commercial features Four Seasons Total Landscaping, the site of a Trump campaign press conference in November." 
For those who aren't familiar, Fiverr provides a hub for freelance professionals to advertise their services in areas such as website development, coding, social media management, and even blog writers and journalists. The company makes a point of offering services at every cost price point, making these services accessible to business of all sizes (via People).
But why is a freelance hub talking about a landscaping company? One Twitter user explains the premise of the commercial, noting that Fiverr's purpose is to show "that they have experts that can turn your business into anything you want it to be." The transformation that's both joke and subtle insult refers to a previous transformation by Four Seasons Total Landscaping of Philadelphia into a final stop on the Donald Trump presidential campaign (via Vox). Considered a joke, fail, or win depending on who you ask, the landscapers quickly capitalized off their fame, even selling "Make America Rake Again" and "Lawn and Order" T-shirts (via People). 
Sometimes the shade comes softly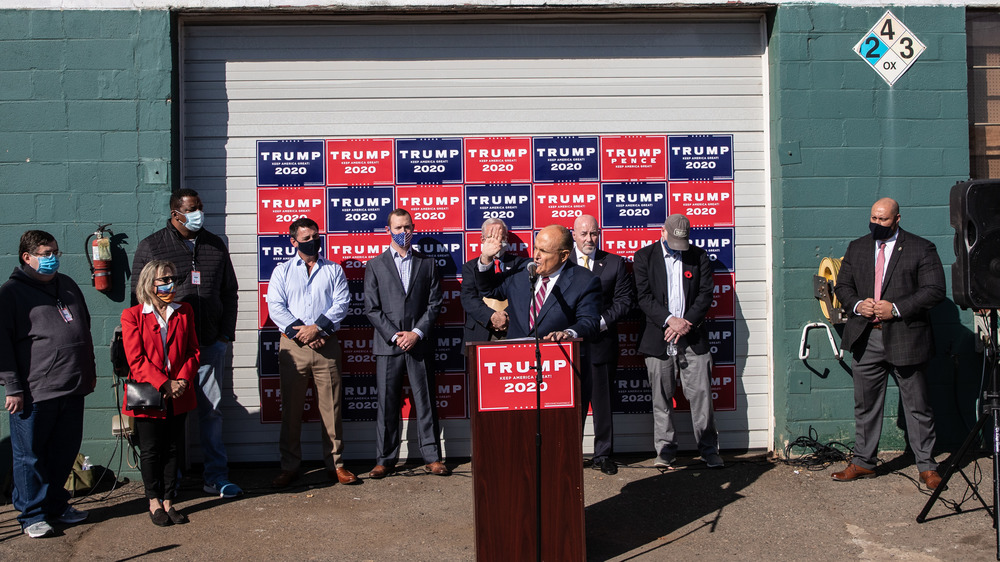 Chris Mcgrath/Getty Images
The event was considered a sputtering fizzle instead of the flashy bang the Trump campaign had hoped to end with, and became quite the political joke with most people assuming a staffer had meant to book at a Four Seasons Hotel instead (via Vox). And while a bane to the MAGA crowd, the resulting viral memes and snapshots proved a boon for this woman-owned small business. Says owner Marie Siravo in the commercial, "When opportunity knocks at your corrugated garage door, you roll that puppy up!"
As People reports, the commercial is part of Fiverr's new campaign called "It Starts Here," where the group reportedly aims to "celebrate the hardworking, smart, and savvy small businesses that form the backbone of America."
 Siravo's business tweeted out their joking take on it all saying, "Landscaping [check] Snow Removal [check] Press Conferences [check] #SuperBowl Commercial w/@fiverr [check]." At the end of the commercial, the owner jests once again at the Trump debacle, saying with a wink, "This is not a hotel."
As for Fiverr, they couldn't be happier with the partnership. Gali Arnon, Fiverr's chief marketing officer, told People, "The way Marie and her team were able to really move quickly, in an agile way, after this opportunity came knocking on their garage door, quite literally — that's something to be celebrated."
Fiverr and Four Seasons Total Landscaping — one. Trump 2020 — zero. Shade thrown.