Who Amanda Gorman Was Honoring During Her Super Bowl Appearance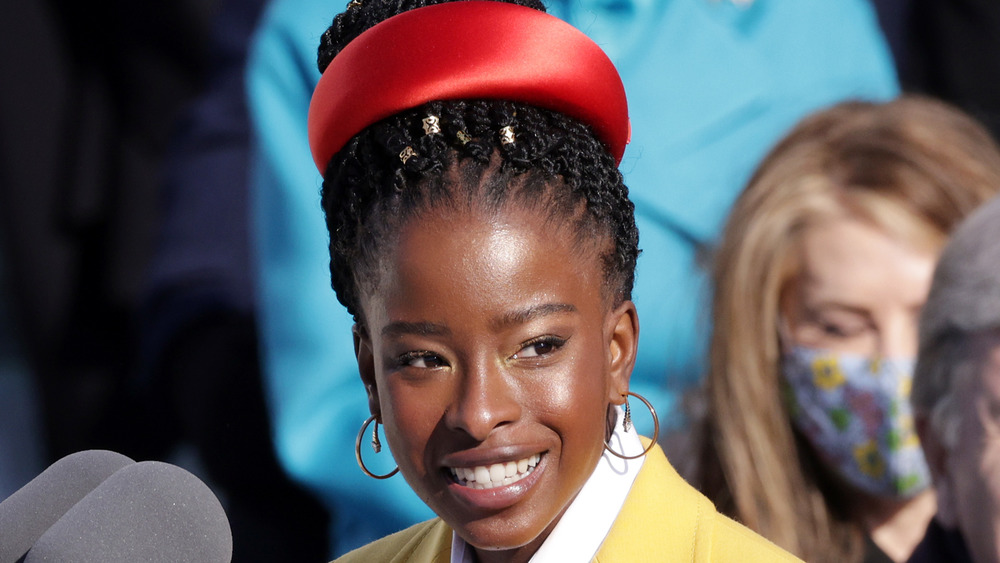 Alex Wong/Getty Images
Amanda Gorman caught all of America's attention with her stirring Inauguration poem, "The Hill We Climb." The poem was so popular that the published edition was moved up, now available for release in March. The outstanding outing led to many opportunities for the 22-year-old. Among them was the opportunity to recite another poem at Super Bowl 55.
Gorman's poem was a meaningful one. She joined the NFL in honoring community heroes. Of the 25,000 attendees at Raymond James Stadium in Tampa, Florida, 7,500 were vaccinated first responders (per NBC Sports). Three special community heroes were chosen to serve as honorary captains at the game. In solidarity with that, Gorman honored the three, educator Trimaine Davis, nurse manager Suzie Dorner, and Marine Corps veteran James Martin. 
"Today we honor our three captains / For their actions and impact in / A time of uncertainty and need. / They've taken the lead, / Exceeding all expectations and limitations, / Uplifting their communities and neighbors / As leaders, healers, and educators," she began the beautiful poem, as reported by The Hill.
'Chorus of the Captains' was just as riveting
Amanda Gorman dedicated a stanza of the poem to each of the three captains. Then, per The Hill, she concluded, "Let us walk with these warriors, / Charge on with these champions, / And carry forth the call of our captains! / We celebrate them by acting / With courage and compassion, / By doing what is right and just. / For while we honor them today, / It is they who every day honor us."
Fans of Gorman think we need to hear from her at every major event, and many others agree. "Dear Grammys, NCAA tournament, Academy Awards, Olympics, and any and every other group trying to create nationally televised moments: Please include Amanda Gorman in all of your plans," Washington Post White House Reporter Matt Viser tweeted after she was done. 
That might prove challenging with Gorman's newly busy schedule. She recently signed as a model with IMG models. She also will appear on the cover of Time, where she was interviewed by former First Lady Michelle Obama (per CNN).