Andy Reid's Emotional Response To His Son's Car Accident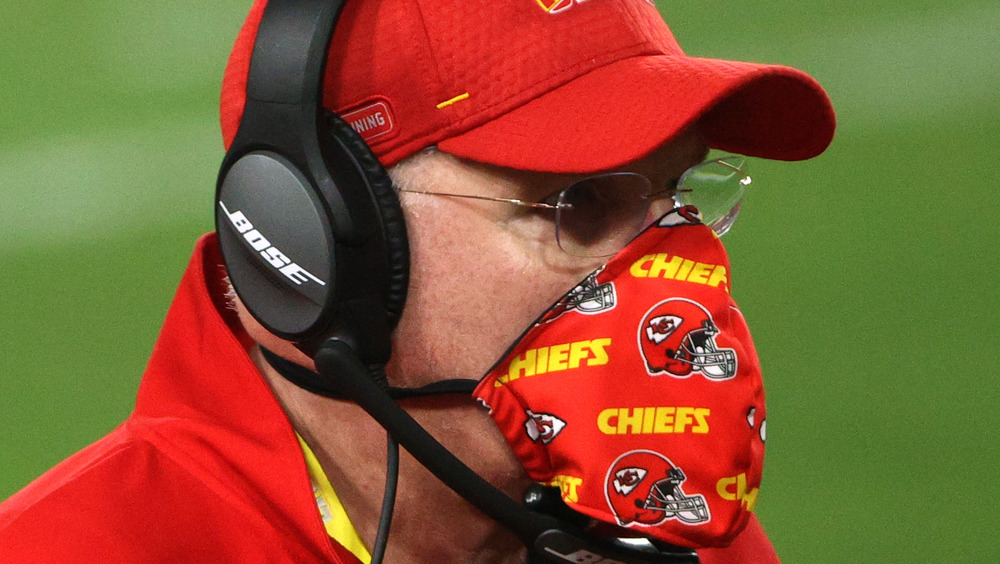 Patrick Smith/Getty Images
Kansas City Chiefs coach Andy Reid spoke on Sunday about his son's recent car accident, and whether or not he felt it had impacted the Chiefs loss at Super Bowl LV. "From a football standpoint, I don't think that was the problem." reported AOL, but it's hard to imagine that Reid's mind was entirely on the game, given the terrible circumstances.
Per CBS Sports, Andy Reid's son and assistant Britt Reid was driving a white Dodge Ram on the evening of Thursday, Feb. 4, along Interstate 435 in Kansas City, when he struck a Chevy Impala, which had run out of gas and was disabled on an exit ramp. The Ram Britt was driving, then went on to hit a Chevy Traverse, which was stopped in front of the Impala. The driver of the Impala had called a family member for help when the car stalled, and the driver of the Traverse had arrived to help.
Two children, ages 4 and 5, were injured in the multi-car crash. The four-year-old did not suffer life threatening injuries, but the five-year-old is still in critical condition. "My heart goes out to all those that were involved in the accident, in particular the family with the little girl who is fighting for her life," Reid said in a post-game interview. "From a human standpoint, my heart bleeds for everybody involved" (via ABC News).
Driver impairment may have been a factor in Britt Reid's multi-car crash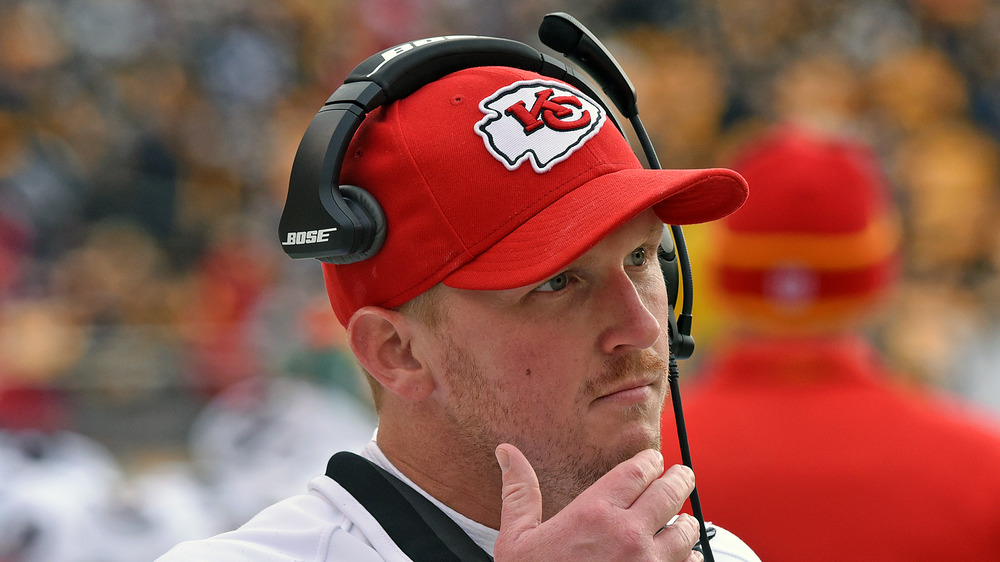 George Gojkovich/Getty Images
Both Britt Reid and his older brother Garrett struggled with substance abuse, making Thursday's crash a harrowing reminder of the past. Garrett Reid died in 2012 due to an accidental heroin overdose at the age of 29. Britt has also had several DUI encounters, and, per ESPN, was arrested in 2008 after driving into a shopping cart in a parking lot, this while on parole for a previous road rage incident in which Reid had pointed a handgun at a motorist during a conflict.
People reports that when police arrived at the scene of the collision, an officer noted the officer could "smell a moderate odor of alcoholic beverage" and Reid admitted he had been drinking, but claimed the number of drinks at two to three. A more thorough investigation into Reid's state was conducted after he was taken to the hospital after complaining of stomach pains. As of writing, Reid's impairment is still under investigation and he has not been charged.
Per the GoFundMe created for the 5 year old girl, Ariel, remains in critical condition and has not woken since the crash.