What Brady And Mahomes Said To Each Other After The Super Bowl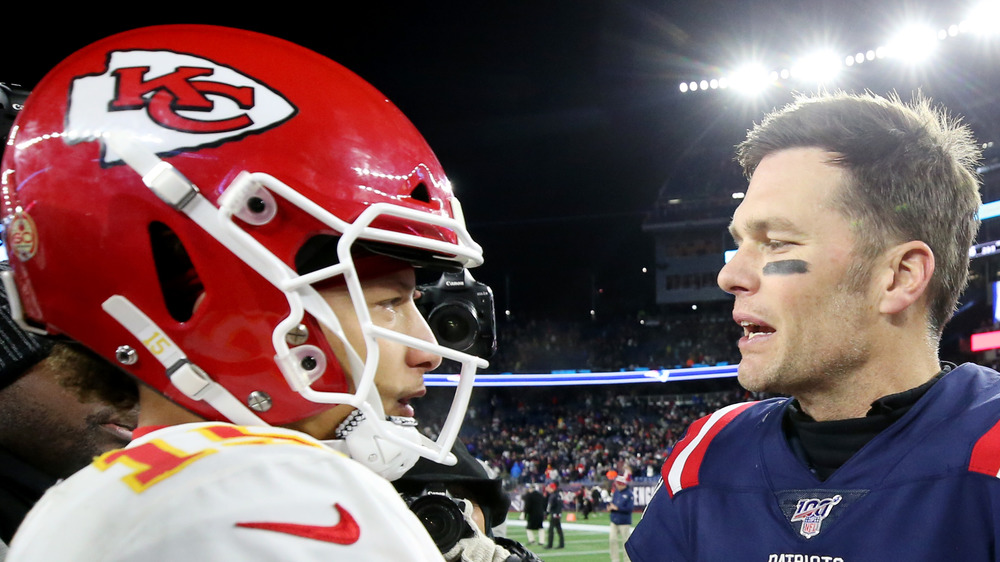 Maddie Meyer/Getty Images
Super Bowl LV was a must-watch event for a multitude of reasons, but one of the biggest talking points was the highly-anticipated match-up between quarterbacks Tom Brady and Patrick Mahomes, according to The New York Times. As CNN noted, Brady is exactly 18 years and 45 days older than the Kansas City Chiefs' star, making theirs the biggest age difference in the history of the event. Ahead of their meeting on Sunday, Mahomes admitted, "As I continue in my career, I am still trying to do whatever I can to watch the tape on him."
The quarterback, who was last year's Super Bowl MVP, also argued Brady "is doing it the right way, and you can tell by how many Super Bowl championships he has, and the rings on his fingers." After the Tampa Bay Buccaneers ultimately emerged victorious, with Brady named MVP, Mahomes acknowledged, "They were the better team today ... but I'm proud of the guys and how they fought to the very end of the game," (via CBS Sports). The young quarterback was also glimpsed speaking covertly to his rival and friend and, now, we know exactly what was said.
Brady and Mahomes were nothing but complimentary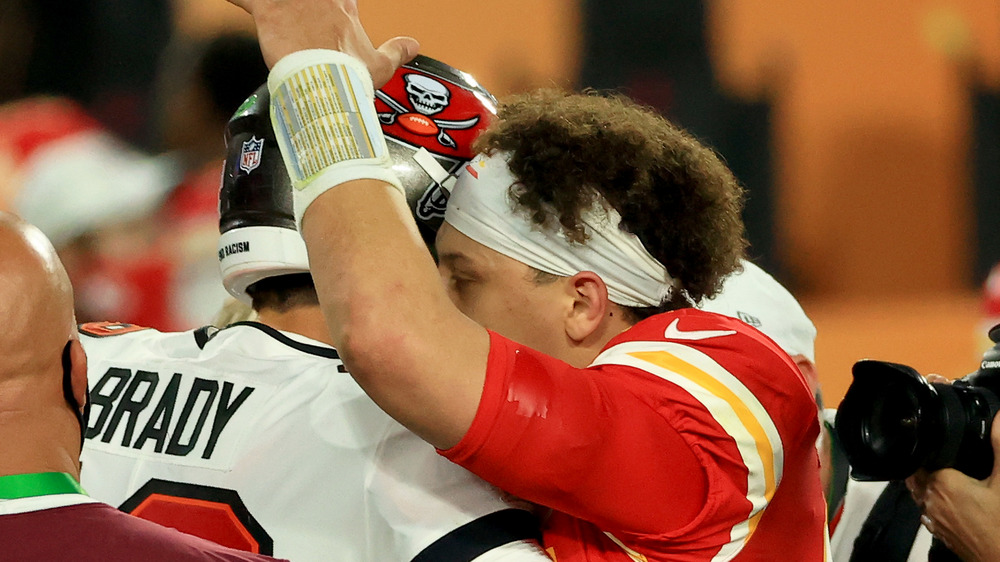 Mike Ehrmann/Getty Images
As USA Today reports, Sunday marked yet another major moment in Brady's celebrated career. It was his tenth trip to the Super Bowl overall and, aside from being named MVP for the fifth time, the legendary athlete scored his seventh Super Bowl title too. And while the Tampa Bay Buccaneers' superstar is loved by many, Brady has also been criticized in the past for his lack of sportsmanship on the field — particularly following losses. Although Brady is almost always quick with a "good game!" handshake, he's never met at midfield with the quarterback from the winning team.
Mahomes, however, does not have the same issue, and he was one of the first Chiefs' players to congratulate Brady personally. According to the outlet, Mahomes told his victor he was "awesome," to which Brady responded "keep in touch." It's certainly impressive considering the Chiefs' quarterback was reeling from his first Super Bowl loss. It's worth noting, while still with the New England Patriots, Brady outright refused to shake Philadelphia Eagles' Nick Foles' hand, even though he met several of his teammates backstage.
Likewise, Brady didn't meet with New York Giants' Eli Manning following their game at Super Bowl XLII, while he left the field immediately after their loss, again at the hands of the Giants, at Super Bowl XLVI. Brady has always been glad to shake hands after winning games but otherwise steers clear. It looks like Mahomes wants to reset the balance while he's on the other side of the divide.
Patrick Mahomes grew up watching Tom Brady play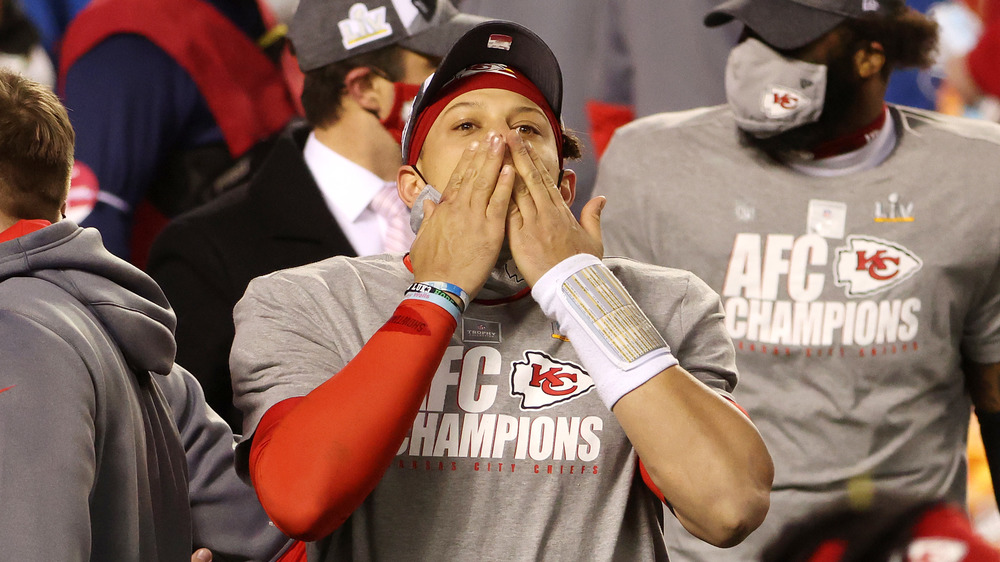 Jamie Squire/Getty Images
There's certainly no denying that Tom Brady can be a bit of a sore loser, but for Patrick Mahomes, even bad calls, and a major toe injury wouldn't prevent him from congratulating Brady after the Championship game. More than just having the good sense to put hurt feelings aside for the good of the sport, Mahomes wasn't going to miss the opportunity to shake hands with a player he watched as a kid dreaming about going pro.
Consider this: According to Sports Illustrated, Brady's first trip to the Super Bowl was back in 2002. That was 19 years ago. Patrick Mahomes was just 6 years old at the time! He was probably just starting out in Pee Wee leagues and Brady was 24, at the start of his NFL career.
Tom Brady might be considered the G.O.A.T., per CNN, but perhaps the young rising star taught him something losing with good cheer. After a disappointing showing, Mahomes only had positive words for his team moving forward, telling CBS Sports, "Obviously it hurts right now. It hurts a lot. But we're going to continue to get better. ... We can't let this define us. We have to continue to get better going into next year and being even better and preparing ourselves to hopefully be in this game again."