The Truth About Mina Starsiak Hawk's Store - Exclusive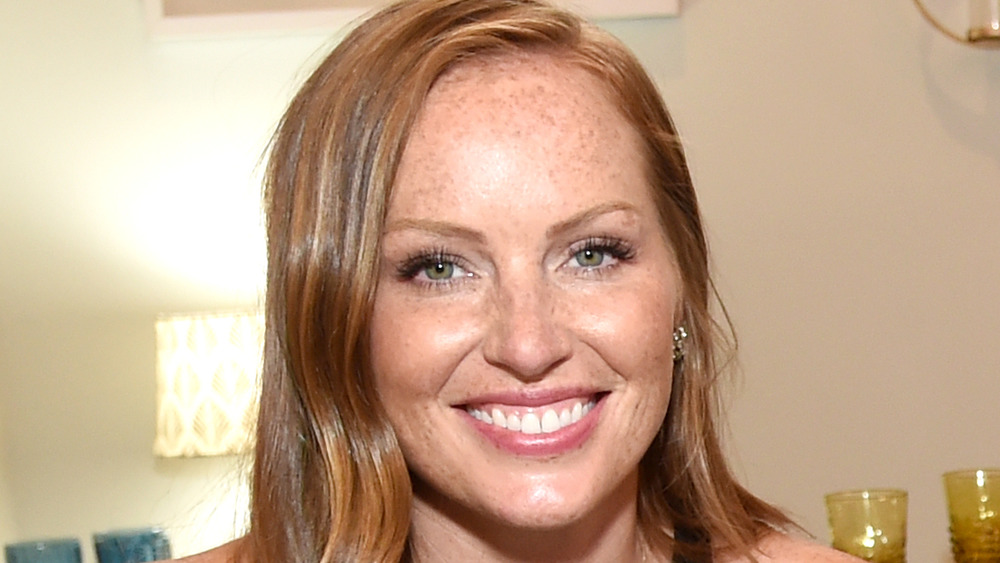 Michael Kovac/Getty Images
Chip and Joanna Gaines of Fixer Upper have Magnolia Market. Drew and Jonathan Scott from The Property Brothers have Scott Living. Shea and Syd McGee of Dream Home Makeover have Studio McGee. There are tons of home renovation shows on HGTV and beyond that have moved from screens to real-life, brick-and-mortar stores. These shops, offering everything from home décor and clothing, to show merchandise, and even food, are a great way for fans to connect with shows and their stars, bringing home a piece of the action they can enjoy for years (or bites) to come. 
And now, Good Bones fans can shop Two Chicks District Co. Mina Starsiak Hawk, co-owner of Two Chicks and a Hammer and star of HGTV's Good Bones, opened her retail store in downtown Indianapolis, giving locals and Good Bones lovers a chance to purchase apparel, jewelry, gifts and, of course, home déco, per the store's official website. Two Chicks District Co. even has a small restaurant where shoppers can relax with a yummy meal, light snack, or a refreshing glass of wine. But why did Starsiak Hawk open a store? How did she open it? In an exclusive interview with The List, she told the truth about Two Chicks District Co.
Mina Starsiak Hawk's store opened in the middle of a pandemic
As she revealed to The List, Mina Starsiak Hawk had actually been dreaming of opening a store for a long time. In fact, the Two Chicks team hired Starsiak Hawk's sister, Kelsy, to open and run the store about three years before it actually happened. Why the delay? It was "no fault of her own," Starsiak Hawk told The List. "Financing and just bandwidth, it didn't happen." Two Chicks District Co. did open, but it was two months later than originally planned and in the middle of the COVID-19 pandemic! "I think it was June, this past June [2020]," she said. "And we were like, 'You know what? Whatever. We're ready. We're going to do this. It's fine.'"
The rehabber and business owner does credit her HGTV show with a lot of the store's success, saying, "I think partially, because we have the platform with the show it's been okay. We're not losing our butts." The store has also been doing well because they put a focus on e-commerce right from the start. "So many people wanted to be able to come see it and wanted to buy cute things, but didn't want to come in [because of the pandemic]." Starsiak Hawk went on to say that both the e-commerce and the brick and mortar sides of the business "both did really well."
Mina Starsiak Hawk wanted her store to have 'something for everyone'
What can Good Bones fans expect to find at Two Chicks District Co? A lot — but the vast majority of it is affordable. Many HGTV shows use gorgeous, but very expensive, décor that's not attainable for most viewers. That's not Mina Starsiak Hawk's style. "We're in the Midwest," she said. "Our prices on our show we talk about are reasonable." Mina told The List. "We wanted a store where there was something for everyone." She also revealed that the rugs, pillows, and other pieces run from $90 to $400, which makes the store "fun [and] approachable." 
But that doesn't mean Two Chicks District Co. doesn't have stunners with heftier price tags. "We got this like fancy, fancy, fancy velvet couch. It's amazing." Starsiak Hawk said. "It's giant and it was 4,000. I think that's the most expensive thing we've ever had in the store." But even with the big-ticket items, Mina just wants her store to be affordable for everyone. Her goal? "You can watch the show, say, 'I like this. Find it here. And you're good."
Catch new episodes of Good Bones Tuesdays at 9 p.m. ET/PT on HGTV.