This Is Why Robert F. Kennedy Jr. Just Got Kicked Off Instagram
Sean Gallup/Getty Images
Following Twitter's permanent ban of former President Donald Trump (for his violation of the platform's policies on civic integrity and violence), Instagram followed suit on Feb. 10, in banning another political figure for user violation. That figure was former U.S. Attorney General Robert F. Kennedy's son, Robert F. Kennedy Jr. (via The Wall Street Journal).
During his time on Instagram, Kennedy Jr. collected a huge following and used his platform to spread conspiracy theories and misleading information pertaining to "pharmaceutical firms and environmental health concerns" (via Click On Detroit). It's for this reason that he was finally banned, as he was punished for spreading misinformation about COVID-19.
According to a source at Instagram parent company Facebook, "We removed this account for repeatedly sharing debunked claims about the coronavirus or vaccines." While his account has officially been taken down, including the posts that lead to his removal, reports say that Kennedy Jr. asserted that COVID vaccines within the U.S. have the potential to be dangerous, despite the general consensus suggesting otherwise (via Mayo Clinic).
Kennedy Jr. is still active on other social media platforms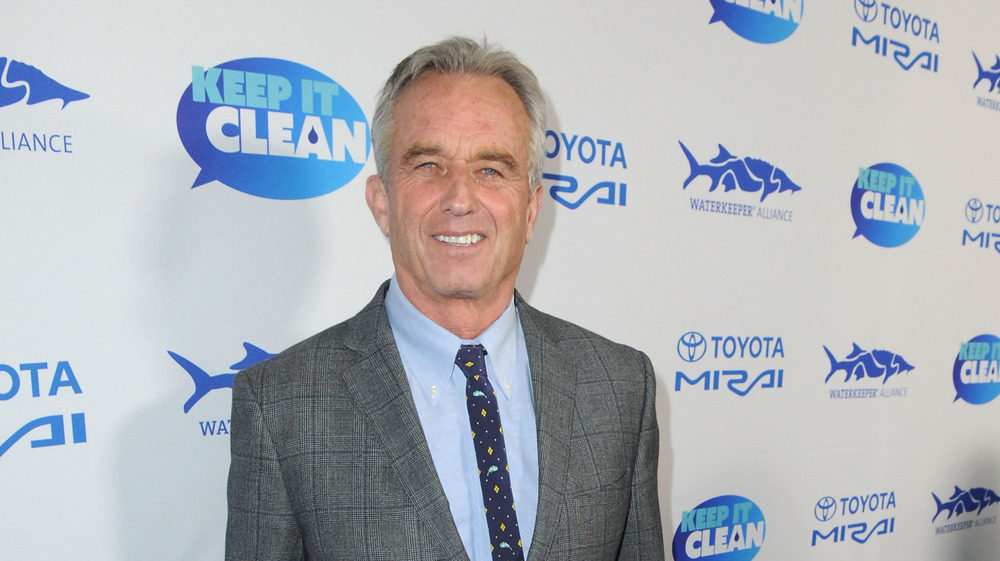 Joshua Blanchard/Getty Images
Ironically, Robert F. Kennedy Jr. founded The Children's Health Defense, an organization that focuses on vaccinations, which makes his skepticism towards the COVID vaccine even more curious. Despite his removal from Instagram, however, it appears that the political figure is still active on Facebook.
The decision to ban Kennedy's vaccine-related skepticism, specifically on Facebook, would be important now more than ever, as the company recently announced that it would make more efforts to prevent COVID misinformation from being spread. "Millions of people are being fed dangerous lies which lead them to doubt government guidance on COVID and on vaccines, prolonging the pandemic," said Imran Ahmed, CEO of the Center for Countering Digital Hate, of Facebook's reach (via The Associated Press).
Kennedy Jr. is also active on Twitter, where he has more than 200,000 followers. Indeed, on Feb. 10, he shared an article from his health defense organization that suggested that the Moderna vaccines could cause "long-term chronic illness." A Twitter user commented on the tweet, writing "Adverse events from covid are worse. Stop spreading dangerous, false information." Only time will tell if other social media platforms decide to follow suit and ban Kennedy Jr. from continuing to spread this misinformation.