The Truth About Faith Hill And Tim McGraw's Private Island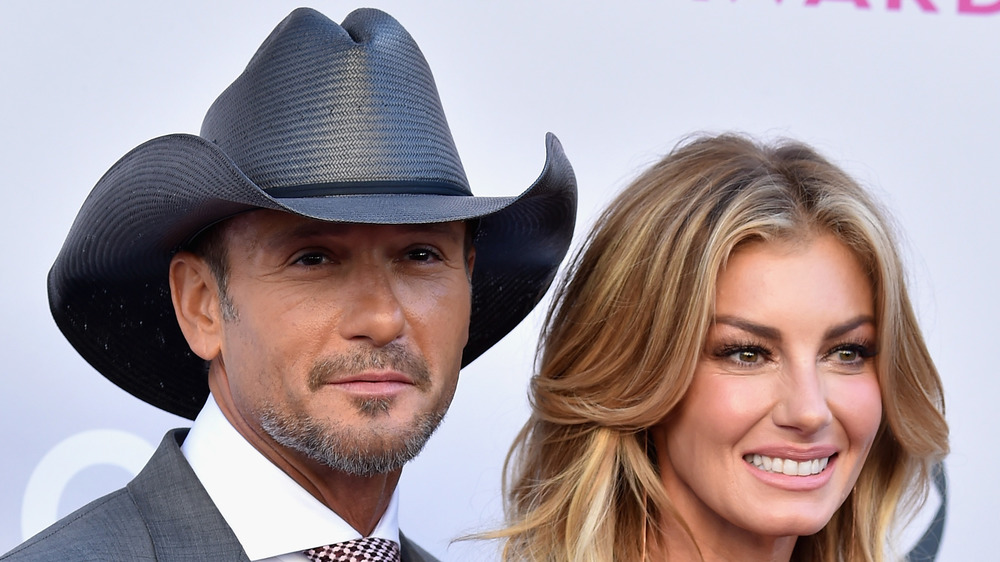 Frazer Harrison/Getty Images
Most of us, if we're lucky, book a hotel in the Bahamas when we need a time out. Tim McGraw and Faith Hill take a sea plane (or boat) to their own island, 105 miles Southeast of Nassau (via Knight Frank). Think of it as the private paradise that Tiger Woods might have had near Stockholm, Sweden — if he and Elin Nordegren hadn't split. Of course, Tim Mcgraw's and Faith Hill's island is tropical. Hollywood Life thinks that they spotted the Country Music power couple's daughters on the 20-acre L'île d'Anges in late December, 2020.
If they did, Gracie, Audrey, and Maggie would have spent their days walking along over three miles of beach and jumping off their dock into impossibly pristine turquoise waters. In the evening, they'd have had their pick of four different bedroom suites (part of a series of eight pods), all connected through verandas and an open-air passageway (via Knight Frank). Architect Bobby McAlpine, who helped design the 5,000-thousand-square-foot bohemian haven, gushed over it to Architectural Digest. "You can bathe outdoors or climb a tower and feel that you're being lifted up into the air," he waxed whimsy. Maybe Gracie, Audrey, and Maggie spent a night or two in one of the island's two yurts. Perhaps they read in the garden and tanned at the swimming pool. Almost certainly they'd have used the December vacation to say goodbye.
Are Tim McGraw and Faith Hill giving up their tropical paradise?
The New York Post found the listing. We're having a hard time wrapping our heads around it. By all accounts, their Island is a place unlike any other on the face of the earth. Literally. When Architectural Digest interviewed Tim McGraw and Faith Hill about the island in 2017, McGraw described the feeling he and his wife get when spending time there. "Every time we land the plane and walk onto the beach and head up to the house, we turn to each other and say, 'This is the best place in the world.'" Hill was no less enthusiastic. "When the breeze comes through the room, it's just life-changing. ... It really is! It's something for the soul."
It's also hard to accept that McGraw and Hill might be selling the place, since the pair spent nearly a decade (from 2003 to 2012) building it. Not only did they construct the main house, but they also built staff houses, engineering facilities, and mechanical storage units. "We basically had to build a little town," McGraw admitted. And now, it seems, less then a decade after the two started using it, they're letting it go. And if you've got $35 million to spare, it could be yours.
Perhaps McGraw and Hill have decided they want to relocate to Aruba? In any case, the couple and their children won't go homeless. According to Ninja Journalist, they've got two breathtaking properties in Tennessee: One in Nashville and one in Franklin.