Kellyanne Conway Reveals Her Feelings About Rush Limbaugh's Death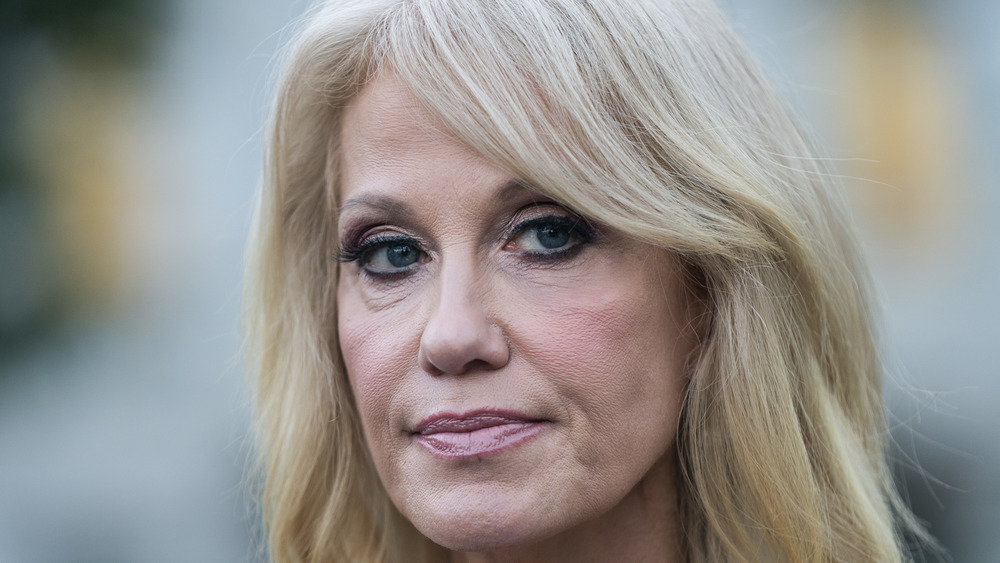 Bloomberg/Getty Images
Kellyanne Conway has joined the throng of people offering up their condolences following the announcement that conservative media personality Rush Limbaugh, longtime host of The Rush Limbaugh Show, has died from lung cancer. The 70-year-old's death was announced on his show by his wife, Kathryn, on February 17. "As so many of you know, losing a loved one is terribly difficult, even more so when that loved one is larger than life," she said (via CNN). "Rush will forever be the greatest of all time."
Conway paid tribute to Limbaugh on Twitter, posting a picture of the two of them together on the social media platform. "Rush Limbaugh was an architect of the center-right movement, defined & dominated political talk radio for decades & gave daily voice to millions of pro-freedom Americans," wrote the former counselor to Donald Trump in the tweet. "Rush's inimitable influence inspires his listeners & inflames his critics."
Conway also offered her condolences to Limbaugh's loved ones, writing, "Sympathy to his family. RIP."
Kellyanne Conway tweeted her support for Rush Limbaugh after his cancer diagnosis last year
Limbaugh announced his cancer diagnosis last February on his radio show. "I wish I didn't have to tell you this, and I thought about not telling anybody," he said (via NPR). "I thought about trying to do this without anybody knowing, because I don't like making things about me."
After his announcement, Conway showed her support for Limbaugh on Twitter. "Sending love, strength and prayers to @rushlimbaugh," she wrote on February 4, 2020. "No one has had a stronger, longer impact on conservatism in this country. True joy on the job for decades. We're praying for you and fighting with you, Rush."
While Conway and Limbaugh don't seem to have had a public friendship, both made names for themselves in conservative circles and it is apparent that Conway held Limbaugh in the highest regard. When Limbaugh interviewed her in 2019, she tweeted her excitement about it, writing, "Loved joining The One, The Only Rush Limbaugh yesterday to discuss the President's Immigration Plan."