What You Didn't Know About Spike Lee's Daughter, Satchel Lee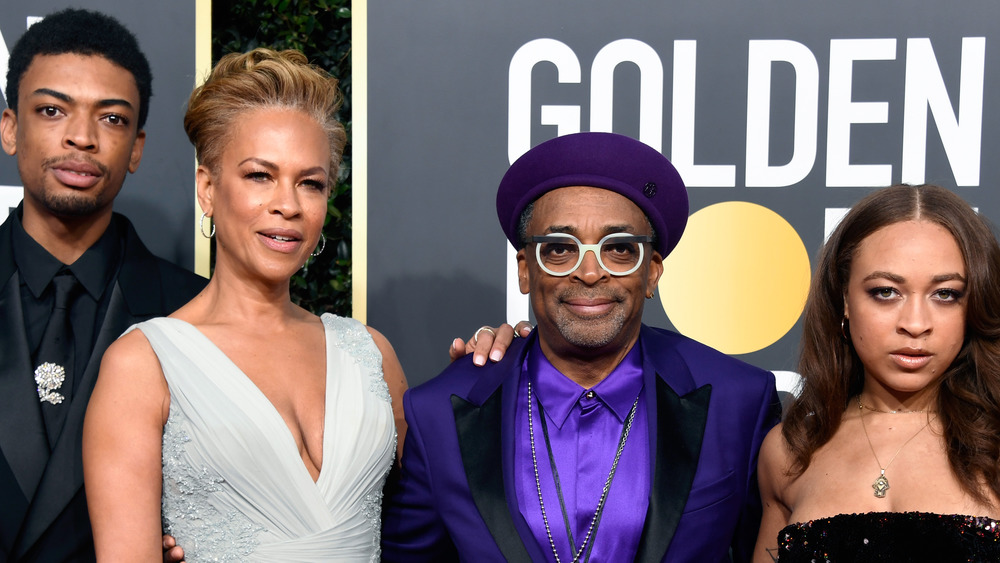 Frazer Harrison/Getty Images
This year, Spike Lee's children will make Hollywood history. According to the Hollywood Foreign Press Association (HFPA), Jackson and Satchel Lee were appointed the 2021 Golden Globe Ambassadors (via Variety) — marking the very first time in HFPA history for two siblings of color to serve as ambassadors (via PR Newswire). "Akin to their esteemed filmmaker father, known for his uncompromising and provocative storytelling, Satchel and Jackson have already begun to blaze their own paths in the arts," HFPA President Ali Sar said in a statement (via Variety). "We are honored to see how they'll use this platform to elevate the important issues of LGBTQIA+ health and youth mentorship."
In hopes of doing just that, Satchel Lee — the creative director of Drøme, an intersectional and queer magazine that features "gender-fluid, non-binary, and all-inclusive" content — chose to support Callen-Lorde, a New York-based, LGBTQ+ health care facility, via her role as an ambassador. "We're proud to carry our father's legacy of storytelling to bring attention to communities close to our hearts," Satchel Lee said in a statement (via Atlanta. News. Now.). "This year has illuminated just how disproportionately Black and brown people and the LGBTQ+ communities are affected by pre-existing conditions, so it's an honor for me to be able to shine a spotlight on the heroic doctors and nurses at Callen-Lorde who work tirelessly to care for some of the most vulnerable people in New York City," Satchel Lee said in the statement.
Like her dad, Satchel Lee graduated from New York University.
Brian Ach/Getty Images
In 2017, Satchel Lee earned an MFA from New York University's Tisch School of the Arts (via TheThings). From there, she and Caroline D'Arcy Gorman created Drøme. "I celebrate Women's History every day," Satchel wrote in an article published on Drøme. "I celebrate Black History every day. I celebrate LGBT+ History every day — because, without an understanding of the importance of the successes, struggles, and sacrifices my predecessors have had to overcome, I don't believe I could move through this world with integrity."
The 78th annual Golden Globe Awards ceremony takes place on February 28 at 8 p.m. EST (via the Golden Globe Awards). And, for the first time in Golden Globe history, hosts Tina Fey and Amy Poehler will be leading the show on separate coasts, with Fey in New York and Poehler in Los Angeles (via Vulture).