Inside Donald Trump's Relationship With Ted Cruz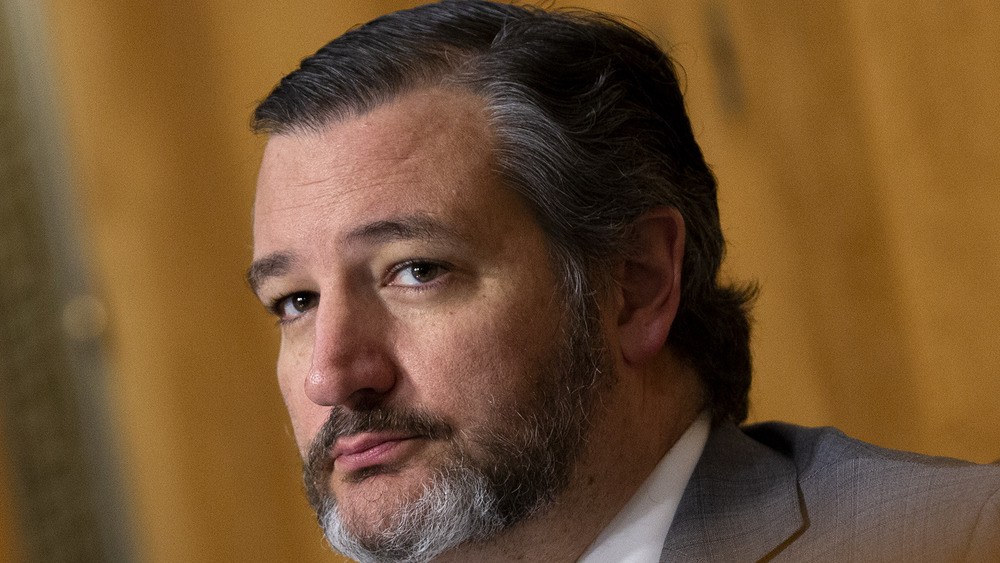 Stefani Reynolds/Getty Images
Texas senator Ted Cruz is still squarely in Donald Trump's corner. At least that's according to PBS' White House correspondent Yamiche Alcindor who reported that Cruz was among three GOP senators who strategized with Trump's impeachment lawyer before the senate hearings. There's no question that this is a very different Ted Cruz than Americans knew back in 2016. Five years ago, when he was hoping to run as the Republican candidate for president, Cruz took to the media bashing Trump as a "pathological liar," "a serial philanderer," and a "narcissist at a level I don't think this country's ever seen" (via CNN). 
Even after Trump became the Republican's official nominee, Cruz declined to endorse him. Instead, the politician urged voters to "vote your conscience" (via ABC.) 
Back then, Trump was equally aggressive in his attacks. "Nobody likes him," he said of Cruz, "Nobody in Congress likes him. Nobody likes him anywhere once they get to know him" (via ABC). But two years later, their relationship had shifted dramatically, taking the shape of the Cruz-Trump dynamic that we're used to today. Donald Trump affirmed in 2018, "To me, he's not Lyin' Ted anymore. He's Beautiful Ted. He's Texas — I call him Texas Ted" (viaTexas Tribune).
Donald Trump and Ted Cruz's friendship isn't as unlikely as it once seemed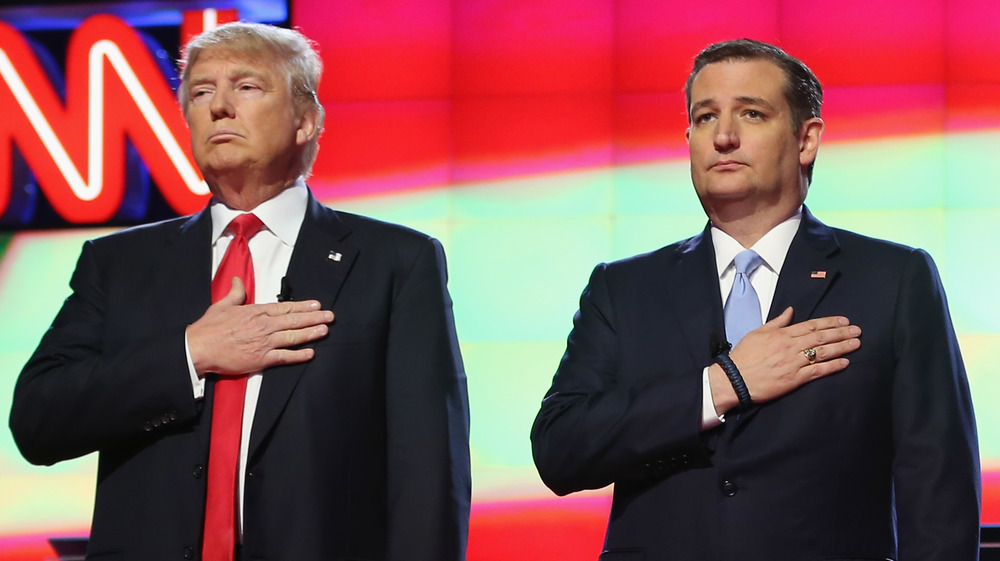 Joe Raedle/Getty Images
If Trump had a signature move during his one-term presidency it was turning against former allies. Brookings calculated Donald Trump's "A-Team," aka the members of the president's executive office, turnover from term start to term finish at a startling 92 percent. During Trump's final months of his tenure in office, rumor has it that he nearly wrote off his own vice president. Ted Cruz and the former president, however, remained close from 2018 to the remainder of his leaving the White House. They were so close that Trump might even have nominated Cruz to a Supreme Court seat, had he won the 2020 election (via Texas Tribune). 
In 2018, Cruz sighted his positive relationship with Trump as necessary. "I made a very conscious choice that I'm going to roll up my sleeves and work hard with the president," he explained to The Dallas Morning News.  But the truth is, before things got heated in the presidential 2016 campaign, Ted Cruz and Donald Trump were friends. 
Politico pointed out that Cruz and Trump had been meeting privately for two years prior to the presidential campaign kick-off. Trump had donated to Cruz's PAC. At some point, Ted and his wife Heidi Cruz were planning on doing a double date with the 45th president and former First Lady Melania Trump. The two have always been blood-brother material – 2016 was an exception.