The True Meaning Behind Patrick Mahomes' New Baby's Name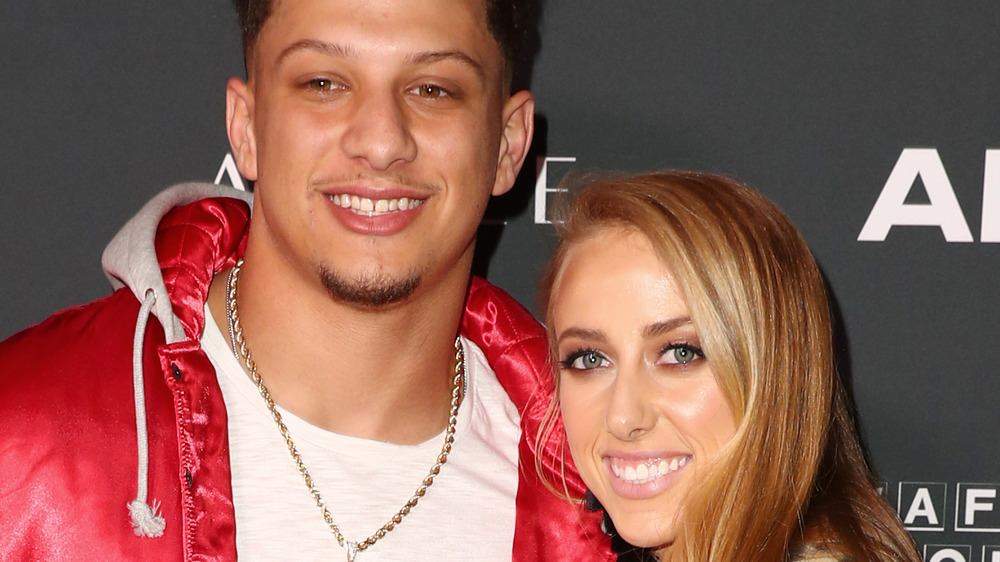 Joe Scarnici/Getty Images
He didn't win the Super Bowl against Tom Brady's Tampa Bay Buccaneers earlier this month, but Kansas City Chiefs' quarterback Patrick Mahomes just won an even bigger prize. The 25-year-old and his fiancée Brittany Matthews welcomed their first child over the weekend, according to People magazine. And, it's a girl! The sweet little one's birth was announced via Mahomes' Instagram, which featured a precious pic of Matthews cradling their daughter.
The newborn's name was also revealed in the caption of the post, as well as on a diamond-adorned necklace worn by the new mama. "Sterling Skye Mahomes 2/20/21," the accompanying words simply said. Matthews shared the same image over on her Instagram, adding only the baby's weight to her caption: " 6lbs 11oz."
Among the celebrities who quickly added their congratulations to the new dad's post was mom-of-three and inventive baby namer Gwen Stefani (her sons are Kingston, Zuma, and Apollo according to PopSugar), who praised their baby name choice, writing, "cool name."
What Sterling Skye means
According to the baby naming website Nameberry, the moniker Sterling means "of the highest quality." Although Mahomes and Matthews chose Sterling for their baby girl, it's worth noting the name can be unisex — just think of the This Is Us actor Sterling K. Brown. Baby Name Wizard points out that Sterling is of Old English origin, and started out as a surname.
Meanwhile, the middle name Skye is of Old English or Norse origin, and means, well, "sky" or "cloud" (via Babycenter). So basically, the football star and his soon-to-be wife named their daughter "a cloud of the highest quality." How dreamy, hopeful, and beautiful is that? We love it!
Here's wishing the new parents and their Sterling Skye every happiness as they adjust to life as a family of three — um, and maybe Mahomes and Matthews will also get a little sleep? One can, well, dream.