Here's How Patrick Mahomes And Brittany Matthews Actually Spend Their Fortune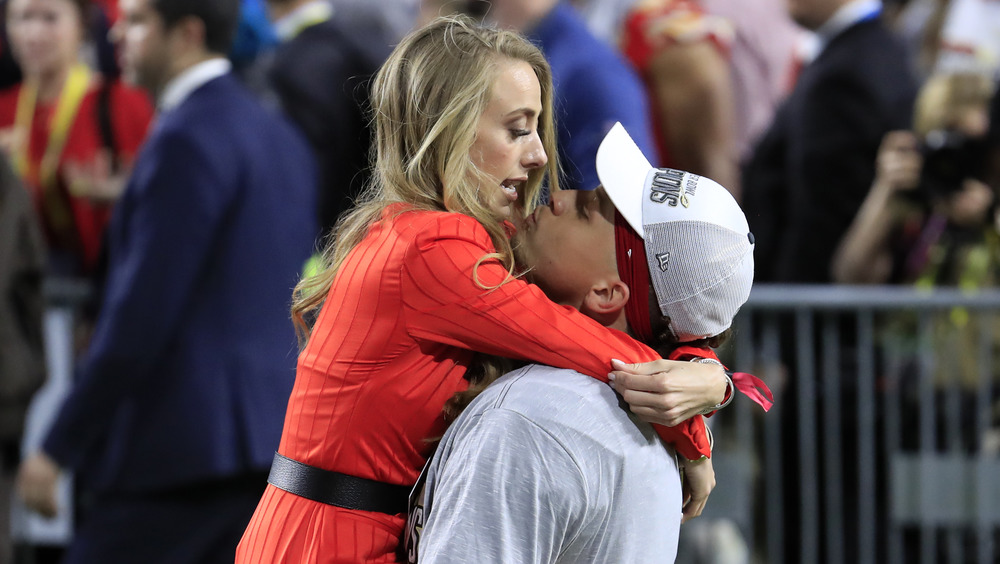 Andy Lyons/Getty Images
After NFL superhero Patrick Mahomes led his team to a Super Bowl win in 2020, he and Brittany Matthews headed for Cabo San Lucas, Mexico (via The New York Post). We don't know what kind of victory lap the Kansas City Chiefs QB and his fiancée may be tentatively planning for 2021 (first step is beating Tom Brady in Super Bowl LV), but we do know that they're on a bigger budget. In July 2020, ESPN's Adam Schefter confirmed that Mahomes had signed the "richest deal in sports' history": a 10-year, $450 million contract extension, which included an injury guarantee of $140 million. So, maybe Mahomes and Matthews will buy a summer house on Lake Como, Italy, Clooney-style? Just saying.
Of course, with the upcoming birth of their first child, Mahomes and Matthews may prefer to lay low, even after a potential 2021 Super Bowl win. The pair has kept busy, redecorating a luxurious, pink-and-white nursery to welcome their daughter into their $1.925 million dollar Kansas City home (via People and Business Insider). Matthews says that the nursery is already a favorite hang out for their two dogs, Steel and Silver. Not that Steel and Silver don't have it good otherwise. Part of the reason why the NFL star and his soon-to-be wife splurged on the home they're living in, is so that their pit bull and Cane Corso mastiff would have a yard to run in. 
How else have the two sports powerhouses been spending their sizable fortune?
A peak into Patrick Mahomes and Brittany Matthews' luxurious lifestyle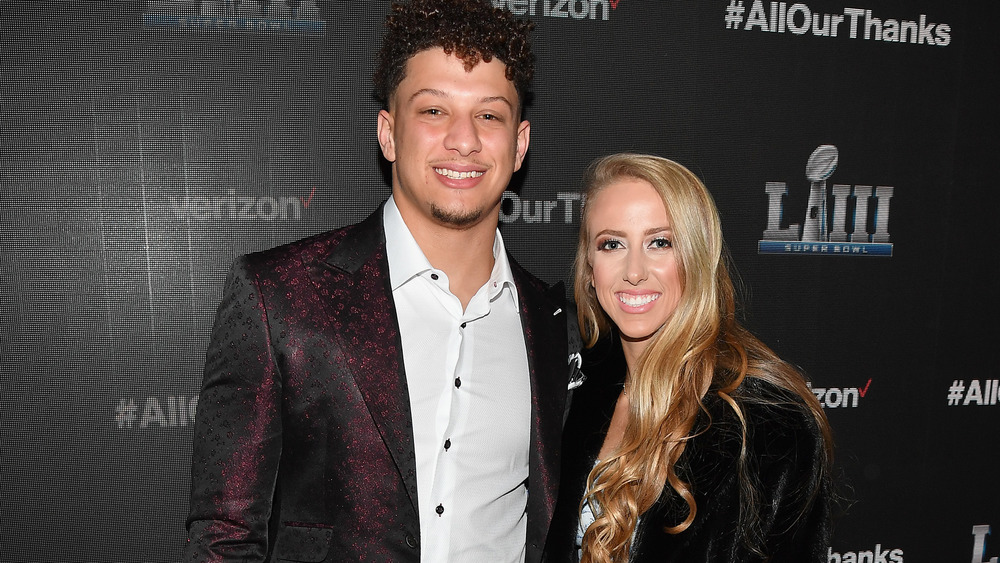 Paras Griffin/Getty Images
We'd place good money that Patrick Mahomes is funneling a decent chunk of his salary into sneakers. When Mahomes and Matthews showed Bleacher Report their new house in 2019, all Mahomes wanted to talk about was his shoes. He's got a room lined with them, floor to ceiling. Of the design space, Mahomes said, "I literally wanted [it] my whole entire life ... and plus when guys come over I'm gonna say 'Hey, let's go look at my shoe room.'" From the look of Brittany Matthews' Instagram, the couple also seem to have invested in a state-of-the-art, at-home gym from which Matthews posts her workouts as part of her fitness training business.
The pair aren't all about sports though. Around September 2020, months after signing his contract, Mahomes dished hundreds of thousands of dollars into an engagement ring (via People). Per what SVP of Merchandising and Retail Expansion Kathryn Money told Life and Style, the rock is probably worth "between $350,000 to $800,000," and features "an estimated 8- to 10-carat emerald-cut diamond, set on a white gold or platinum diamond-adorned double band." (Yes, that puts Matthew's ring in the ballpark of the ring that Blake Shelton bought for Gwen Stefani, in case you were wondering.)
And then, less than six months later, Mahomes gave Matthews another luxury gift in the form of a new Lamborghini. Insider points out that it could very well be a $230,000 Lamborghini Urus. Killer #momcar, if you ask us.
Mahomes and Matthews invest in their local community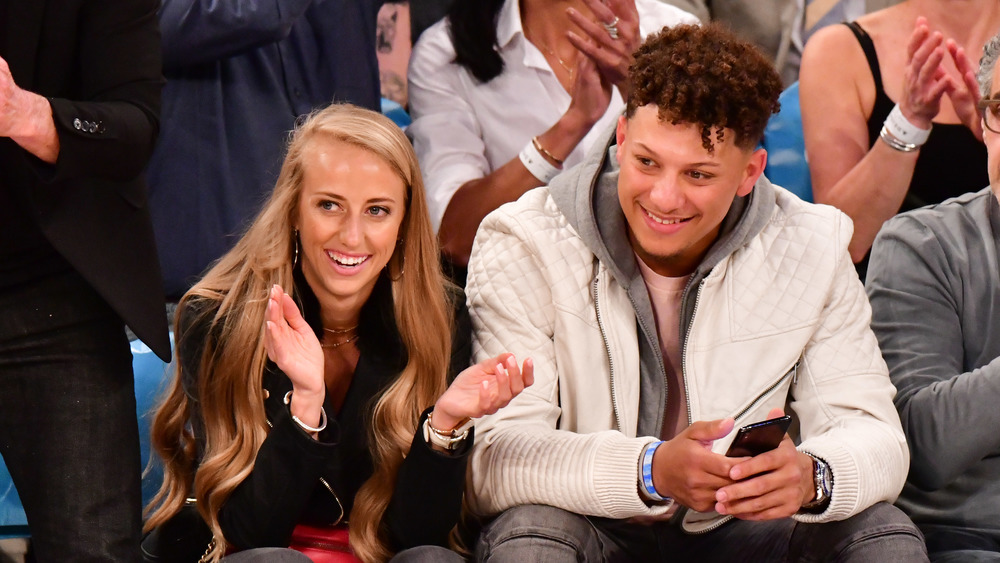 James Devaney/Getty Images
Patrick Mahomes and Brittany Matthews know they have it good. But, beyond expensive cars, sports equipment, and diamond rings, they're not hogging their wealth. Instead, Mahomes and Matthews are investing a large chunk of it into their local Kansas City community. For one: They're upping Kansas City's game, literally. While Mahomes is now a part-owner of the Kansas City Royals, Matthews was part of the group that helped to bring women's professional soccer back to Kansas City with the NWSL's Utah Royals relocating to KC for the 2021 season (via KMBC News). Did we mention that Matthews used to play professional soccer in Iceland (via Kansas City Star).
And then there's 15 and the Mahomies, a charitable organization that Patrick Mahomes founded in 2019, dedicated to supporting "initiatives that focus on health, wellness, communities in need of resources and other charitable causes." Fox News reports that since its founding, 15 and the Mahomies has donated over $500,000 to various organizations working toward its mission statement.
At the time of this writing, the foundation is funding the renovation of Kansas City's Martin Luther King Jr. Park. When done, the park will feature an "all-inclusive play site," and be a place where park-goers can learn about and commemorate Martin Luther King Jr.'s lifework. "I think the thing for me, and Brittany ... we want to invest in this community as much as they have invested in us," Mahomes explained to KMBC.