How Much Trump's Net Worth Has Dropped Since Becoming President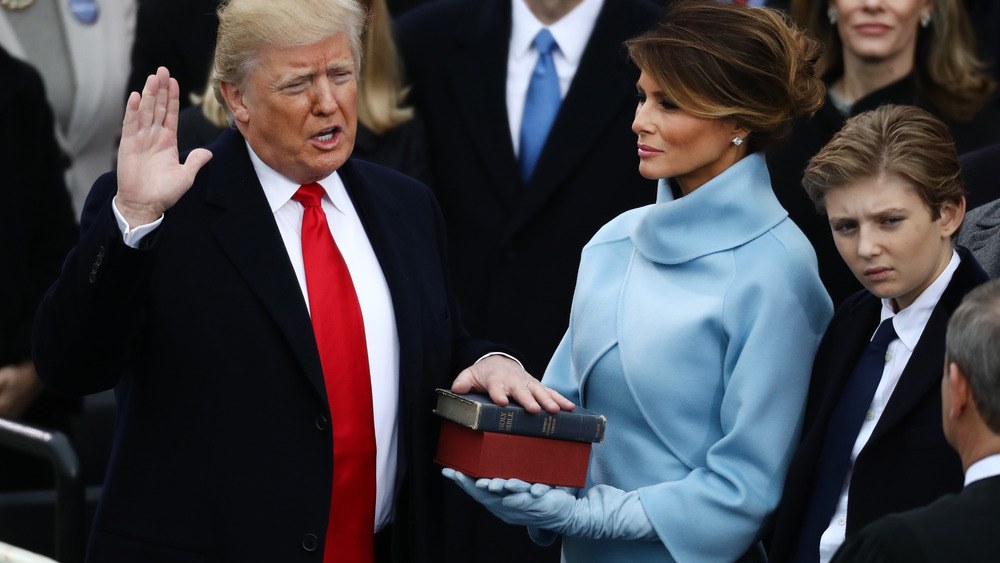 Bloomberg/Getty Images
While there is no doubt that Donald Trump has money — exactly how much he has, has always been the subject of some dispute. After all, when first announced he would run for president in 2015, he told supporters that he was worth well over $10 billion (via TIME). It was later revealed that the businessman-candidate was actually worth closer to $4.5 billion — and even that amount was down by $800 million, by the end of 2016 (via Forbes).
There is a simple explanation for this eye-watering multi-million dollar loss. Most of Trump's wealth is in real estate, and this includes two New York City properties: Trump Tower on Fifth Avenue and 40 Wall Street. It also counts in Mar-a-Lago, the Palm Beach mansion-turned-members club where the former president and his wife Melania live in today, as well as several hotels and golf courses. If the value of all that property were to decline (which it has), Trump would see his net value go down, too.
Trump's net worth was at $2.5 billion when he left office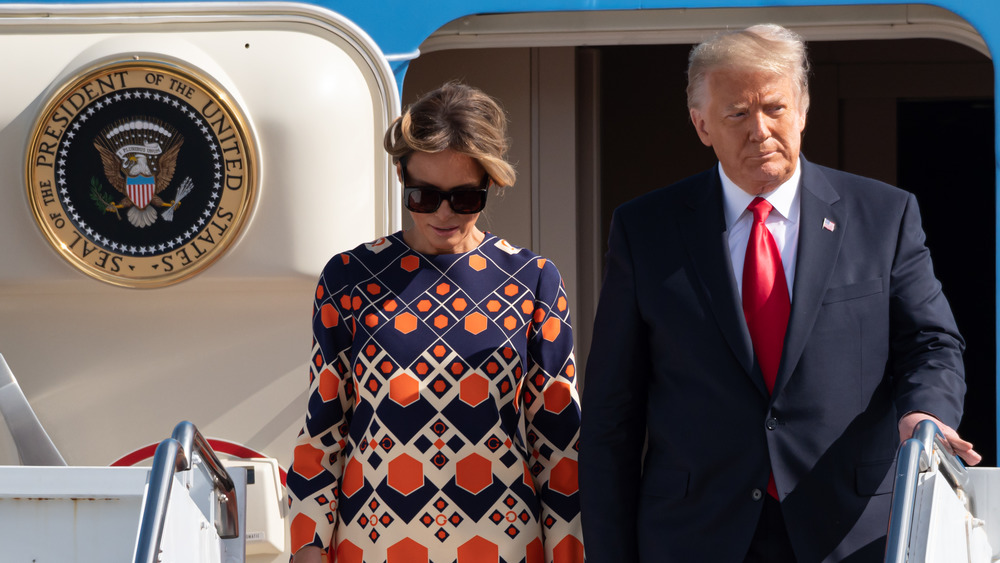 Noam Galai/Getty Images
Donald Trump might have claimed in 2019 that the presidency cost him between $3 to $5 billion in personal wealth (Forbes dismissed the claim as "absurd"), but it was the coronavirus pandemic that actually did a significant amount of damage. The Daily Beast estimates that Trump's net worth could have plunged by as much as $1 billion in April last year, as COVID-19 battered the hospitality and real-estate sectors, leaving his prime office spaces empty, and his hotels and golf courses hurting for cash. 
Trump-branded hotels in Washington D.C. and Las Vegas, as well as Trump golf courses in Miami, the United Kingdom, and Ireland all registered significant revenue losses in 2020 when compared to a year earlier (via Fortune). His golf courses also took a further hit as a result of the Jan. 6 insurrection, when the PGA terminated their relationship with the Trump National Golf Club in Bedminster, New Jersey, and golf authorities outside the U.S. said they would not hold the British Open at his course in Scotland (via The New Yorker).
When he left office on Jan. 20, Trump's net worth had dwindled to $2.5 billion. And by March, a Bloomberg analysis showed that his net worth had declined further to $2.3 billion (via People). Given that many of his businesses have debts that cross the $1 billion threshold and that are due to be paid within the next three years, it may not be long before Trump's billionaire status is taken away.