The Extent Of Tiger Woods' Injuries Revealed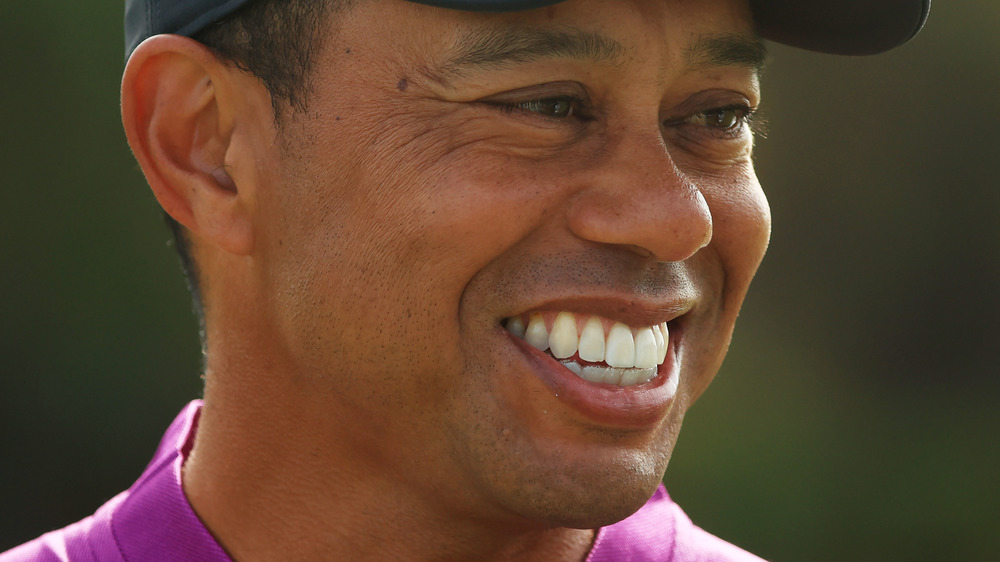 Mike Ehrmann/Getty Images
Fans of Tiger Woods have been waiting with bated breath for news of the golf star's well-being after the horrific car accident (on Feb. 23) that landed him in the hospital. At the time of the crash, Woods had been traveling from a resort to a Los Angeles country club when he lost control of the SUV he was driving. Per CNN, the road he was driving on is known as "a trouble spot for speeding and accidents." According to police who responded to the scene, his car rolled "several hundred feet" before coming to a complete stop, and the car was so completely destroyed that firefighters had to literally cut him out of the wreckage (via the Daily Mail).
Tiger Woods was transferred to the hospital "in serious but stable condition with injuries to both legs," CNN reported. Golf Digest notes that if Woods hadn't been wearing a seatbelt, the crash could have been fatal. Now, doctors at Harbor-UCLA Medical Center, where Woods was taken after the accident, have released information on their patient's condition, and Woods' PR team has released that information to the public. While officials say Woods is "lucky to be alive," the Daily Mail reports that Woods is "awake, responsive, and recovering," after "extensive" surgery to repair massive injuries to his right leg.
In a Facebook Live press conference late on Wednesday (Feb. 24), Los Angeles County Sheriff Alex Villanueva said that he did not expect charges to be filed against Tiger Woods for the single-vehicle crash, saying, "An accident is not a crime" (via NBC News).
The details of Tiger Woods' injuries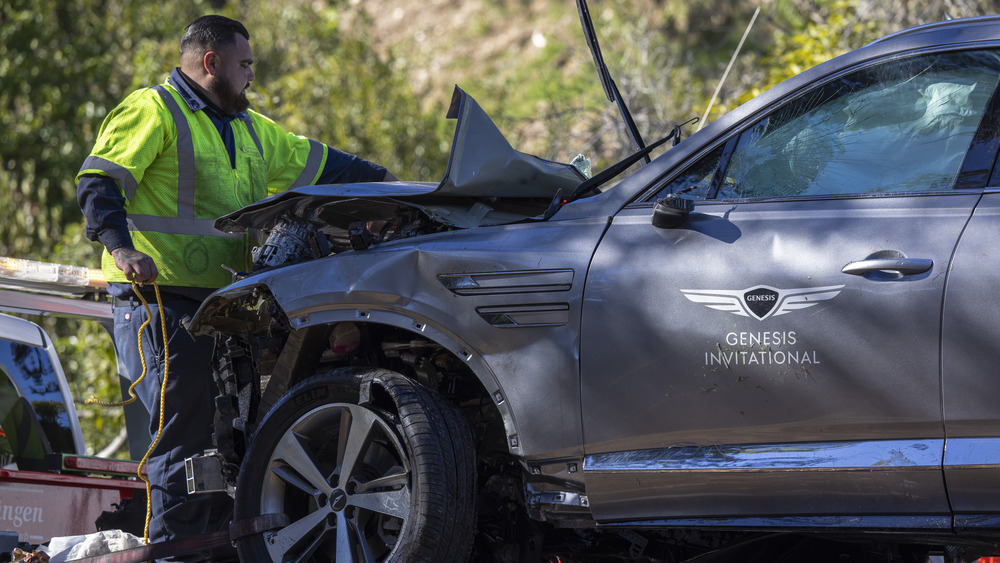 David Mcnew/Getty Images
Please be warned that the following description of Tiger Woods' injuries is graphic. Chief Medical Officer at Harbor-UCLA Medical Center Anish Mahajan described Woods' "significant" leg injuries, which were repaired during surgery, as "open fractures of his tibia and fibula," which means that the bone splintered and pierced the skin; a rod had to be inserted into Woods' tibia (via the Daily Mail). Further, his foot and ankle were "stabilized with a combination of screws and pins." And in order to relieve swelling, muscles surrounding the bones were cut. Sources say Woods was evacuated via the windshield of his vehicle by paramedics, and that he was the only passenger in the car during the time of the accident.
While many are relieved to hear that Woods is awake and recovering, and that his extensive injuries were able to be successfully addressed through surgery, it is still distressing that neither Mahajan nor the golfer's team has publicly discussed the star's prognosis or guessed at when he may be able to take to a golf course again.
A message sent out via Tiger Woods' official Twitter account thanked fans for their support. "We thank everyone for their overwhelming support and messages during this tough time," the statement reads. The message goes on to report that Woods is recovering from surgery and also asks for privacy, noting, "There are no further updates at this time and we continue to thank you for your well-wishes and privacy for him and his family."
Fans worry that Woods' history of substance abuse might become a problem again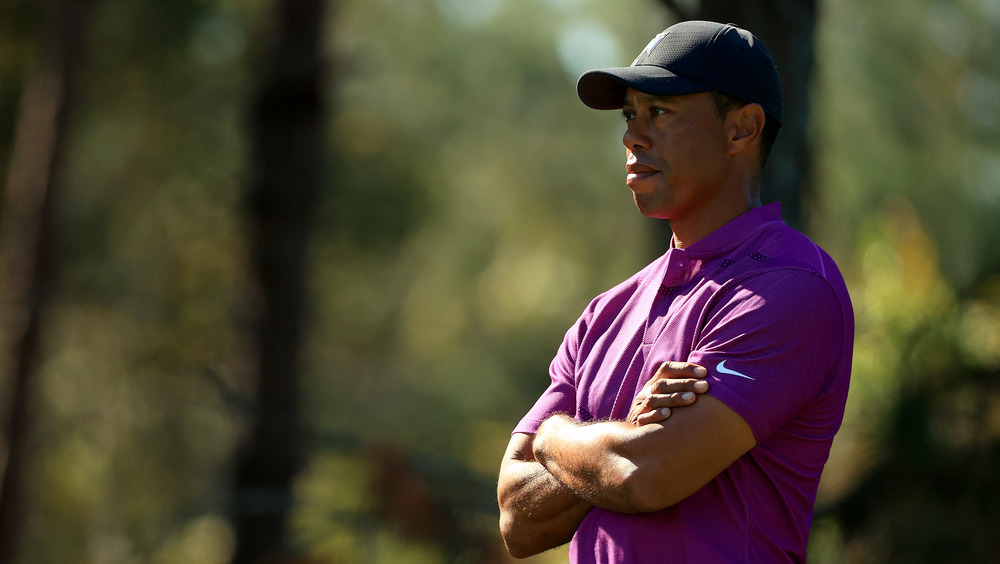 Mike Ehrmann/Getty Images
In addition to worries surrounding the injuries that Tiger Woods has sustained, conversation of the aftermath and healing process cannot be ignored. Woods has a history of substance abuse and addiction which has led to various run-ins with the law, including a situation in May of 2017 in which he was found asleep behind the wheel of his Mercedes-Benz. Woods was arrested later that night upon the police determining that he was driving while intoxicated from prescription medications. He was later found to have two painkillers, Ambien and Xanax, among the five total drugs that were found in his system at the time (via The Wall Street Journal).
Many believe that Woods' struggles with addiction began as a result of his many back surgeries, including three microdiscectomy procedures over 18 months in 2014-15. To start off 2021, Woods announced he was to undergo the same surgery again, which would mark his fifth back surgery overall as a pro golfer (via Golf Digest). It's difficult not to express concern for Woods in light of the news of his severe leg injuries and subsequent surgery, as it seems almost impossible for painkillers not to become part of his daily life yet again. That being said, Woods seems confident that it's no longer an issue, as according to The Wall Street Journal, he said, "I've come out the other side, and I feel fantastic," he said near the end of 2017. "I don't have these issues anymore."