BTS' Jungkook's Surprising New Hair Color Has Fans Doing A Double Take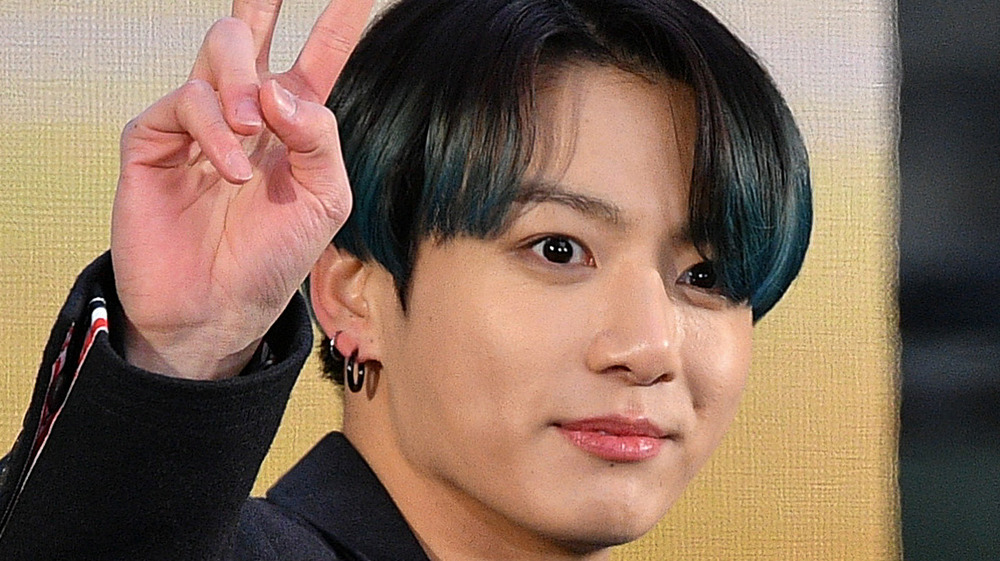 Dia Dipasupil/Getty Images
With the world the way it is today, many of us are forgoing salon appointments in favor of at-home beauty treatments including everything from facial masks to do-it-yourself hair color. And as it turns out, this applies to celebrities too! Jungkook, singer of K-Pop group BTS, revealed his suddenly-blue locks in a mirror selfie yesterday, and the internet is losing their collective minds over it (via Hollywood Life). Almost immediately upon sharing the image on social media, the singer started trending on Twitter. As of this writing, the photo has over 2 million likes and is racking up more every second.
The original photo was shared by BTS' official Twitter account with the simple hashtag caption #JJK for abbreviation of the singer's name. The response has been overwhelming, with fans not wasting a moment in sharing their feelings about the blue hue, and the opinions span the emotional spectrum.   
Fans' Twitter response has been overwhelming
Emotions were running high among Twitter users who responded to the singer's new do, and we mean really high. On fan tweeted several full lines of digital screaming, saying:  "AAAAAAAAAAAAAAAAAAA..."
And while others were a bit more eloquent, their feelings were equally passionate. One fan tweeted in all caps, "IM NOT OVER WITH BLONDE AND YOU WENT BLUEEE WHAT????" referring to a previous shocking dye job in which Jungkook went blond about a month ago. Another Twitter user commented on the sheer level of response itself, saying, "1M likes and almost 400K replies in 49 mins.. THIS IS INSANE JUNGKOOK YOU ARE SO POWERFUL." While Twitter hasn't yet confirmed a record has been broken, many tweets are crediting the singer for breaking the record for number of interactions on a single tweet in under eight hours. Claims that he "broke the internet" could turn out to be true, as the singer has in fact broken social media records before, like back in May when he posted a video which had the most likes of any tweet that week (via Forbes).