Queen Elizabeth Opens Up About Her COVID Vaccination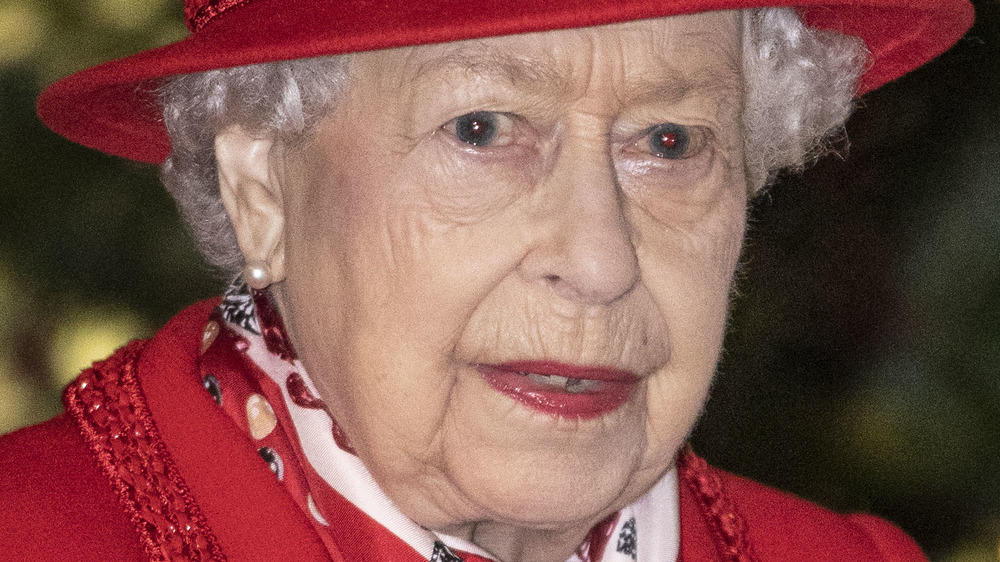 Wpa Pool/Getty Images
Queen Elizabeth II has seen a lot and faced many trials in her long life. The nonagenarian monarch has lived through several major wars, even serving as a mechanic and truck driver in World War II. She was the first head of state to send an email — way back in 1976 (via History). She's seen 12 presidents take office, and met most of them. She's survived bombings, rationings, a (sort of) assassination attempt, Brexit, her sons' notorious divorces, grandson Prince Harry's decision to step back from royal duties, and husband Prince Philip's current hospitalization. A woman like that isn't likely to be fazed by much — and certainly not by a mere needle.
Speaking on a group video call with four national health officers about the ongoing efforts to distribute the COVID-19 vaccine across the nations of the United Kingdom, the queen cheerily remarked on her own experience, saying it was "very quick," and that she'd heard similar stories from people contacting the palace. "And the jab — it didn't hurt at all" (via People).
The queen may still be waiting for her second dose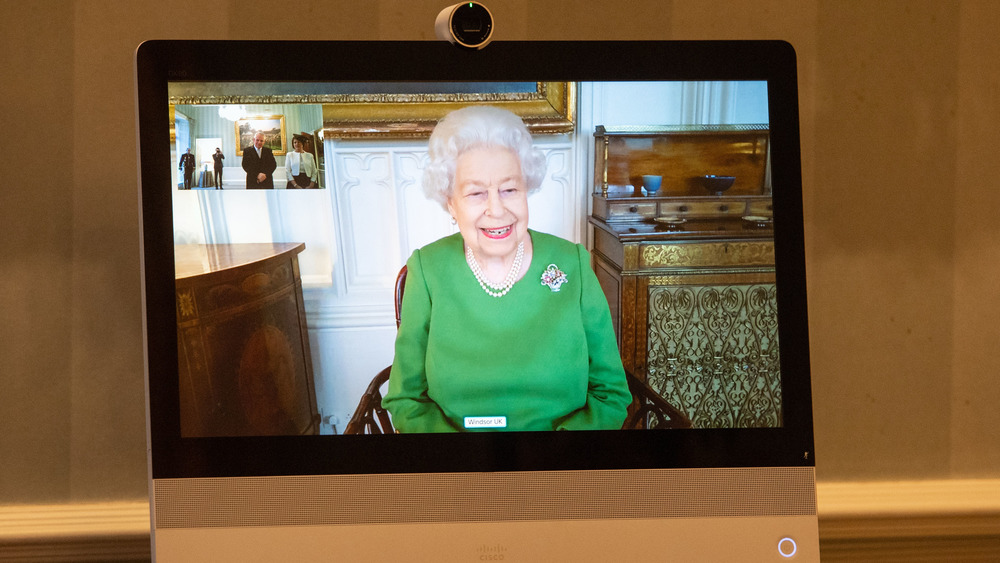 Wpa Pool/Getty Images
It was widely reported by USA Today and other outlets that Her Majesty and the Duke of Edinburgh had received their coronavirus vaccinations on Jan. 9. Their ages made them eligible to be among the first to receive the shot, which they received at home in Windsor Castle. At the time, grandson Prince William told a group of frontline workers, "My grandparents have had the vaccine, and I'm very proud of them for doing that. It's really important that everyone gets the vaccine" (via Town & Country).
Many sources have cited this as being Queen Elizabeth's "first" vaccine, implying that the monarch and her husband have not yet received a second dose. It has been recommended that people receive the vaccine in two doses spaced between three and 12 weeks apart. In England, where a resurgence of COVID has forced another lockdown, the health authorities are considering delaying the second shot for those who have already had it. This would allow more people to get inoculated with their first dose (via The Guardian). 
If the queen will, indeed, be getting her second vaccination in the near future, she may find it a little more of an ordeal. People have reported feeling flu-like symptoms such as fatigue, chills, and body aches after receiving the supplemental vaccine. Medical experts told Today that this is a normal reaction as the body produces an immune response to the virus. Fortunately, the effects go away after a day or two, so even if HM is laid up for a bit, she'll soon be on her feet again with her spirits and determined nature intact.