Meghan Markle Calls Harry This Sweet Nickname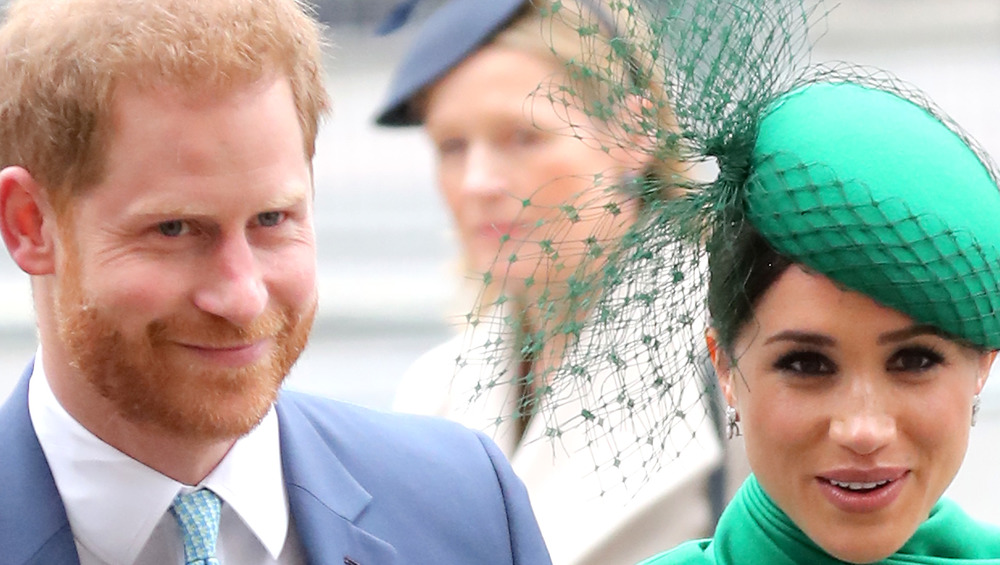 Chris Jackson/Getty Images
Prince Harry and Meghan Markle seem happy to be forging their own life path, despite the cost to their family relations. Having committed to living across the pond in California as private citizens, they have no apparent regrets about leaving the world of pomp, parade, and palaces. They're watching son Archie grow up all too quickly, delighting in the upcoming arrival of their second child, and busy with their Archewell Foundation nonprofit, which is currently offering relief to victims of climate disasters in areas like Dallas, Dominica and Puerto Rico (via People). 
They're also feeling freer to share their lives with the public. In addition to the much-anticipated interview with Oprah coming up in March, the prince appeared on The Late Late Show With James Corden. As he joined the host on a double-decker bus tour of Los Angeles, Harry took the opportunity to explain the decision to relinquish their royal duties – the relentless and "toxic" press scrutiny was taking a toll on his well-being – and declare that public service will always be a central part of his life, whether or not he does it in the name of his granny the Queen (via YouTube).
Markle also briefly appeared on the segment via FaceTime, where she shared a sweet tidbit about her famous husband.
Meghan Markle 'Haz' a cute nickname for Harry
During the Late Late Show interview, James Corden and the prince took a jaunt through some of southern California's most touristy spots, and while visiting the mansion where The Fresh Prince of Bel-Air was set, the comedian/host used Harry's phone to call Meghan. He tried to persuade her to buy the house so she could be "the Fresh Princess of Bel-Air," to which she laughed and said they'd done enough moving for the time being. Meghan then asked, "Haz, how's your tour of LA going?" 
That raised Corden's eyebrows. "Haz? I didn't know we were calling you Haz now." Haz replied, "Well, you're not my wife!"
Continuing their bus tour of the city – which included some traditional tea and scones -  Harry let slip his own nickname for the duchess. Corden asked what their typical evening routine was like, and the prince responded that it begins with Archie's evening tea and bedtime routine. Then "Meg might cook a meal, might order a takeaway, go upstairs, sit in bed, turn the TV on, watch some Jeopardy!, maybe watch a little bit of Netflix."
Sounds like Haz and Meg are quite enjoying the commoner life.