Donald Trump's Closing Remarks At CPAC Are Raising Eyebrows. Here's Why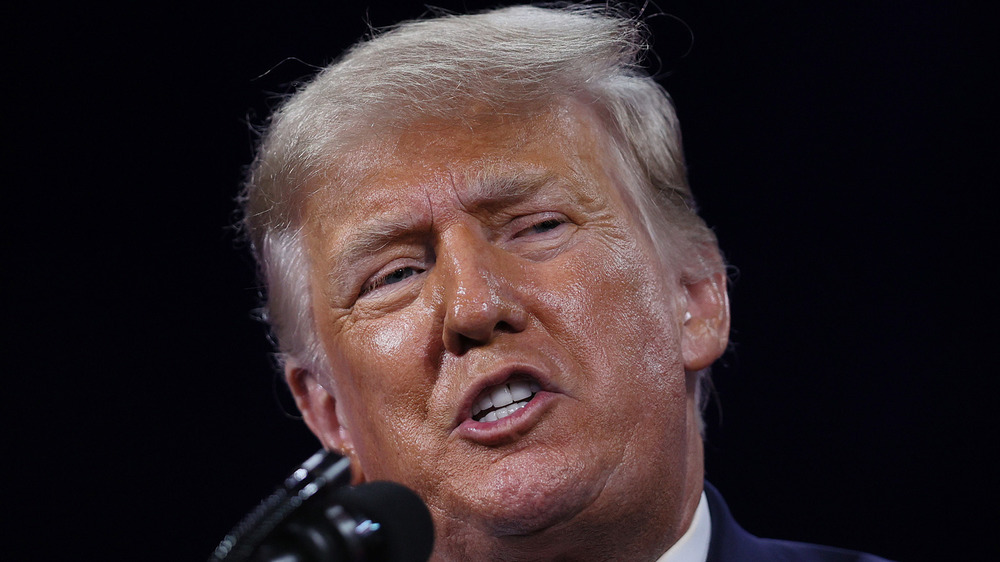 Joe Raedle/Getty Images
This year's Conservative Political Action Conference in Orlando was more than just a conference for many attendees — it was a chance to hear their political idol Donald Trump speak IRL once again, after a month-long absence from the limelight punctuated by his historic second Senate impeachment trial, and he didn't disappoint them.
After repeating his claim that he won the 2020 presidential vote — a claim now positioned by mainstream media as "The Big Lie" (via AP) — Trump told supporters he might run again in 2024 (confounding his niece Mary's prediction that he wouldn't throw his hat in the presidential ring a second time). 
He also shot down predictions that he would start a new party because he wants to stick with the GOP, so that he could combat what he called "Democratic socialism, which we know leads to communism," (via The Orlando Sentinel). "Who knows," Trump says "I may even decide to beat them [Democrats] for a third time." The former president failed to mention he had lost the popular vote twice, and the 2020 Electoral College vote in 2020 (via NPR).
Trump moved on to laud the "incredible journey" that he and his supporters had been on, that they would rise once again, and that there were a list of people that had earned his special brand of disdain, including Utah Sen. Mitt Romney and Wyoming Rep. Liz Cheney. He also heaped plenty of criticism on his successor, incumbent President Joe Biden (via CNN).
Trump called on skeptical Republicans to get vaccinated
Bloomberg/Getty Images
Biden drew Trump's ire for his immigration policy; in Trump's view, his successor had compromised the country's border, which resulted in what he called "a massive flood of illegal immigration." There was nothing new here — those who followed Trump's first journey to the White House will know he has spun this line about immigrants in 2015. Trump even appeared to have forgotten he was at the helm until Jan. 19 of this year, because he called Biden to restart schools which had shut down because of the spread of COVID-19 (via NPR).
While CPAC audiences got a chance to hear about Trump's plans for the 2024 election cycle, they may have also gotten a chance to hear something they didn't expect, because Trump also urged everyone in the crowd to get the COVID-19 vaccine shot. As proof, he pointed out that Biden got himself vaccinated, and that "it shows you how unpainful that vaccine shot is" (via The Washington Post).
The former president isn't keen on vaccines as a whole, as he told crowds in 2015 (via The Washington Post), but there is a potentially self-serving reason for this about-face. There is a huge disparity in the number of Democrats and Republicans over the COVID-19 vaccine; one poll shows 72 percent of Democrats saying that they were either planning or already had the vaccine, while four in ten Republicans say "they will avoid ever getting the vaccine if they can" (via the Monmouth University Polling Institute).
A majority of Republicans across the country don't want the vaccine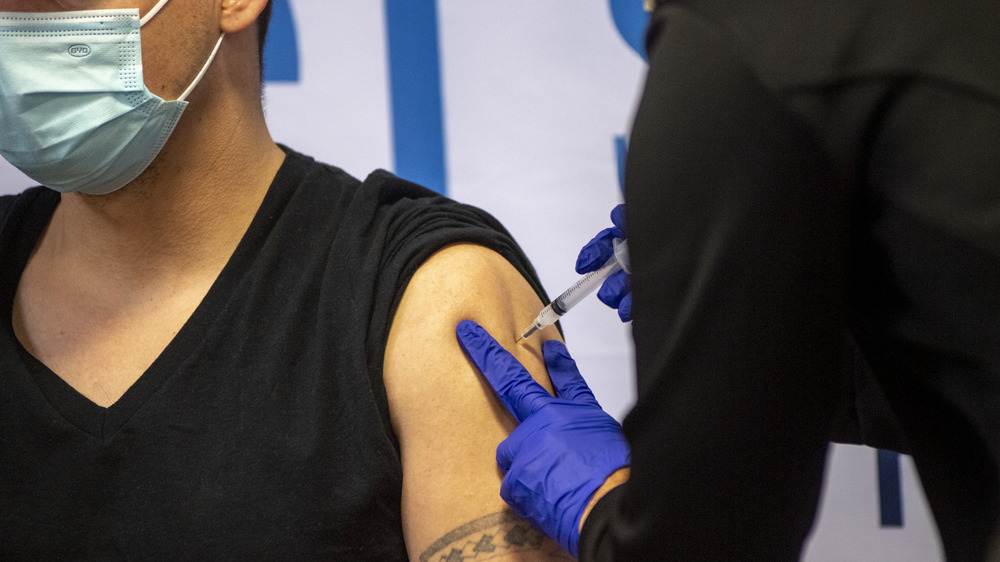 Bloomberg/Getty Images
This finding bears out in other studies made, too. In the state of Colorado, only a head-turning 29 percent of Republicans have told polling group Magellan Strategies that they want the vaccine (by extension, 71 percent don't), according to The Colorado Sun. Meanwhile, 89 percent of Democrats are waiting for their turn to get vaccinated, as are 57 percent of independent voters. Those who are against the vaccine say they don't trust the science behind vaccine development, reports the outlet, they think the shot is unsafe, and one said that if the recovery rate for COVID is at 98 percent, a vaccine isn't necessary.
The Monmouth University Polling Institute's Director Patrick Murray has pointed out that: "Reluctance to get the vaccine is driven more by partisanship than any single demographic factor. It says a lot about the depth of our partisan divide that it could impact public health like this."
The Monmouth poll also shows one important factor: That a third of Republicans feel incumbent President Biden has what it takes to get the virus under control. It may not sound like much, but Murray points out that it could count as "overwhelming bipartisanship," given how divided the U.S. political ecosystem is today. If this trend over the COVID-19 vaccine continues, it could result in plenty of very sick Republicans.
President Biden has promised there will be enough vaccines for 300 million Americans by the end of July — no matter what party they belong (via CNN).