Why Everyone's Talking About Regina King's Golden Globes Interview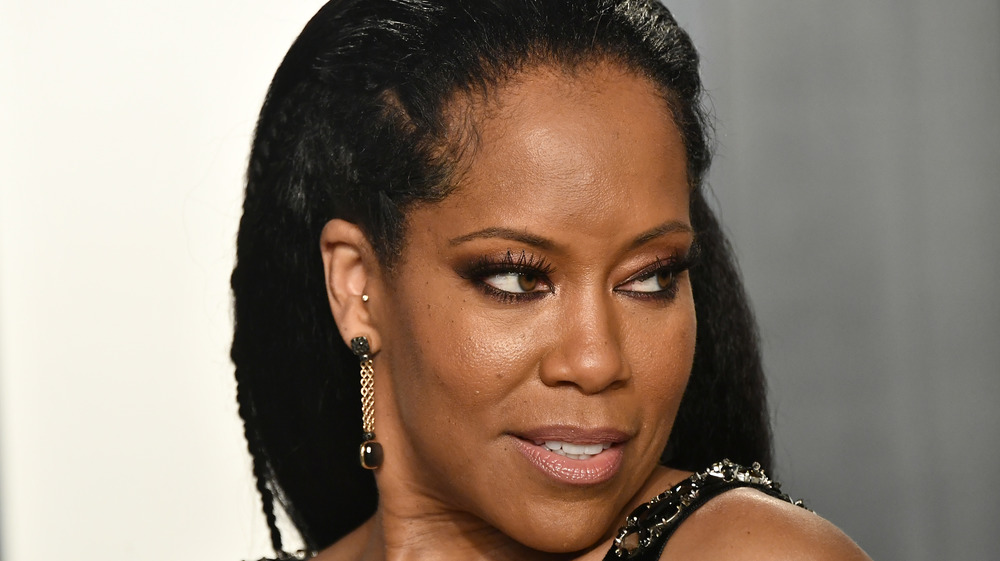 Frazer Harrison/Getty Images
It's a big night for Regina King, who's up for a Best Director Golden Globe for One Night in Miami. Naturally pre-show host Susan Kelechi Watson was eager to interview the actress and director, who looked stunning in a silver and black gown. If you had any concerns that a virtual red carpet would be boring, King's dog put them to rest (literally) by making a cameo and totally stealing the pre-show. Cornbread casually strolled on screen, then promptly curled up in bed for a nap.
Because it's impossible to not love a good dog cameo, social media users immediately went wild, and it's safe to say that Cornbread has a strong case to be named the winner of the Golden Globe pre-show. "Regina King's dog channeling my mood," tweeted user @ezwrites, accompanied by a screenshot of King speaking as Cornbread snoozed in the background.
User @tatianatenreyro tweeted, "regina king's dog's just vibing." Cornbread was definitely the most relatable person (uh, mammal) on the pre-show. After all, who doesn't want to curl up for a Sunday afternoon nap?
Cornbread has been by Regina King's side for 15 years
During an April 2020 interview with InStyle, King was asked about how she was handling self-care while quarantining. Of course, Cornbread's name came up — and it turns out he has a new sibling.
"We recently got a puppy, and that has definitely been a new ball of energy in the house," King told InStyle. "The walks have doubled. Our eldest dog, Cornbread, will be fifteen and he's walking slow, but our new dog, Earl, is only three months old so he's all over the place. Sometimes Cornbread will have to sit out the second walk of the day, so Earl can take his second walk."
During an interview with WebMD, King shared that Cornbread is a Shepherd-Labrador-Akita mix and she stays healthy by taking walks with him near their home in Los Angeles. Cornbread may not have as much energy as he used to, but he still has the ability to steal a Golden Globes pre-show so he's a winner in our book. There's no word on whether or not Earl plans to make an appearance, but we'll definitely have to keep an eye out every time King is on camera.