How Donald Trump Really Feels About The First Month Of Biden's Presidency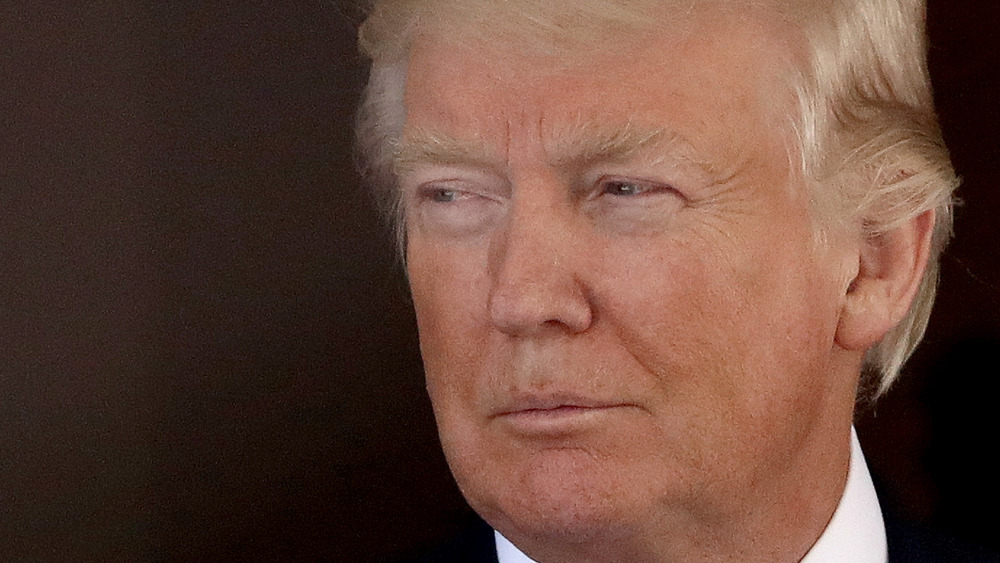 Win Mcnamee/Getty Images
Donald Trump, per The New York Times, has set up an office above his Mar-A-Lago ballroom, where CNN says that Rudy Giuliani and Vanilla Ice entertained guests at his latest New Year's Eve ball. (Remember when Trump made a last-minute decision to skip his own party and head back to Washington?)
Historian Laurence Leamer may have made headlines in early February 2021 for leaking that many Mar-A-Lago members had decided to leave the club when Trump moved back in. "It's a very dispirited place," he told MSNBC's Alex Witt (via CBS). But at least the ballroom seems to be back in use. Perhaps it was there that Republican senator, Mike Lee, held his re-election fundraiser, which cost attendees $10,500 a plate, Politico's Marc Caputo announced via Twitter. 
The office above the ballroom may be getting more foot traffic, still. In late February 2021, Politico reported that Trump and his aides gathered at Mar-A-Lago and chose Corey Lewandowski to run his future super PAC. The PAC will support, as Trump spokesman Jason Miller put it, "the political operation being built out here." We gained our first glimpse into that operation on Sunday, February 28, when Donald Trump gave his first public speech since becoming a private citizen. According to The New York Times, Trump and his aides spent "several days" in the office planning it, and his attacks on Biden's administration. 
Donald Trump takes aim at Biden in campaign-like speech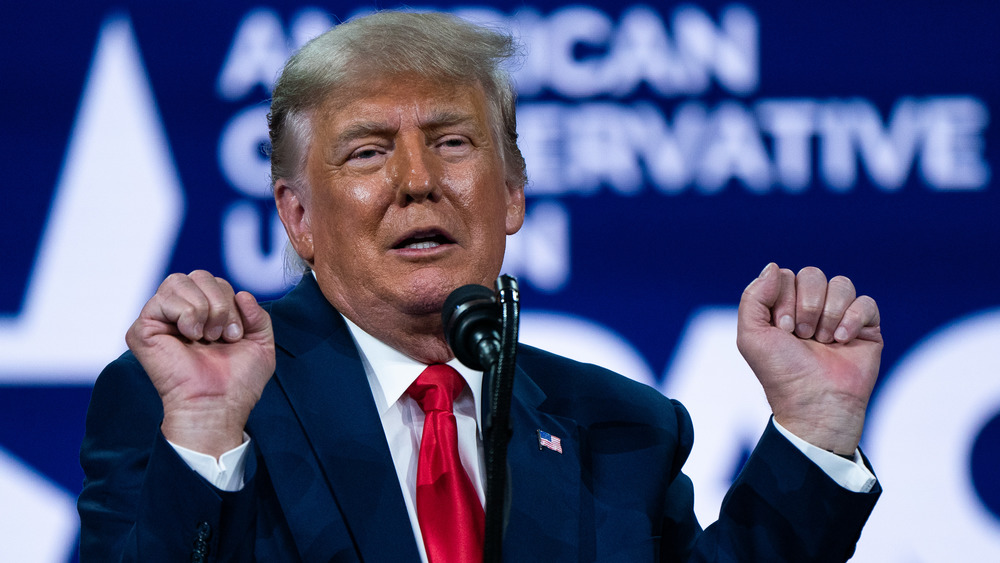 Bloomberg/Getty Images
Not one to mince words when it comes to his democratic rivals, Donald Trump took aim at President Joe Biden during the Conservative Political Action Conference. "In just one short month, we have gone from America first to America last," the former president told the audience in Orlando at February 28th's event (via The New York Times). He scathingly continued, "We all knew that the Biden administration was going to be bad, but none of us even imagined just how bad they would be and how far left they would go." Trump, who hinted at a 2024 run, justified his attacks based on criticism of the Iran nuclear deal and, per CNBC, a "new and horrible [immigration] crisis."
Meanwhile, after reviewing his financial disclosure forms, CREW says that Trump made 1.6 billion dollars in "outside revenue and income" while president. And The Washington Post reports that The Manhattan District Attorney's Office is currently investigating Trump's tax returns as part of a criminal investigation into his businesses. Pending the outcome of the investigation, it's not yet clear what charges the former president may face, and whether or not those would hinder his ability to run for office again.