Bernie Sanders' Golden Globes 'Appearance' Is Turning Heads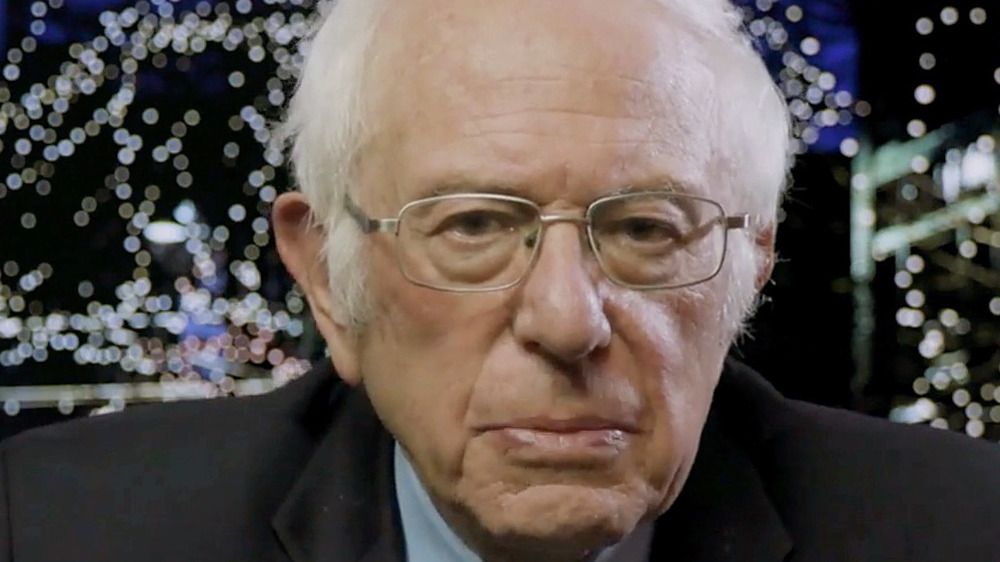 2020 Billboard Women In Music/Getty Images
People can't get enough of Bernie Sanders' surprise appearance at the Golden Globes over the weekend. If you're thinking that the awards ceremony doesn't sound like the kind of place the politician would turn up, especially during a pandemic, you'd be right. Sanders didn't actually turn up in person, but rather in the form of a life-sized cutout.
Cynthia Nixon joined the Golden Globes via video call, and fans were quick to notice that she had an important "guest" with her. Per E! News, Nixon could be seen seated with her friend, Tahanie Aboushi, and her son, Max. In the background was a cutout of Sanders in the now-infamous cross-armed pose that has become a popular meme since President Joe Biden's inauguration.
"The #GoldenGlobes for best performance of a Bernie Sanders cutout in an awards show goes to Cynthia Nixon," tweeted one viewer. Another wrote, "NOT @CynthiaNixon HAVING BERNIE SANDERS IN THE BACKGROUND IM HOWLING."
Cynthia Nixon has supported Bernie Sanders in the past
Sanders is well aware that the image of him crossing his arms and wearing mittens has gone viral. The image has been photoshopped into various scenes and has even been put on merchandise. A search for "Bernie Sanders mittens" on Etsy shows a variety of products for sale with the image emblazoned on them including mugs, shirts, greeting cards, stickers, and pins. You can even get a hand-knit replica of Sanders' mittens or a crocheted Sanders doll.
"I was just sitting there trying to keep warm, trying to pay attention to what was going on," was Sanders' nonchalant response to becoming a beloved meme when asked about it on Late Night with Seth Myers in January.
Nixon backed Sanders last year during his presidential run. "It seems to me that what you need in a politician is you need someone with a vision, you need somebody who can galvanize people, and you need someone who can't be bought," said the Sex and the City star in a YouTube video. "And there is nobody that has those three qualities in greater abundance than Bernie Sanders."