The Genius Way To Cover Up The Most Common Types Of Acne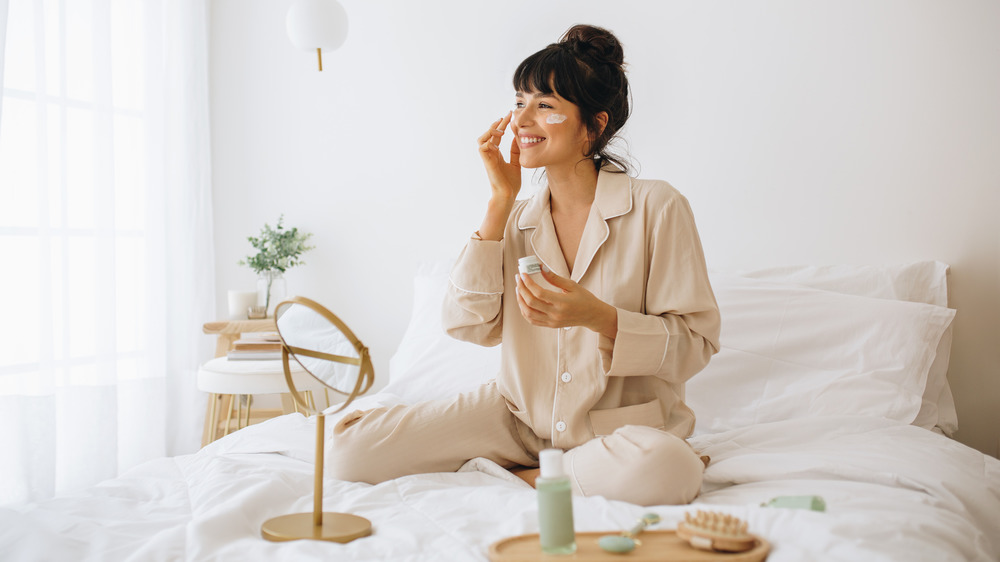 Shutterstock
Jennifer Lawrence once lamented that no one ever tells you that acne doesn't simply vanish after puberty — it can stick around a long time. Luckily, makeup offers an antidote to the seemingly interminable battle against breakouts; this tool can be especially powerful when wielded properly. First, it's important to note that different types of blemishes call for various makeup applications, Women's Health explains. So, if you've been painting with a wide brush, so to speak, it's time to get more specific.
If blotches of red bumps are causing you grief, start by countering the red hue. Grab an under eye stick and use a wide brush to cover the entire surface of the affected area, the outlet suggests. Giving you a color-corrected palette, you can then apply your foundation — lightly so as not to impact the first layer of makeup. Women's Health also suggests dabbing it on with a sponge to make application as gentle as possible.
For those zits that you popped a long time ago, only to be left with a dark mark in its place, opt for a blurring primer that counteracts the discoloration. From here, apply your foundation by "stippling" it. Essentially, this technique involves tapping it on your skin with short dabs as opposed to long strokes with your brush. Makeup artist Allan Aponte tells the outlet, "This allows air to be infused to the foundation and for it to stick better."
In fact, stippling may be the best way to apply your makeup if you're suffering from acne.
Look for an acne-fighting concealer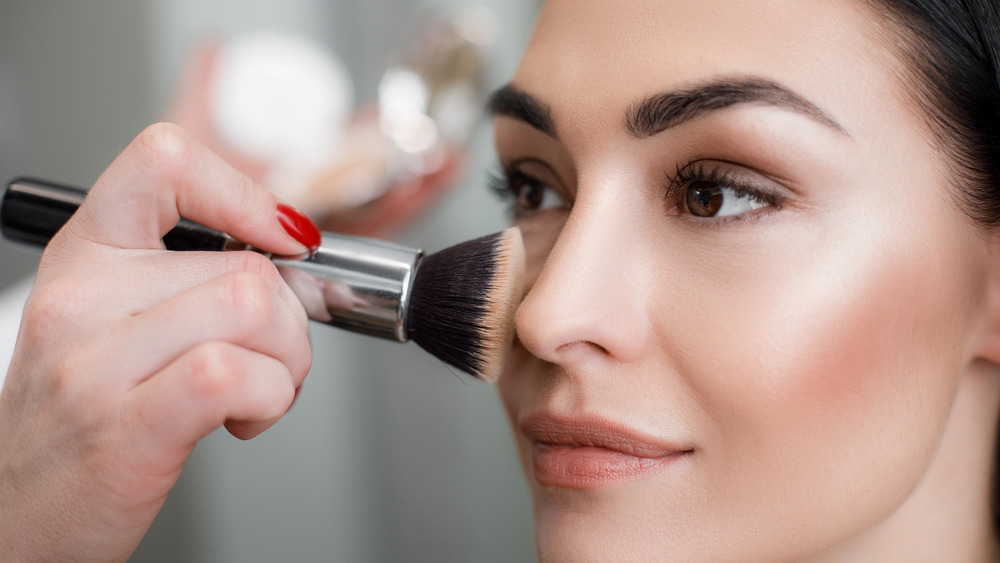 Shutterstock
As the market for hybrid beauty and skincare products grows ever more competitive, it's a good idea to take advantage of some of the items on the shelves today. If you have a whitehead or a slew of blackheads giving you headaches, finding a skincare-makeup combo could make a big difference in your skin's clarity.
Well+Good recommends using a concealer that contains tea tree oil or salicylic acid to cover up and counteract even the most noticeable of blemishes. Shirley Chi, MD, a California-based dermatologist tells the outlet that, "Salicylic acid breaks down dead skin cells, so it unclogs pores and helps to clear up a pimple faster. So once a pimple comes up, if you put salicylic acid on it, it could make it go away a little faster."
For that pesky pimple, grab a small brush to apply your concealer to the area, Allure suggests. This gives you more control over where your product goes and how much you layer on. Mally Roncal, founder of Mally Beauty, tells the outlet that it's important to be sparing here, "You don't want to cover any of the good skin around the pimple or you'll create a 'look at my zit' bulls-eye."
Gently tap the area to shorten its stature once you've applied concealer, then set with a powder foundation rather than a slick liquid option. Roncal also notes that you can take your eyeliner pencil and make your zit into a birthmark if all else fails!