Chris Cuomo Finally Breaks His Silence About His Brother Andrew On CNN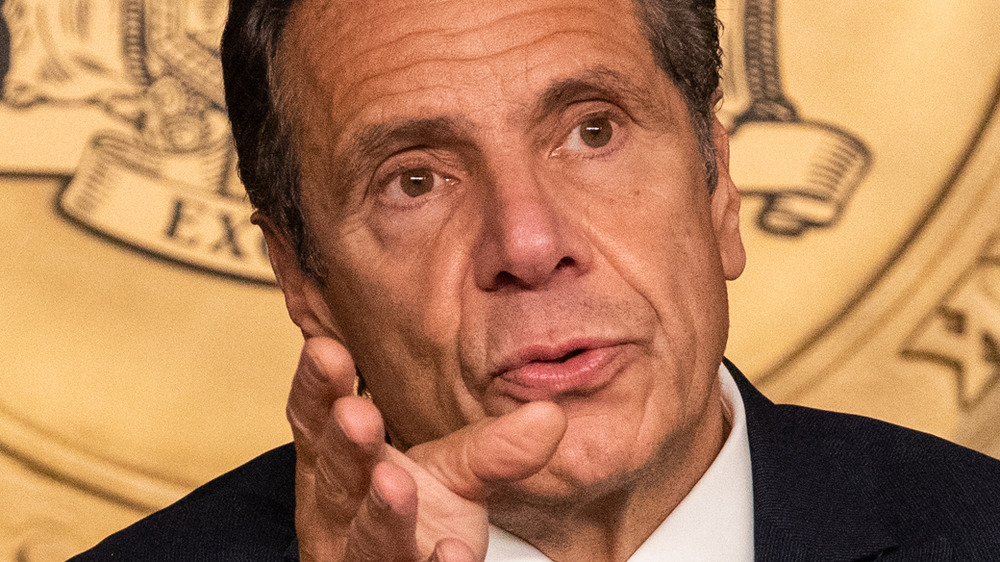 Bloomberg/Getty Images
New York Gov. Andrew Cuomo is in the news a lot lately, but for all the wrong reasons. He was once praised for being one of the few credible voices in the country's fight to contain the coronavirus pandemic but Cuomo is now being widely criticized, first for forcing nursing homes to take on COVID-positive patients when hospitals were under pressure, and then hiding the number of coronavirus-related nursing home deaths (via STAT News). 
Now several New York state employees have come forward to complain about the governor's past behavior, and he's being accused of sexually harassing several women — and the calls for his removal or resignation are rising. Cuomo has since released a statement admitting some of the things he said and did could have been "misinterpreted" (via The Guardian). 
Throughout it all, CNN anchor Chris Cuomo, who was allowed to interview his brother regularly during the early days of the pandemic, has been silent. But today he chose to use his show, CNN's Cuomo Prime Time, to address what is happening head on. On Monday night, Cuomo took time to address the controversy surrounding his brother, saying: "Obviously I am aware of what is going on with my brother. And obviously I cannot cover it because he is my brother. Now, of course CNN has to cover it. They have covered it extensively and they will continue to do so (via Twitter).
Social media has thrown its support behind Chris Cuomo
Kevin Mazur/Getty Images
Chris Cuomo's announcement was picked up and amplified on social media, giving his supporters a chance to air their support for the anchor, if not for the embattled governor. One Twitter user reached out and said: "Recusing himself from his brother's situation is the correct PROFESSIONAL journalism call! Thank you Chris, for maintaining yours and journalism's integrity! These types of calls make America stronger and credible in the eyes of the world!"
Back in June 2020, Chris Cuomo admitted via Twitter that it wasn't exactly kosher to have his brother on his show, but he said at the time that he had his reasons: "Not objective but true,the facts tell the story.NY had & has its struggles but they're doing way better than what we see elsewhere & no way that happens without the Luv Guv dishing the real 24/7.He works with relentless intensity & NY's better for it.And as a brother, I am proud."
The on-air rapport might have raised a number of eyebrows then, but more than a few were willing to sing the praises of the Cuomo brothers. Today, Chris Cuomo is again covered by a CNN directive banning him from speaking to, or doing stories about his brother. The days of Cuomo and Cuomo, at least for now, appear to be over (via NBC).