Why Madison Cawthorn's Story About His Accident Is Raising Eyebrows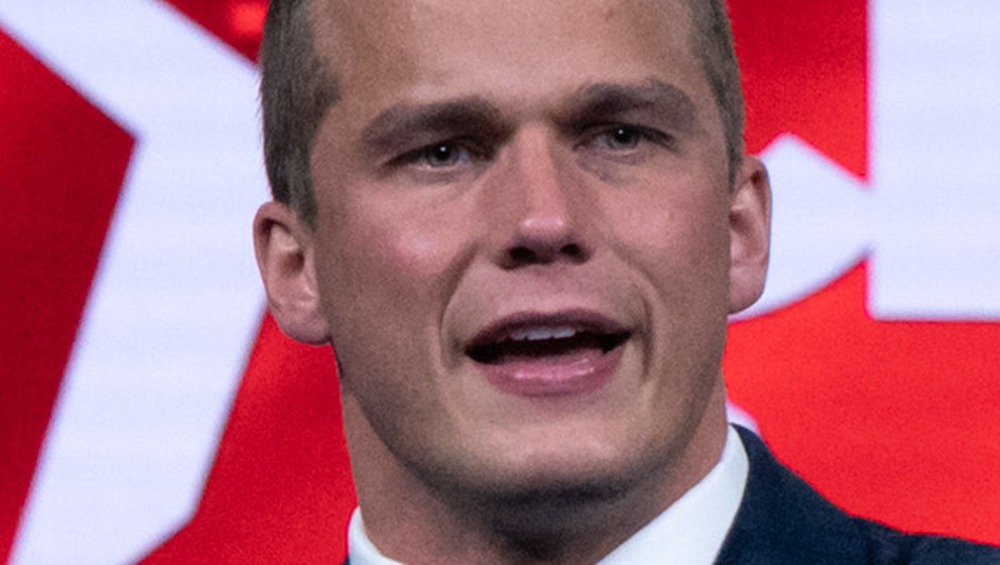 Bloomberg/Getty Images
It's no exaggeration to say that North Carolina Rep. Madison Cawthorn has certainly made waves during his short time in office. Not long after winning his election in November 2020, he pledged to contest the results of the presidential election that named President Joe Biden the victor over Donald Trump (via the Asheville Citizen-Times), and following Cawthorn's appearance at a "Stop the Steal" rally preceding the Capitol Hill riots, a government watchdog group is seeking an investigation into the freshman representative's actions (via The News & Observer).
Now, a new report from the Washington Post raises questions about the veracity of a number of claims Cawthorn has made about the car crash that rendered him paralyzed and in need of the use of a wheelchair. When recounting what happened that night during a 2017 speech at Patrick Henry College, Cawthorn said that the friend he was with during the crash left after the accident, with Cawthorn set to perish in a "fiery tomb." He continued on to say that the doctors "declared [him] dead" (via the Post).
However, the friend with whom Madison Cawthorn was in said car crash, Bradley Ledford, is now refuting Cawthorn's account of the incident. Ledford told the Post that he extracted Cawthorn from the car, and in the official accident report obtained by the Post, Cawthorn's state is described as "incapacitated."
Sexual assault allegations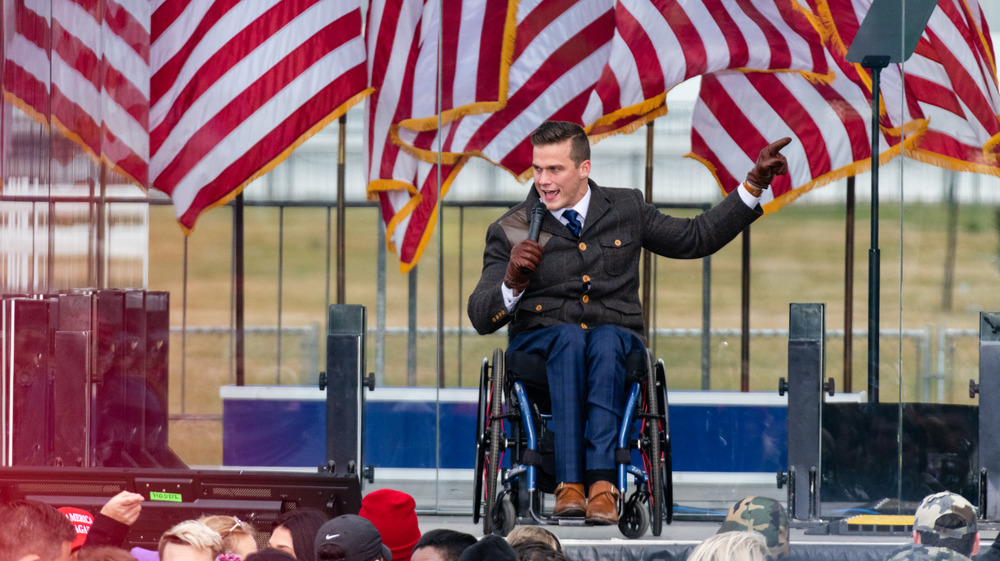 Bloomberg/Getty Images
Even before Madison Cawthorn was elected, many had good reason to question his character. Prior to his election, it was discovered that Cawthorn shared an Instagram post of him paying a visit with his brother to a house in Germany frequented by Hitler. In his caption, Cawthorn wrote, "Seeing the Eagles Nest has been on my bucket list for awhile, it did not disappoint. Strange to hear so many laughs and share such a good time with my brother where only 79 years ago a supreme evil shared laughs and good times with his compatriots" (via Vice).
And in addition to the lying, fearmongering, and attempts to spread misinformation, BuzzFeed recently reported that Cawthorn was a known sexual predator in college. BuzzFeed spoke with two dozen of Cawthorn's former classmates, as well as a dozen more of their friends and family members to corroborate accounts of Cawthorn's misconduct while on campus. Among a number of harassing behaviors, Cawthorn was prone to take women for rides in his car, isolating them while he asked them inappropriate questions or pressured them into sexual activities (via BuzzFeed).
The BuzzFeed report builds on the October 2020 open letter 160 of Cawthorn's former classmates signed detailing the disrespect and troubling behavior Cawthorn engaged in while on campus.
If you, or anyone you know, have been a victim of sexual assault, help is available. Visit the Rape, Abuse & Incest National Network (RAINN) website or contact RAINN's National Helpline at 1-800-656-HOPE (4673).