Why Joe Biden's Virtual Chat With Democrat Lawmakers Is Turning Heads
Anna Moneymaker/Pool/Getty Images
It should have been a time for President Joe Biden to get together with members of the Democratic Caucus to highlight how the Executive and Legislative branches of government might work together to try and address the perfect storm of issues facing the country, from the COVID-19 crisis to the economic slowdown arising as a result of the coronavirus pandemic. Instead, Biden's speech to House Democrats went viral and became a tempest in a teapot for all the wrong reasons, garnering more than 1 million hits — not because of what the president said but because of the way it ended (via Newsweek). 
The Issues Conference was virtual this year because of COVID-19 and featured a live feed showing President Biden sitting before a large screen. He thanked the caucus for their work in passing the pandemic relief plan (aka the American Rescue Plan), and he reminded the group to be "laser focused on getting shots in people's arms, responding to the economic crisis [because] it's going to open up a lot of hearts and a lot of doors for us tomorrow to do the many more things we know we have to do" (via The White House). 
Joe Biden's critics used the video cut to jump to conclusions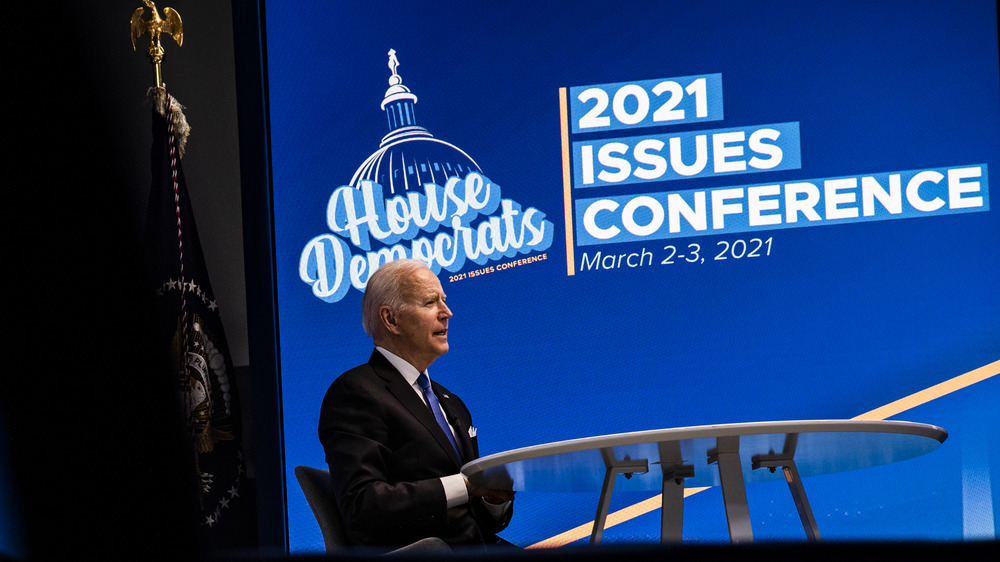 Samuel Corum/Getty Images
But it wasn't Joe Biden's speech that caught the attention of social media. Instead, it was how the feed ended, because it abruptly cut away from the president just as he said he was happy to take questions if that was what House Speaker Nancy Pelosi wanted. Biden's critics on the right took the awkward break as a sign that he didn't want to be questioned. Newly minted Fox personality Kayleigh McEnany even took the opportunity to point out that Biden had yet to hold a solo news conference, when his predecessors had taken a different tack. "Where's Joe? It's been 41 days, at this point President Trump had had multiple press appearances, press conferences. President Barack Obama had as well," she said (via Newsweek). 
The abrupt end also set off a firestorm of conspiracy theories on social media, with some accusing the White House of deliberately keeping President Biden from answering any questions (and conveniently forgetting he was at a live CNN Town Hall just weeks ago).
Social media users chime in on Joe Biden's virtual chat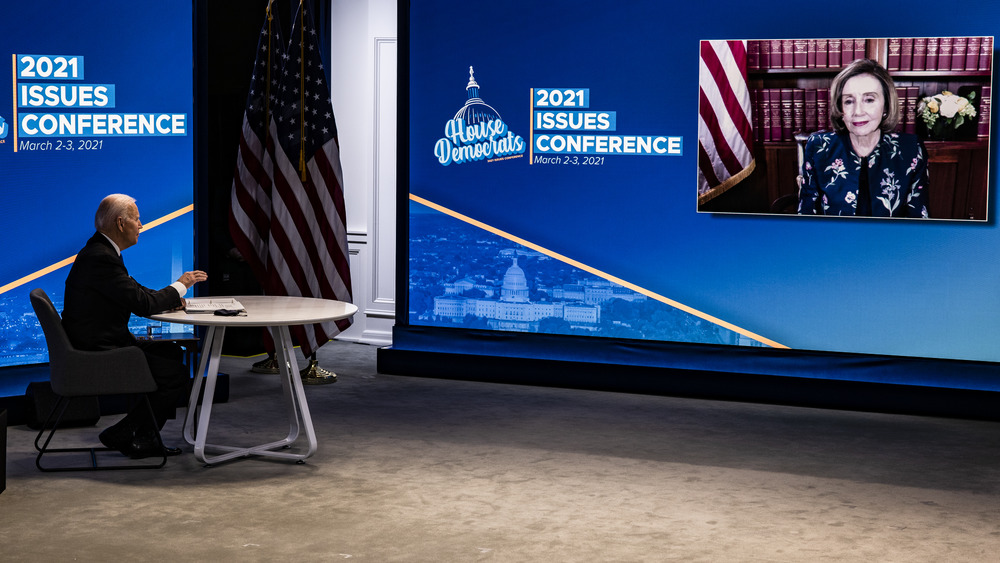 Samuel Corum/Getty Images
There were also quite a few bewildered social media users who took the opportunity to ask what the fuss was about, with some presenting plausible ideas regarding the abrupt end to Joe Biden's speech. "Why are people making a big deal out of this, lol? Sounds to me like Q&A wasn't the plan but he was being accomodating [sic] in case he needed to continue, and it ended because he didn't need to," one Twitter user wrote, pointing out that "Perhaps the feed was cut too abruptly but that can happen. Tech stuff, human error, nbd."
Another Twitter user echoed those sentiments, writing, "Whats the big deal? There's nothing wrong here. Gosh people always wanting to cry about something. Pfft."
And a third social media wrote on Twitter, "Ah the great nothing burger, of which publications like this are amazing chefs. There is nothing here, but WE WILL MAKE SOMETHING YES WE WILL!"