Bloopers That Make Us Love Noah And Lana Even More
This content was paid for by Netflix and created by The List.
It's hard to imagine loving Noah Centineo and Lana Condor any more than we already do. Throughout the To All the Boys I've Loved Before film series, the two stole our hearts and held on tight as they brought the epic romance of Peter Kavinsky and Lara Jean Song Covey to life in all three movies. As much as we already adored their characters in Jenny Han's novels, these actors also brought something special of their own to the story, and we couldn't get enough of watching both of them both in the movies and in their other endeavors.
Both Centineo and Condor have such sunny dispositions that even their most candid moments always draw a smile. Whether they're breaking into an impromptu dance session in the middle of a grueling press day or being silly with props behind the scenes, there never seems to be a dull moment when these two actors are involved. So to celebrate their natural abilities to get us grinning, here's a look at some of the bloopers from the To All the Boys I've Loved Before films that make us love Noah Centineo and Lana Condor even more.
Leaving it all on the field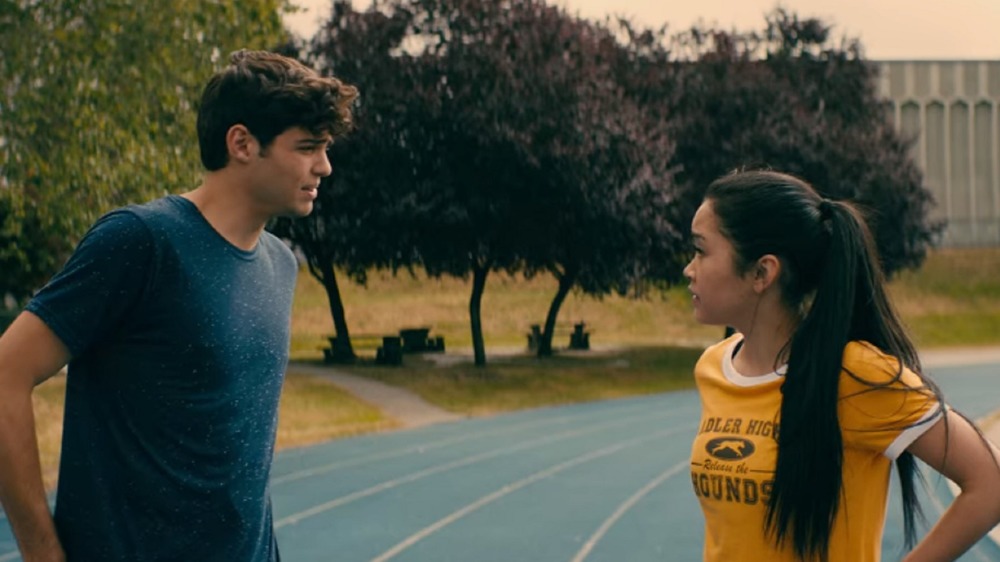 Netflix
There was already a lot of comedy to be found in the moment when Peter first confronted Lara Jean about her love letter to him in To All the Boys I've Loved Before. Lara Jean had no idea her notes had been sent out by her sister and was caught completely unaware by Peter's conversation, even passing out on the spot after seeing the note that was supposed to be forever a secret right there in his hands. Things got even more outrageous when she woke up to find her sister's ex-boyfriend Josh (Israel Broussard) approaching her with his own note in hand. That's when Lara Jean planted the first of many kisses on Peter before running away in abject humiliation.
As brutally awkward as the scene might've been for the characters, though, it looks to have been a lot of fun for the actors involved. In a bit of behind-the-scenes footage from that day of filming, both Centineo and Condor can be seen taking a beat to boogie on the field. Even if their characters were just getting acquainted in that particular moment, the actors had clearly already established their own rhythm together. The two also gave To All The Boys fans a few previews of the many romantic movie homages to come in these films by using their downtime to recreate the iconic lift scene from Dirty Dancing and the big bleacher romp from 10 Things I Hate About You.
Pop goes the balloon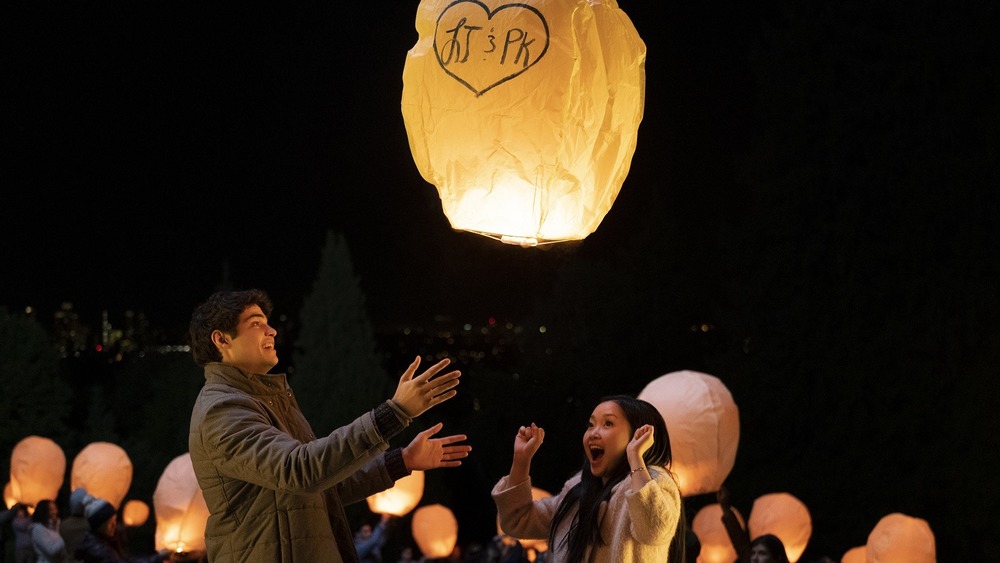 Bettina Strauss/Netflix
If you thought the paper lantern sendoff scene in P.S. I Still Love You was a little too perfect to be true, well, you weren't exactly wrong. In the footage that made it into the film, Peter and Lara Jean added their initials and sent their promises to the sky alongside dozens of other couples with no problem. The moment was romantic and set the date night bar very high for us all.
However, it did take a couple tries for the actors to get it perfectly right. In one behind-the-scenes blooper from the film, both stars got a nice little lesson about the pratfalls of working with pyrotechnics — even ones as small as a balloon. Condor couldn't help but shriek when their prop went "pop" right in her hands, but Centineo kept his cool and chuckled as the crew came along to take the faulty inflatable away. It's hard to tell whether he was laughing at the prop fail or his co-star's fierce reaction, but since no one was in actual danger here, it was all pretty funny.
The organic shampoo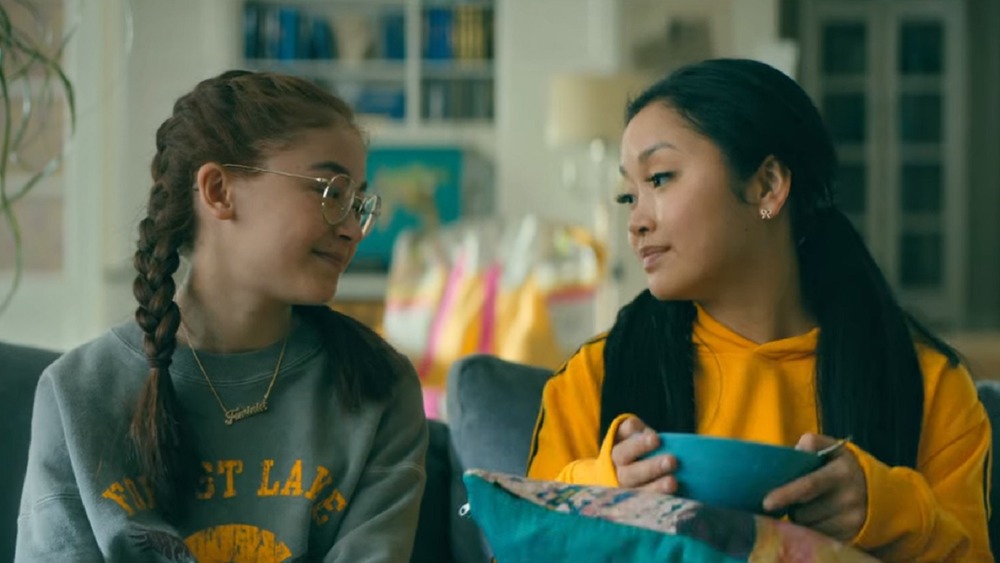 Netflix
One of the most hilarious bloopers from the second movie – To All the Boys: P.S. I Love You — raises the question of whether there is already a record for the most breakfast products to ever fit into a person's hair and if not, whether Condor and Anna Cathcart might have accidentally earned that title. Because while the two were filming a nice sisterly scene in which they discuss their dad's blossoming love life, one take went very wrong and they got into a food fight on the couch instead.
Condor was supposed to be casually chomping down some cereal as Lara Jean's sister expressed her excitement about their dad potentially dating their neighbor, but instead the food went flying, and it just didn't stop. In this blooper, Condor seems to have an absolutely unlimited supply of cereal as she stays in character to toy with Cathcart and then put cereal into her hair, piece by piece for what seems like an eternity. And just when you think Condor is done putting cereal into her co-star's hair, she keeps right on going for added hilarity.
Going ham over green beans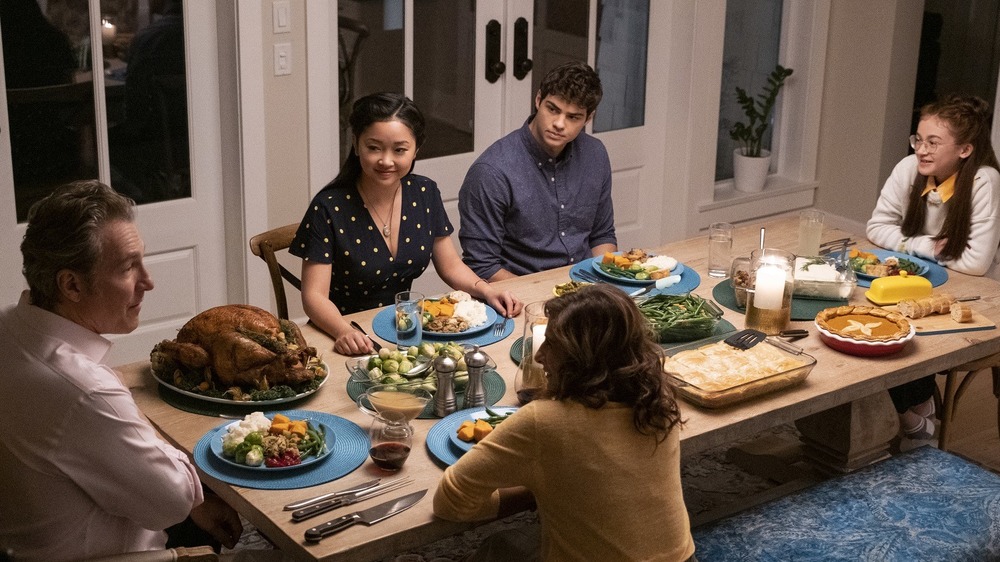 Bettina Strauss/Netflix
It's a very emotionally poignant moment in To All The Boys: P.S. I Still Love You when the Covey family first hosts Trina Rothschild (Sarayu Blue) at their traditional Thanksgiving-in-March dinner celebration. The girls — especially Lara Jean — know that Trina and their father Dan (John Corbett) may become more than just friendly neighbors, so this meal offers an important opportunity for them to honor their mother's memory and share her legacy with a potential new addition to the family.
But while you might have heard the backstory of their sad little canned green bean dish unfold without a hitch in the film, it clearly took Condor more than one take to compose herself once she became infected with a major case of the sillies during the shoot. In one adorable behind-the-scenes blooper from the pic, Condor can hardly contain herself as she giggles uncontrollably for a solid half minute before getting back to the business of filming her dialogue.
And that wasn't the only time Condor stopped the clock in stitches, either. In another moment during the shoot, she and Jordan Fisher were filming their characters' tour of the senior living center and just as they learned about a room full of the unclaimed belongings of folks who'd passed on, Condor had another impromptu laugh session. Even though Fisher tried to cover and continue the scene, no one could keep a straight face after Condor started to double over during all the talk about dead people. Looks like she'd be the last person you'd want to bring to an estate sale.
Tripping out on the tree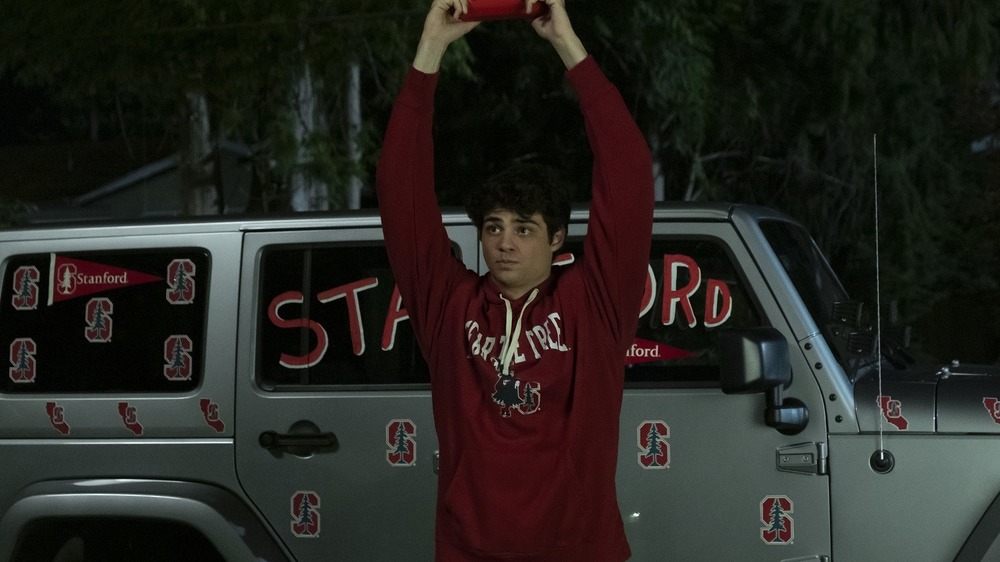 Katie Yu / Netflix
In To All The Boys: Always and Forever, Peter Kavinsky pulled off one of the series' swooniest grand gestures of all when he channeled the Say Anything boombox scene to show his devotion to Lara Jean. In the film, Centineo delivered the cinematic tribute with perfect imperfection as Peter was adorably energized by his chance to introduce Lara Jean to his brand of school spirit to celebrate Stanford. But what audiences didn't get to see was that Centineo wasn't quite as coordinated as his character during production on this part of the pic.
In a hilarious outtake from the film, Centineo can be seen dancing with abandon as he rounds the car, but then things go south when he takes a massive tumble to the ground. Considering Peter is an all-star lacrosse player who has just earned a scholarship to one of the nation's most prestigious schools, it would definitely be uncharacteristic for this moment of sheer clumsiness to make it into the movie — but that doesn't mean we don't enjoy watching Centineo's little stumble on a loop anyway.
Boy bye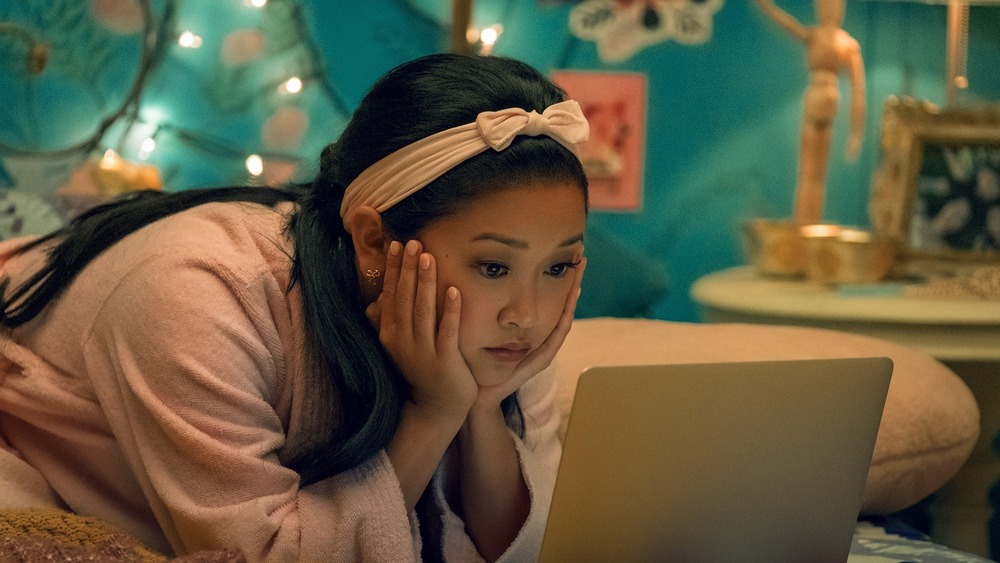 Katie Yu / Netflix
Perhaps the funniest blooper of the entire series involves a bit of cruel improv on Condor's part. By the end of Always and Forever, Lara Jean and Peter are completely committed to making their long-distance relationship last even as they head off to two different parts of the country for college. However, Condor may not have been quite as optimistic about the couple's future if this behind-the-scenes chuckle session is any indication.
In a hilarious outtake from the third and final To All the Boys movie, Lara Jean shows Peter a map on her computer and points out the vast space that will be between them. Then, Condor goes off script and deadpans, "I don't love you." Centineo's stunned reaction to her unexpected adlib is beyond priceless as he simply freezes and smiles, and the crew comes in to call it a wrap. Centineo might not have been expecting to spend one of his final days on set getting pranked by his co-star like this, but it sure did make for a funny special feature for the film.