The My Pillow Guy's Big Career Announcement May Surprise You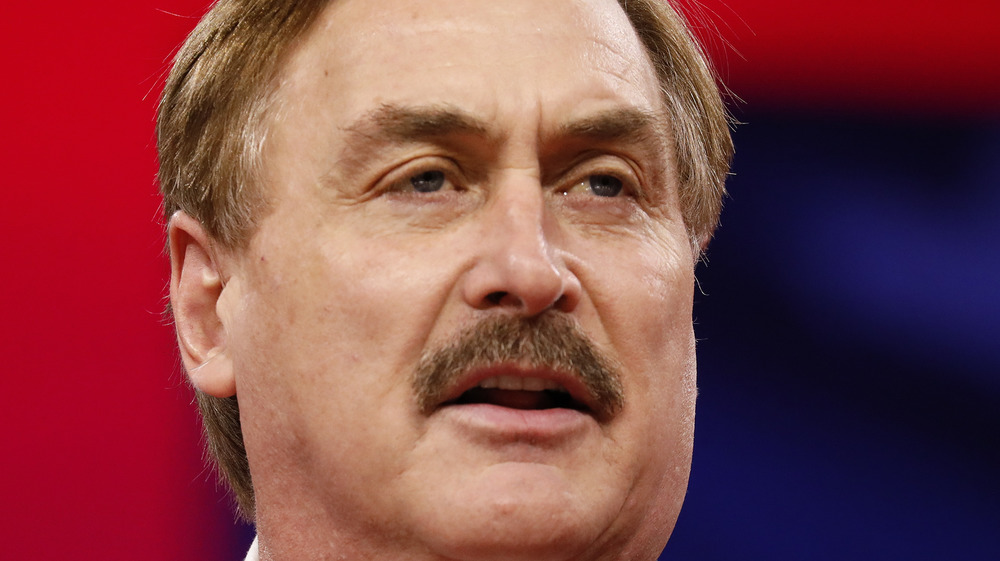 Bloomberg/Getty Images
My Pillow CEO, Mike Lindell, probably needs cash. Kohl's, Bed Bath & Beyond, and J.C. Penney aren't selling his products anymore, according to Market Watch. And if Dominion Voting Systems wins its defamation lawsuit against Lindell, he could potentially be on the line for more than 1.3 billion dollars (via The New York Times).
And while right-wing product promo codes, including "FightforTrump" have helped boost his company's sales, from 30 percent to 40 percent, Lindell's recently lost another advertising platform. Twitter banned both the company's and Lindell's personal accounts in early February 2021, after the outspoken Trump supporter continued to spread the disinformation which led to Dominion Voting System's defamation lawsuit. Up until his accounts were closed, Lindell used both his corporate and personal platform to insist that Donald Trump would have won the election had it not been for voter fraud. 
Lindell, however, remains dedicated to Trump, and has, per Raw Story, been visiting him at Mar-a-Lago. Perhaps it was from Trump's Florida resort that Lindell came up with his next business venture: a new social media platform.
Mike Lindell has plans to launch a new social media platform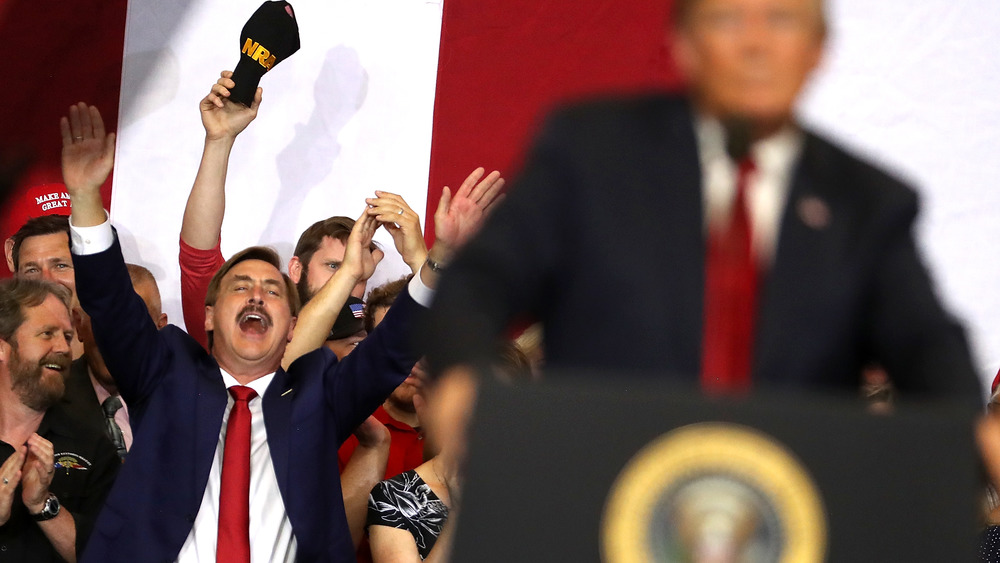 Justin Sullivan/Getty Images
Business Insider got the details from Charlie Kirk's podcast in early March. Mike Lindell described his new business venture, which is purportedly four years in the works, as "not just like a little Twitter platform." The platform will, apparently, encompass every aspect of the current popular platforms and will even take the place of YouTube for the conservative user. "It will be where everything can be told, because we've got to get our voices back," the My Pillow CEO told the podcast. Urging, "Every single influencer person on the planet can come there. You're going to have a platform to speak out."
Those interested in using Lindell's platform may be able to sign up in "four or five weeks," or, as early as "10 days," he doesn't seem to actually know when, and considering it's going to be a huge platform that will replace the likes of Facebook, Twitter, Instagram, Reddit, YouTube and TikTok, it's more likely years away from even a soft-launch. No word yet on whether Donald Trump will join the yet-to-be-named platform once it's up and running. So far, the former president has been using Gab to speak to his followers, which Sky News describes as a kind of right-wing Twitter.