Ivanka Trump Turns Heads At First Public Appearance Since Leaving Washington, DC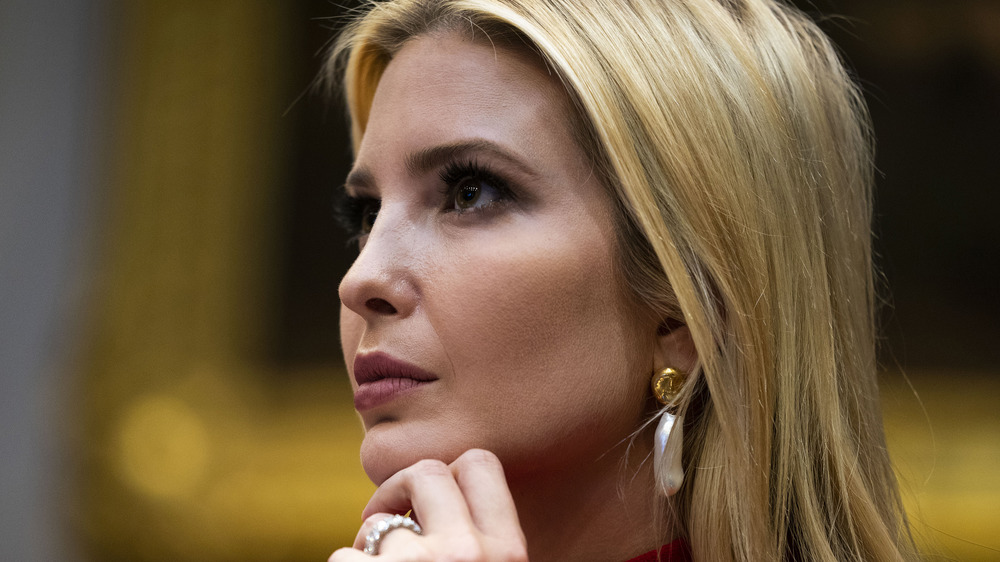 Pool/Getty Images
Former First Daughter Ivanka Trump has been keeping a low profile after leaving Washington, DC for Florida before President Joe Biden's inauguration, but she's back in the public eye doing volunteer work. Ivanka helped deliver food in Apopka, Florida – northwest of Orlando – to disadvantaged residents with the Farmers to Families Food Box Program (via People).
The program was started in April 2020 to help farmers not throw away food and get it to those who needed it during the pandemic (via The Washington Post). In an Instagram post by controversial evangelist Paula White, who served as Trump's spiritual advisor, she included a picture of Ivanka and herself, writing, "What an amazing day of hope, love, ministry and goodness! 1320 Family 2 Farmers Boxes were distributed to 4,220 family members!"
Kimberly Guilfoyle, the girlfriend of Donald Trump Jr., tweeted, "The farmers to families food box is an amazing program that must be continued! @IvankaTrump created this beautiful initiative to support farmers and families struggling because of COVID19." 
However, some commenters are calling out Ivanka's appearance as nothing but a photo op.
The internet has mixed reviews on Ivanka Trump's charity work
Given Ivanka Trump's controversial reputation, many people are not buying the seemingly good-hearted charity work.
One social media user tweeted, "Glad to know she surfaced from her $100 million house to distribute food boxes for like 10 minutes as part of a photo opp. Note: The food is not funded by Ivanka or the Trumps. It's funded by taxpayers through an FDA program." Another Twitter user wrote, "Great opportunity for a photo op for the grifter princess". One commenter saw it as an attempt to rebrand herself, tweeting, "She has a long way to go to rehabilitate her reputation. That's her sad reality."
Trump has been a public supporter of the Farmers to Families Food Box Program, and shortly before the inauguration of President Joe Biden, she posted pictures of herself helping with the program on Instagram writing, "Today, our Farmers to Families Food Box program will roll out Round 5 adding $1.5 Billion of new funding. Created to fed hungry Americans during the COVID-19 pandemic, F2F has fed over 3.3 Billion nutritious, locally-sourced meals from America's small farms to families in need. I am grateful to POTUS, the team at USDA and everyone involved in helping us stand up this impactful program!"