The Truth About Nina Dobrev And Shaun White's Relationship
Nina Dobrev's love life has always been interesting to her fans. So, when she began dating Shaun White, all eyes shifted to the surprising couple. At first glance, the pair may seem like an unlikely match. White, 34, is an Olympic snowboarder who has captivated large crowds with his moves such as the Double McTwist and the Halfpipe. Biography reports that he's a high-caliber athlete who took home gold medals in both the 2006 and 2010 Olympics. Nicknamed "The Flying Tomato," due to his long, red hair, he's also won 10 ESPY Awards for his sports performances (via Team USA).
Meanwhile, Dobrev has also gained a huge following of admirers due to her acting career. Insider reports that she first came on the scene when she landed the role of Mia Jones on the hit teen drama Degrassi: The Next Generation in 2001. However, she made a name for herself when starring opposite Ian Somerhalder and Paul Wesley in the CW's hit series, The Vampire Diaries. She's also gone on to appear in films such as The Perks Of Being A Wallflower, Let's Be Cops, and Flatliners. While Dobrev and White may not seem to have a lot in common, their relationship appears to work.
Nina Dobrev & Shaun White's relationship timeline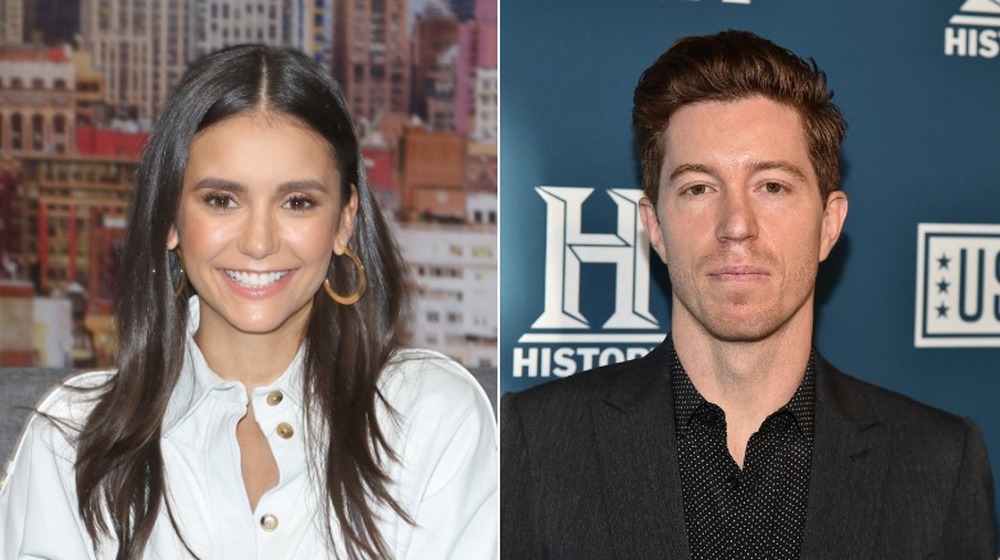 Jim Spellman, Theo Wargo/Getty Images
Nina Dobrev and Shaun White began dating in early 2020. The pair are still going strong one year later, and appear to be having a great time together. According to Women's Health, Dobrev and White didn't make their romance official until they shared a silly photo of themselves on Instagram in May 2020. In the snap, Dobrev teased that she was about to cut White's hair while quarantining together. Of course, he hilariously looked terrified by the idea. Months later, they proved that the relationship was standing the test of time when they were spotted showing some major PDA while vacationing in Tulum (Via Us Weekly). They also spent the holidays together and documented it on social media. Since then, they've become a bit more open to showing pieces of their private life with their followers.
The two also celebrated Nina's 32nd birthday with a fun '80s-inspired costume party and shared some hilarious photos of themselves dressed up for the bash. "Too bad we never have any fun together," White joked in the caption of the Instagram post. Although the two may have drawn confusion from fans at the beginning of their relationship, it appears that their romance is flowing smoothly and is based on their love for adventure and fun.