The Reason BTS Fans Are Furious With The Grammys
Cindy Ord/Getty Images
This year's Grammy for Best Pop Duo / Group Performance category would have been a tough one to vote on because it represented a formidable, Clash of the Titans-style encounter between Team Lady Gaga and Ariana Grande for "Rain on Me," and Korean pop mega-group BTS for "Dynamite." And while it might come as no surprise to a cluster of music fans that "Rain on Me" would take away the Grammy in the end, it still represented a shattering disappointment for the BTS army. 
The announcement of the loss went out over Twitter through the BTS Charts account: "Unfortunately the #GRAMMYs "Best Pop Duo / Group Performance" didn't go to 'Dynamite'. BTS is still up for a performance in the main show and remains the first Korean group to be nominated!"
The BTS Army got to work, and the hashtag #scammys began to trend on social media, likely because, as The Los Angeles Times points out, fans felt the pop group had already been robbed of a chance for a Grammy. BTS hadn't been nominated for any other categories, and a Grammy win would have been a first for the K-pop group. 
BTS fans are up in arms against the Grammys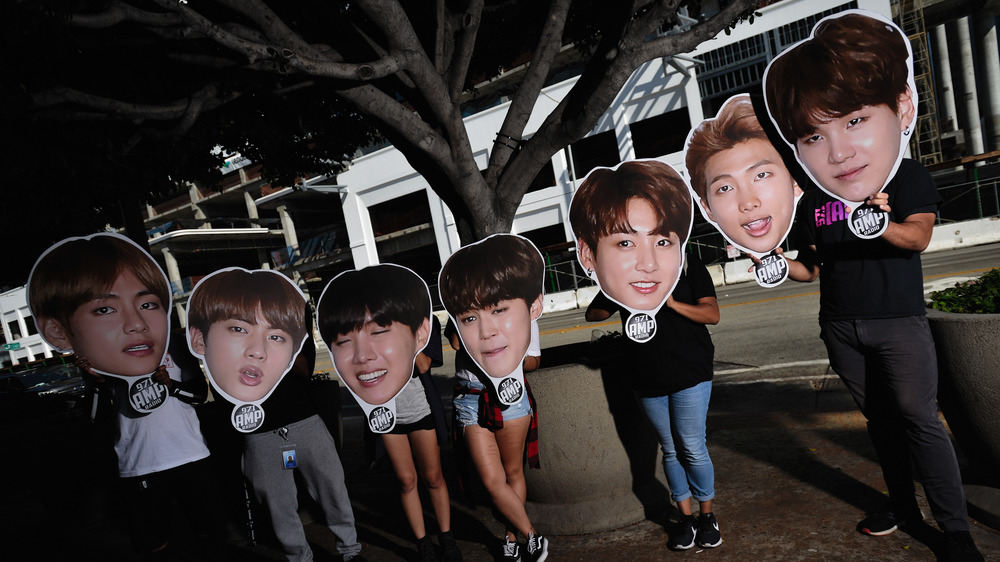 Chelsea Guglielmino/Getty Images
But the formidable group of BTS fans known as the "Army" weren't buying it. "ofc they didn't win bc they don't even try to hide their blatant xenophobia," one social media user tweeted. A second Twitter user accused the Grammys of nominating BTS, then having them perform during the show as a way of boosting ratings: "They probably nominated them because they knew we were gonna watch it. Then they snatched that award away from them. I don't even know why it's considered the biggest honor in music. It's. Rigged. Asf." "This breaks my heart. This was not the tweet I expected," a third fan tweeted. 
Even with the loss, the BTS nomination for "Dynamite" was groundbreaking for so many reasons. It was BTS' first single which was entirely in English, and the nomination was its first Grammy nod for the superstar group, and a first ever for a K-pop group. And BTS singer RM knows to give credit where credit is due. "There are so many blessings we could've gotten for these eight years, but I guess for the whole journey the best luck we ever had is that we all have you guys all over the world," RM tells USA Today. "So please don't forget that, whether we get the Grammys or not, we already got what we wanted, and we got you [the BTS Army], so that means we got everything."