Doja Cat's Daring Grammy Awards Look Had This Hidden Detail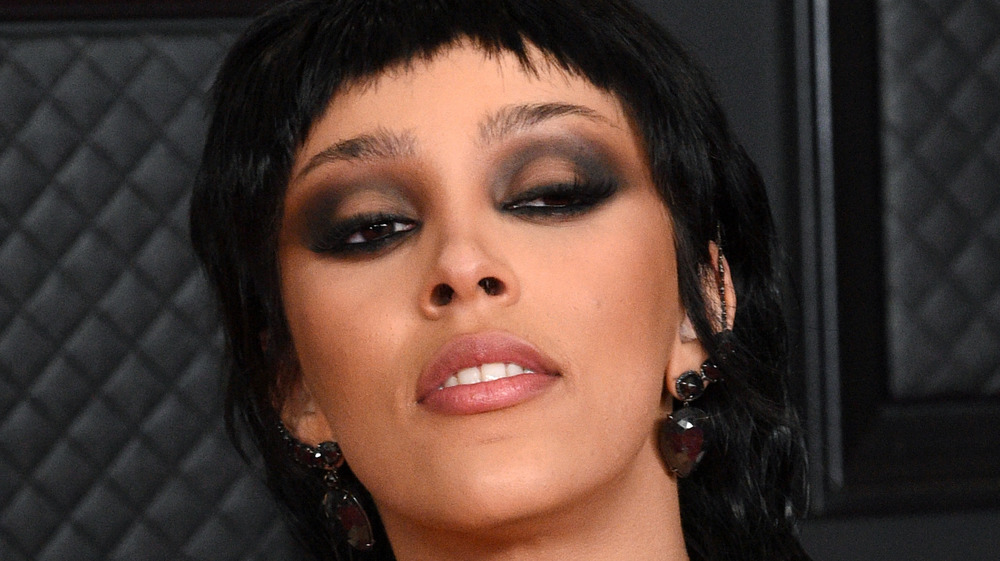 Kevin Mazur/Getty Images
Amala Zandile Dlamini, otherwise known as Doja Cat (via Oprah Magazine) burst onto the red carpet for the Grammy's with a look that is both bold and demure, outlandish, and a perfect fit for the setting. No longer the sweet Amala of her 2018 album of the same title, this 2021 Doja Cat seemed to scream "post-pandemic" and "take no prisoners." Speaking about the inspiration for her outfit with Giuliana Rancic, she explained, "It's like a motorcycle jacket that's fitted. I like something that's out there. I have been very toned down lately. This is like something I have always wanted to do" (via E! Online).
Strutting with utter confidence, the "Say So" wore a Roberto Cavalli masterpiece – a sleek fitted long-sleeved bodice with black edging and striped details that plunge into a still modest yet tantalizingly open V-neckline that descends down to the waist. She donned a mask that matched the top of the ensemble perfectly (via Twitter), making us forget there may be a health reason for the covering and instead think only of fashion.
Doja Cat looks feral and fierce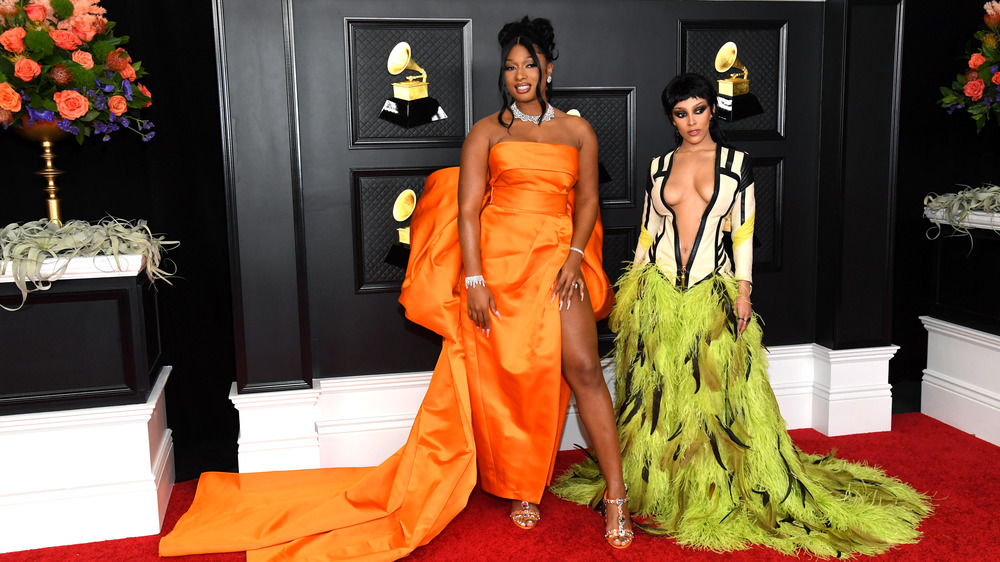 Kevin Mazur/Getty Images
A divided yellow and black feathered dress made us think of Green Lantern's black canary rather than a caged songbird and the yellow is tied to the top by bands at the elbows of the bodice.  Rather than a feathered friend, Doja Cat saw a kindred feline spirit when she first looked at this dress. As she described (via E! Online), "I saw this, there's this little detail on the jacket that's a cat claw. I feel like that is fully encompassing that is creating—this is what I want to be. The cat lady, let me be that."
Jumping from a relatively unknown teenage artist to a now 20-something absolute sensation on TikTok, we expect more headlines from this singer/rapper/artist soon. This crazy beautiful cat lady is nominated for 3 Grammy's including Best New Artist, Best Pop Vocal Performance, and Record of the Year (via Showbiz Cheat Sheet).