Why Billie Eilish's Grammy Awards Look Is Turning Heads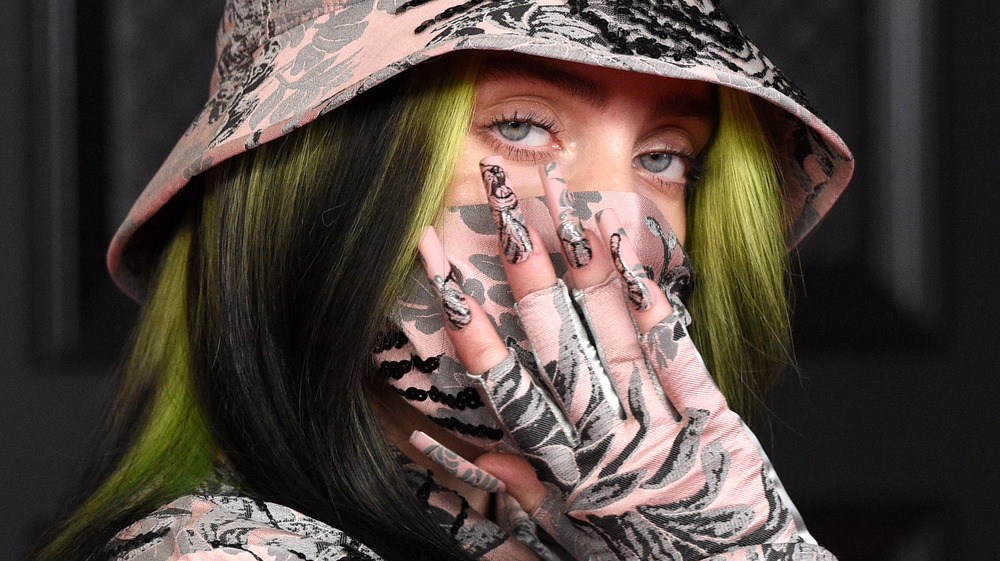 Kevin Mazur/Getty Images
If you're watching the Grammys tonight, you'll probably be adjusting to the partially recorded, partially live format (via The New York Times). For fashion watchers, this simply gives us more opportunity to ogle the innovative and entertaining outfits of our favorite celebs, and Billie Eilish's red carpet live look is turning heads. The verdict on this new look is admittedly mixed with fans sharing in the same thread: "SHE LOOK SO GOOD" or "What is this" and less positively, "This looks like my grandmother's old bed comforter [crying emoji face]" (via Twitter).
So what look is this again? In true Billie Eilish style, she's wearing a loose and baggy Gucci ensemble with her signature green and black locks. Next comes a feminine-cut pants suit that would make Emily Gilmore proud in a heavier pale pink fabric that at first resembles some of your satin-esque favorite upholstery until you see it move freely. The pink satin appears to be patterned with black flowers. The pants suit is loose on the bust and mid-section but tapers to a secure fit at the high-neck and long sleeves with built-in gloves (via Nylon). 
But that's not the standout feature.
A matching feminine suit with a roar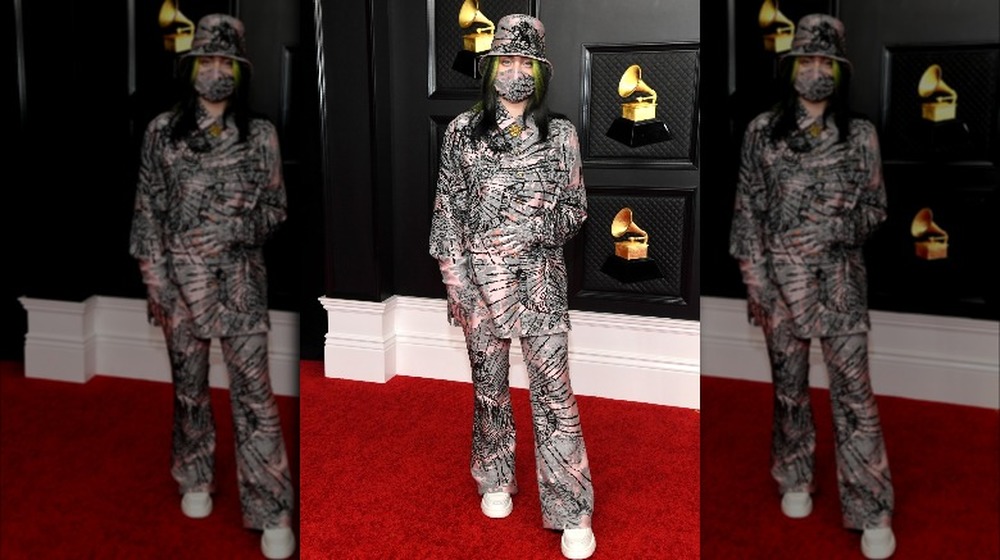 Kevin Mazur/Getty Images
The satin pink fabric is overlaid across the entire outfit with a semi-transparent voile-like white, adorned with black and sparkly fierce fighting tigers. Okay, so maybe Emily Gilmore would be pouring another cocktail about now, but I think we can all approve of the truly Billie accessories that make this whole outfit stand out. In addition to the pink-black pants suit, she has added a matching bucket-style hat that would make Queen Elizabeth proud, a matching custom mask, and added a custom manicure to complement the entire outfit. It's clear that one theme of this award shows is that masks are fashion, too.
This queen of comfort formal wear isn't done yet, however, as she again ditched the heels for some comfy sneakers, as you can see the shiny white street shoes peeking out from her pants legs. Billie Eilish has been nominated for the 2021 Grammys for Record of the Year, Song of the Year, Pop Solo Performance, and Song Written for Visual Media (via the Recording Academy).