Expert Explains Why Rising Country Star Ingrid Andress' Grammy Outfit Is Turning Heads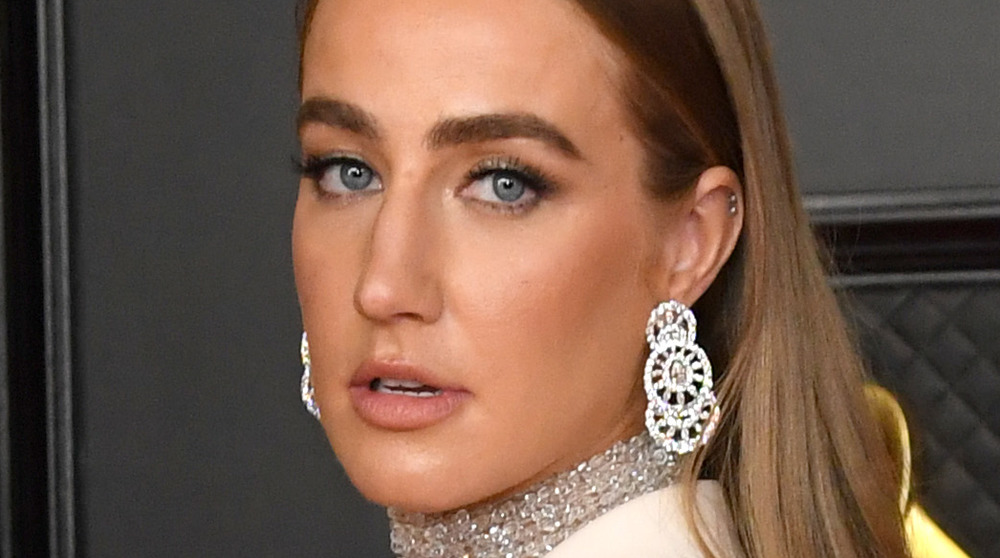 Kevin Mazur/Getty Images
The Grammys might look a little different this year, but music's biggest stars are still taking the opportunity to bring their best fashion moments. Emerging country artist Ingrid Andress is turning heads with her look — a stunning cream-colored Giorgio Armani Privé suit with a revealing crystal shell underneath. Though Andress is up for three Grammy awards tonight (Best New Artist, Best Country Song for "More Hearts Than Mine," and Best Country Album for her debut album Lady Like), she may as well be handed a trophy for "most jaw-dropping ensemble."
Elle.com reports that Andress worked with her stylist, Sonia Young, to create her Grammys look. "As someone who doesn't own a dress, it's been creatively exciting to work with the amazing Armani team and my stylist, Sonia, to create something uniquely me—feminine while also being true to my personality," Andress told the outlet. 
Fashion expert and TV personality Cindy Conroy spoke exclusively to The List to break down Ingrid Andress' Grammy look, which she calls "to die for." It embodies "femininity while effortlessly balancing masculine tones in a monochromatic suited look," Conroy said. "No wonder Andress opted for this masterclass on suiting: reimagined blazers were all over the SS21 runways." 
Why Ingrid Andress' Grammy look is unforgettable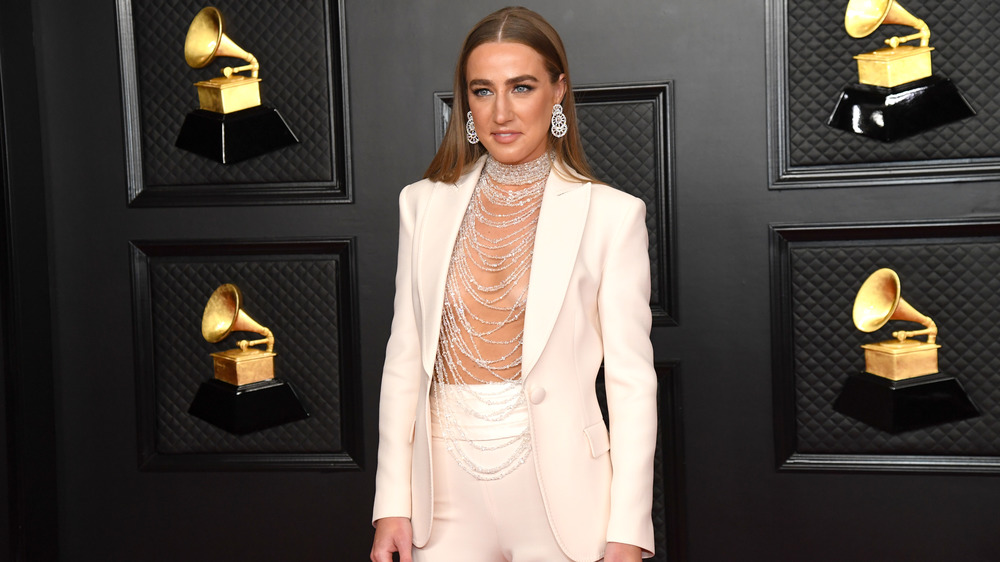 Kevin Mazur/Getty Images
Perhaps the most memorable element of Ingrid Andress' 2021 Grammys look was her long crystal necklace that she wore in place of a shirt. "I just love that she skipped a blouse and sported a dreamy crystal choker that cascaded into a barely-there shell," Conroy told The List. "Hitting just above crisp high waisted white trousers, this is an outfit that will forever be seared in our brains."
The combination of a tailored two-piece and sexy crystal bodysuit creates a gorgeous look that strikes the perfect balance between masculine and feminine. Andress' stylist Sonia Young told Elle.com that working with Armani on this ensemble was "a dream come true". "We wanted to put a spin on the classic suit, which Giorgio Armani does in a very sexy, powerful, and classic way," she said. Young also stated that the look is "is even more gorgeous in person" — surely, those crystals shine brighter in real life, as Ingrid Andress stunned on the red carpet.