Why Megan Thee Stallion's Grammys Win Is So Significant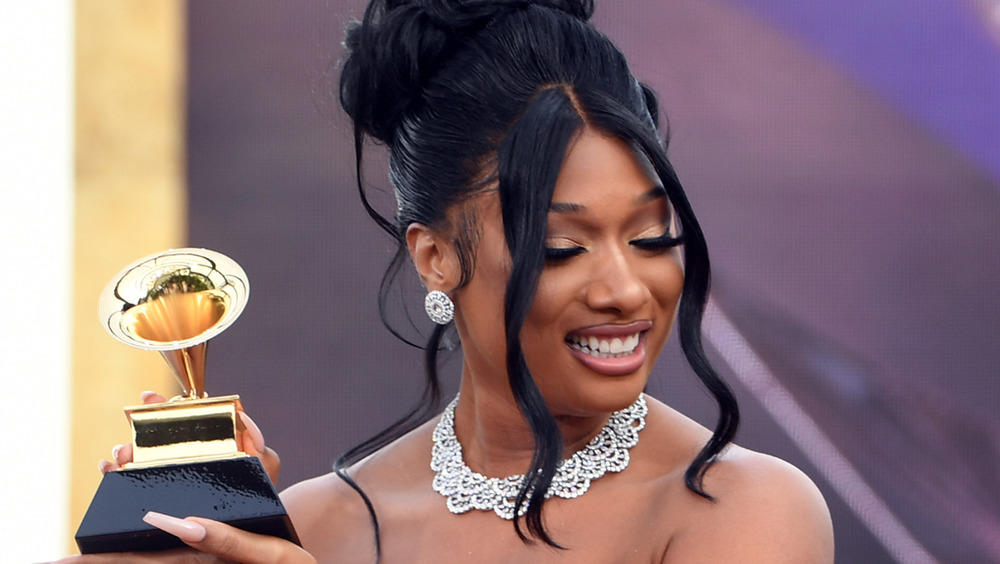 Kevin Winter/Getty Images
Megan Thee Stallion has cemented herself as a musical phenomenon with this year's Grammys. Alongside the descriptors savage, classy, bougie, ratchet, sassy, moody, nasty, Megan can add Grammy Award winner. At the 63rd annual Grammy Awards, she took home the trophy for Best New Artist. And that is a big deal: it's been over two decades, 22 years to be precise, since a female hip hop artist won the award; Lauryn Hill won it in 1999 (via LA Times). Megan posted about the landmark win on her Twitter page with a post about the two female rappers and just said "HERstory."
When Lizzo announced her as the winner, she seemed stunned as she took off the orange face mask that matched her dress to accept the award outside of the Staples Center (via Twitter). She first recognized the other artists in the category with her: "I don't want to cry. But first of all, I want to say everybody is amazing. Every artist that was nominated for this award is so amazing. So shout-out to all y'all." Other artists up for the award were Ingrid Andress, Phoebe Bridgers, Noah Cyrus, Doja Cat, Kaytranada, Chika, and D Smoke (via Grammys).
Megan Thee Stallion ended her acceptance speech with a sweet shout out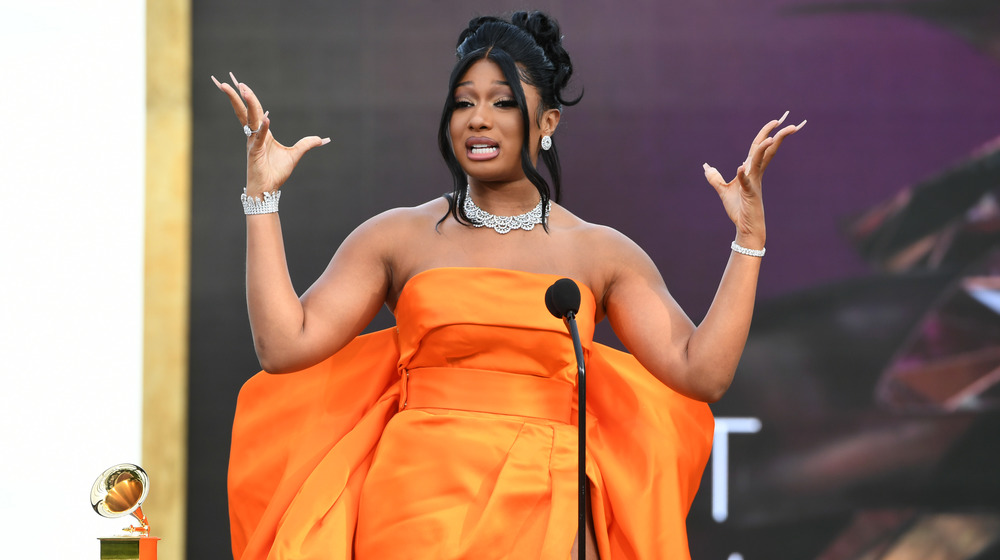 Kevin Winter/Getty Images
She finished up her speech with a sweet dedication to her mother who passed away in March 2019 (via Oprah Magazine). "And I really want to say thank you to my mama, she's not here with me today but I know she is here with me in spirit and she always believed I could do it, so thank you all so much."
The Houston artist has been around for years, but it was her hit "Big Ole Freak" in 2019 that first got her onto the Billboard charts (via USA Today). From there, her star has just kept rising, and along with Best New Artist, she also won best rap performance with Beyonce for "Savage" (via Pitchfork) and has been nominated for best rap song and record of the year (via the Grammys website).
While she won Best New Artist just this year, she's been working on lyrics and her music nearly her entire life. "I've been writing since I was maybe seven," she told Rolling Stone, "I was kind of shy about telling people that I could rap for the longest."