Beyoncé's Grammy Outfit Has A Deeper Meaning Than You Thought. Expert Explains.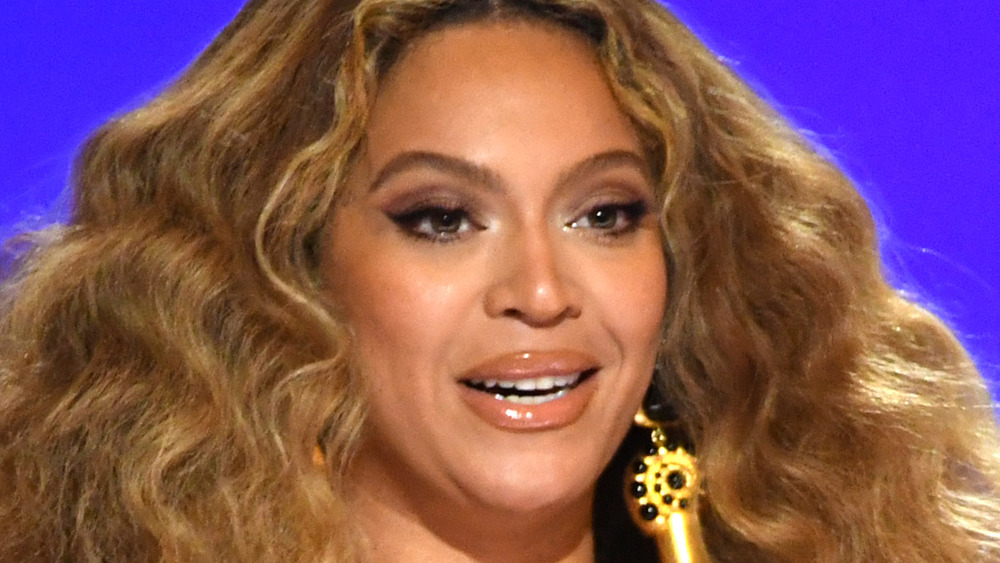 Kevin Winter/Getty Images
Beyoncé was already queen of the 2021 Grammy Awards before the show even began, with more nominations than any other artist. Although she didn't win all nine categories, the superstar singer still emerged as a record-breaker. As CNN reports, Beyoncé now has the most Grammys of any woman and any singer, male or female. The Houston native has earned a whopping 28 gongs total over the years, which ties her with the legendary Quincy Jones as the living person with the most Grammy Awards. Beyoncé broke the record previously held by country star Alison Krauss, who has 27. 
Alongside duet buddy and fellow Texan Megan Thee Stallion, Queen Bey also made history as they were the first female duo ever to walk away with the award for best rap performance, for their chart-topping remix of Meg's "Savage." The talented pair also won best rap song. It was Beyoncé's victory for best R&B performance, for "Black Parade," that made her a record-breaker though. "I've been working my whole life, since 9 years old, and I can't believe this happened," she gushed in her acceptance speech. She dressed accordingly too. Cindy Conroy, fashion expert and TV personality, spoke to The List about Queen Bey's statement-making outfit.
Beyoncé made a feminist statement with her ensemble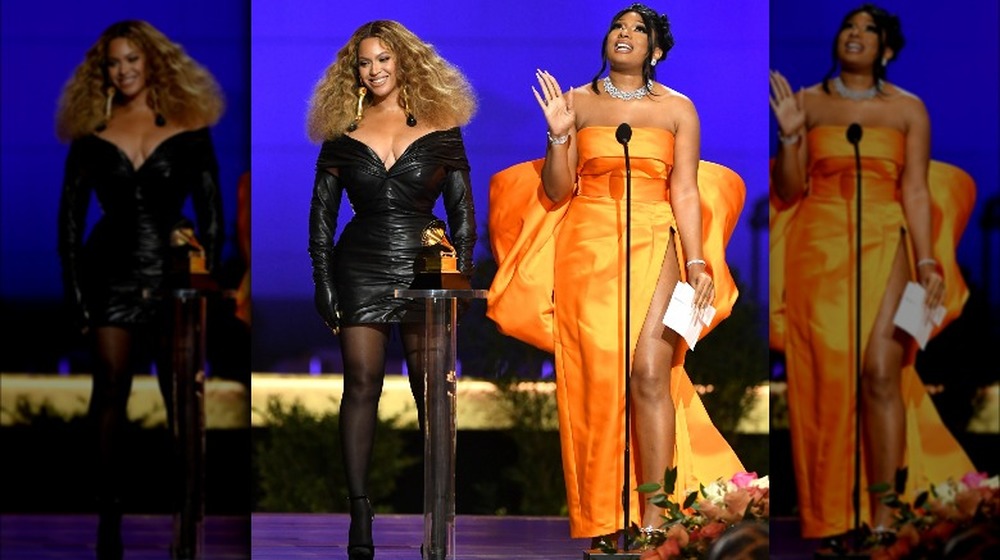 Kevin Winter/Getty Images
As Conroy notes, Beyoncé chose a sleek, all-black outfit for the night — an ensemble which made her look "like a sculpted leather vixen" — and accessorized with "ornate gold and black drop earrings and sky high leather gloves." Aside from the fact that Beyoncé — and, indeed, everyone who dressed up for the biggest night in music — presented a welcome fashion respite for those of us who are currently living in our sweats, her sartorial choice also contained a deeper meaning. Conroy explained, "Beyoncé opted to wear a microscopic mini black leather dress alongside Megan Thee Stallion ... it was pure understated elegance beside Stallion's dramatic orange bow dress. Likely a cue that Beyoncé is passing the baton to the rapper." 
Although Queen Bey obviously isn't planning to retire any time soon (we hope), the outfit was "a clear indication of sisterhood" with her duet partner. In fact, later on in the night, the legendary singer made a point of telling everyone watching, "I wanted to uplift, encourage, and celebrate all of the beautiful black queens and kings that continue to inspire me and inspire the whole world." She certainly did that and then some, with Beyoncé's history-making wins and noteworthy fashion choice both speaking volumes.