Why Experts Are Suspicious About The Cause Of Tiger Wood's Car Crash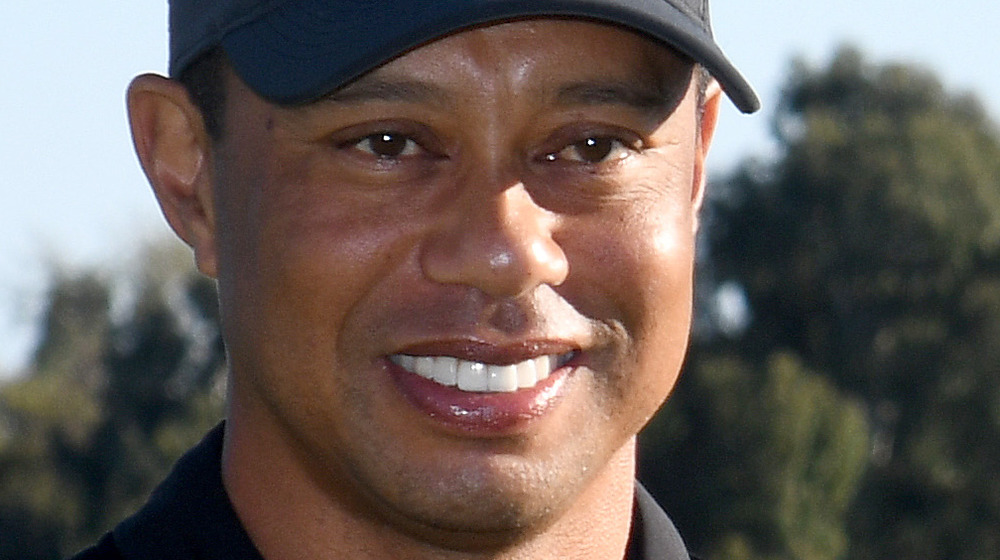 Harry How/Getty Images
Golf legend Tiger Woods is still recovering from multiple leg injuries related to a single car crash on February 23rd, near Los Angeles, California. Shortly after the crash, Woods' social media accounts let fans know that he had "undergone a long surgical procedure on his lower right leg and ankle" and that "Comminuted open fractures affecting both the upper and lower portions of the tibia and fibula bones were stabilized by inserting a rod into the tibia" (per Golf Channel).
While no formal charges have been made against Woods for driving under the influence, there has been some speculation that the crash may have been a result of a phenomena known as "sleep driving," a known side effect of Ambien. As Rami Hashish of the National Biomechanics Institute told USA Today regarding the crash, "Peer-reviewed scientific research has shown that Ambien usage among drivers has been associated with reports of amnesia, despite remaining interactive with the environment ... the current available evidence may be consistent with 'sleep-driving.'"
A toxicology report after another 2017 crash where he was found asleep at the wheel with two flat tires and a blinker still on showed evidence of multiple prescription medications used to treat pain and insomnia, including Ambien. Woods plead guilty to reckless driving after the incident. But as Sheriff's Deputy John Schloegl reminded reporters on March 2nd, "We can't just assume that somebody's history makes them guilty" (per USA Today).
Impairment may have been a factor in Tiger Woods' crash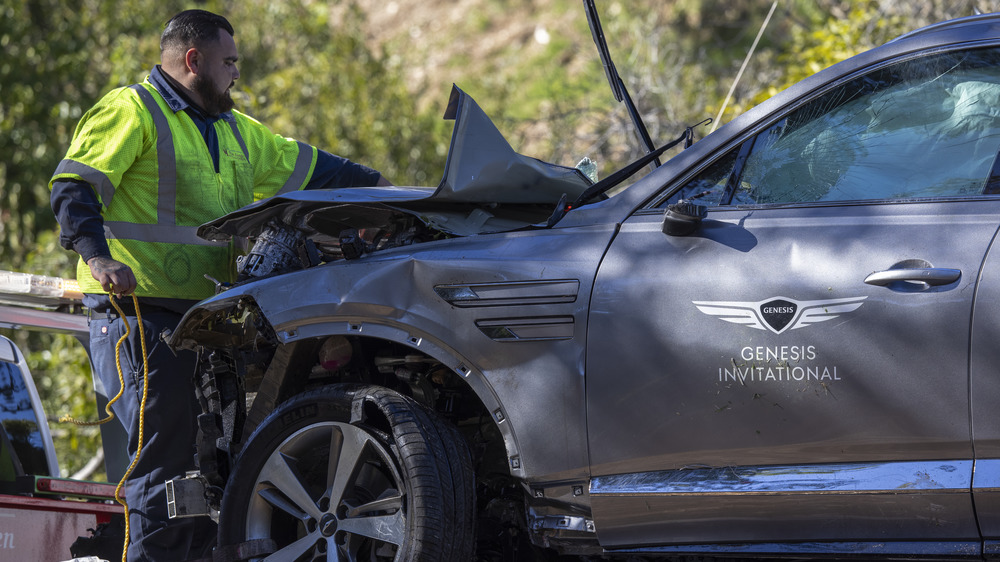 David Mcnew/Getty Images
Forensics experts have also begun to weigh in on the available evidence, expressing concern, and a bit of confusion regarding why Woods wasn't investigated for impairment at the time of the crash. Charles Schack, former New Hampshire state trooper and president of Crash Experts told The New York Post, "I would have thought that you would have him evaluated by a DRE to see whether or not there are some physical clues beyond the operation that would point to impairment."
As reported by USA Today, L.A. County Sheriff Alex Villanueva released a statement the day after the crash saying that it was purely an accident and that his deputies "did not see any evidence of impairment."
However, multiple forensics experts have questioned that assessment since, saying that the lack of evidence of braking, the fact that the vehicle went straight into the median rather than curving with the road, and perhaps most tellingly, that Woods said he had no recollection of the crash including of driving at all, should have lead officers to probe further into contributing factors.
Former Detective Jonathan Cherney summed up his concern to the saying, "Impaired people have a tendency of crashing, so if you have a situation like this one, where you have a single-vehicle crash, with out-of-the-ordinary-type circumstances, that should trigger the first responder to inquire further and to explore impairment as a possible cause of the collision."