Michelle Obama Has Some Thoughts On Meghan Markle's Tell-All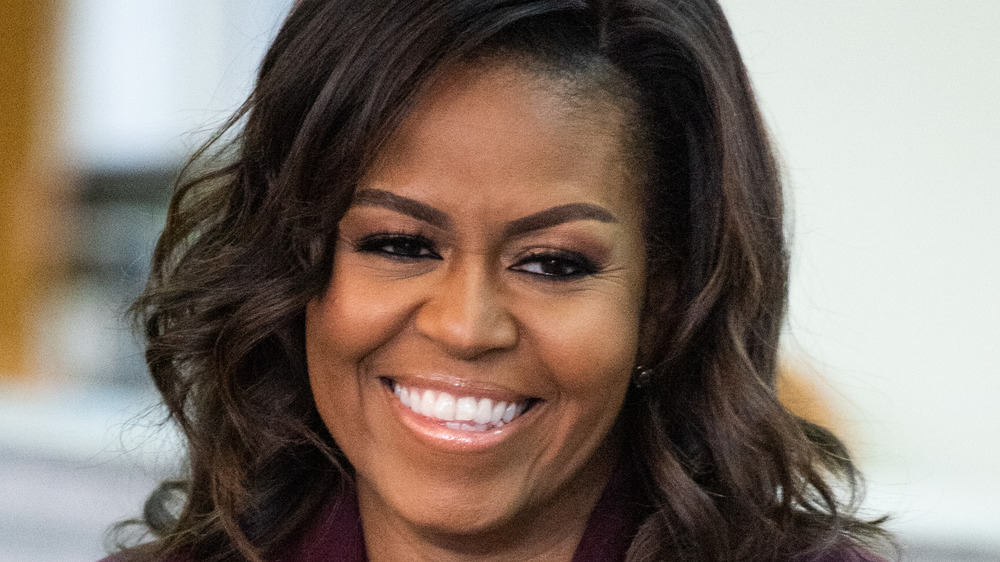 Jim Bennett/Getty Images
Like the rest of us, Michelle Obama watched Prince Harry and Meghan Markle's tell-all interview with Oprah Winfrey earlier this month. The couple opened up about "concerns and conversations" in the royal family about their son Archie's skin tone, negatively biased media coverage of Meghan compared to her sister-in-law Kate Middleton, and Meghan's mental health struggles that led to suicidal thoughts.
Unsurprisingly, family relationships became strained during and after Harry and Meghan's departure from the royal family. Harry said that his father, Prince Charles, stopped taking his calls for a period of time, and that he's hoping "time heals all things" when it comes to his relationship with older brother Prince William.
Michelle Obama shared her thoughts on the interview during an appearance on Access Hollywood. "My hope is that, when I think about what they're going through, I think about the importance of family and I just pray that there is forgiveness and there is clarity and love and resolve at some point in time," said the former first lady, as reported by People. "Because there's nothing more important than family."
Michelle Obama knows the couple personally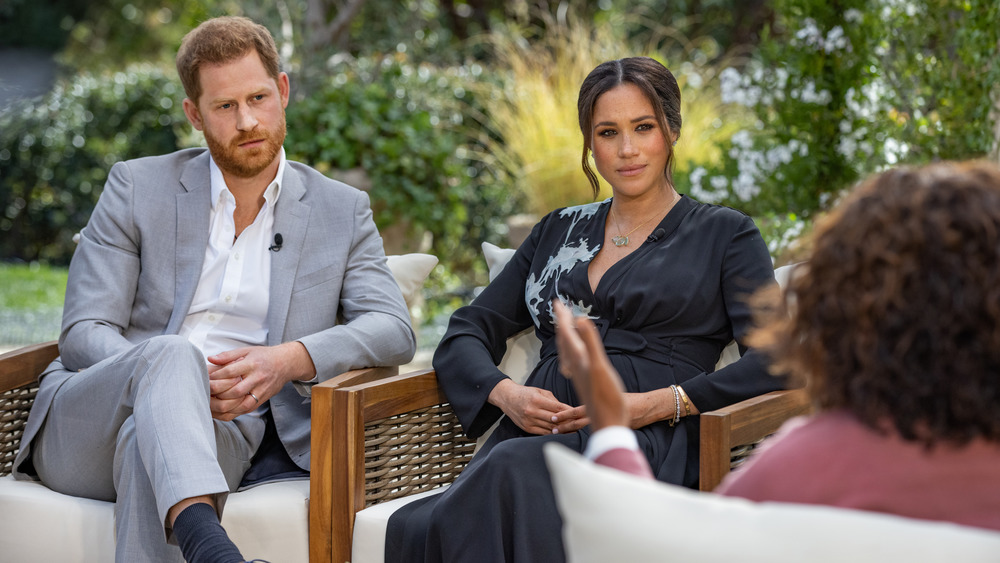 Handout/Getty Images
Although it's unclear if she's spoken to Meghan Markle directly since the interview, Michelle Obama is acquainted with the couple and has shared her wisdom and advice with Meghan in the past.
In 2019, royal expert Angela Levin said that the former first lady spoke with Meghan about the amount of public scrutiny she would face upon becoming the Duchess of Sussex. "Michelle Obama told the press she had a long talk with Meghan — they'd become friends — and she said to her, 'for goodness' sake, don't do anything in the first year. Listen, take advice, take it easy," Levin told Sky News, adding that she believed it was "a mistake" that Meghan didn't follow Obama's advice (via Express).
When Meghan guest edited British Vogue's September 2019 issue, she interviewed Michelle Obama, with most of her questions focusing on parenthood. "Being a mother has been a masterclass in letting go. Try as we might, there's only so much we can control. And, boy, have I tried – especially at first. As mothers, we just don't want anything or anyone to hurt our babies," she told Meghan (via Vogue UK). "But life has other plans ... What's both humbled and heartened me is seeing the resiliency of my daughters."
Michelle Obama isn't the only political figure to weigh in on Meghan's interview. "For anyone to come forward and speak about their own struggles with mental health and tell their own personal story, that takes courage," said White House press secretary Jen Psaki (via People).
If you or someone you know is struggling with mental health, please contact the Crisis Text Line by texting HOME to 741741, call the National Alliance on Mental Illness Helpline at 1-800-950-NAMI (6264), or visit the National Institute of Mental Health website.
If you or anyone you know is having suicidal thoughts, please call the National Suicide Prevention Lifeline​ at​ 1-800-273-TALK (8255)​.