Billie Eilish Just Confirmed The Major Fan Rumor About Her Green Hair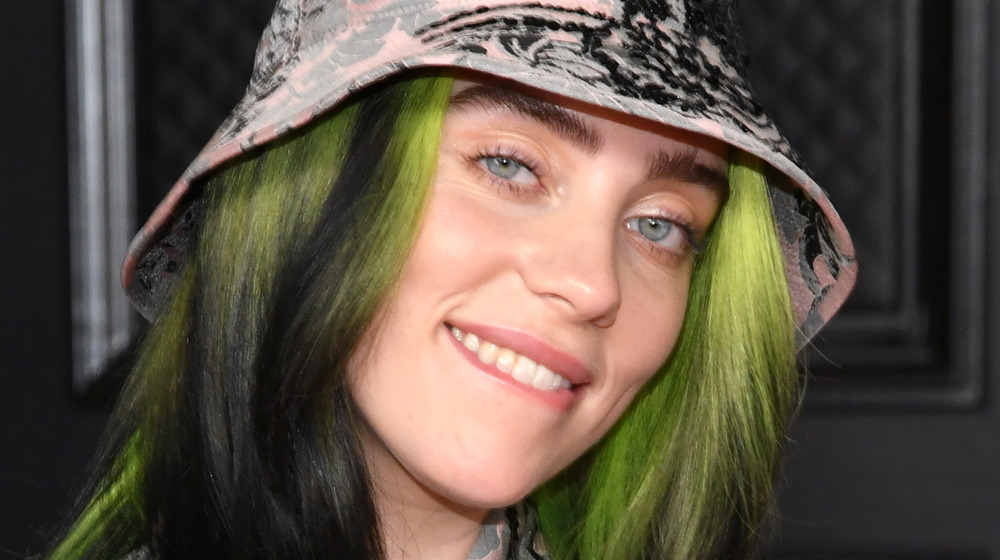 Kevin Mazur/Getty Images
Billie Eilish isn't your typical pop star. For one thing, she foregoes form-fitting couture for baggy sweats. For another, the singer-songwriter has been rocking highlighter-tinted locks ever since she burst onto the scene, typically experimenting with baby blues and highlighter greens (via Page Six). If Eilish has a signature, apart from her moody vocals, it's her hair. Quarantine has seen many famous ladies experiment with fun colors, but the "Bad Guy" hit-maker will always be the originator. 
However, lately fans have been wondering whether the hair is 100 percent Eilish's own. During her Grammy Awards appearance, in particular, when Eilish posed on the red carpet in a bucket hat and then performed later wearing a bejeweled head-piece, suspicions reached an all-time high as it appeared the diminutive pop star was drawing attention to something purely by trying to hide it. Now, we know the truth about exactly what's been going on atop Eilish's head. 
Billie Eilish was rocking a very realistic wig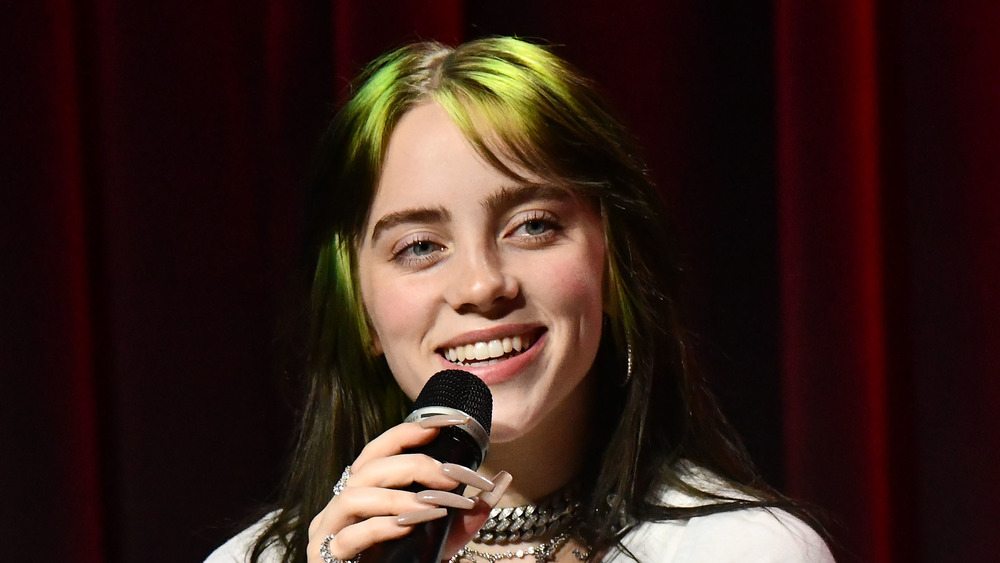 Scott Dudelson/Getty Images
Eilish posted a cheeky clip to TikTok, confirming fans' suspicions once and for all by casually lifting an incredibly real-looking black and green wig off her head and then giggling. "This was in my drafts LOL my hair been blonde for like two months," she quipped in the comments. Her hairstylist, Lissa Renn, posted a since-deleted time-lapse video to Instagram that was picked up by fans, that shows Eilish sitting for hours as her hair is painstakingly bleached. The pop star later posted a shot of her rocking the new blonde 'do on Instagram, captioning it simply "pinch me." 
According to Vanity Fair, Renn advised it took six weeks "to get all the black out of her ends without damaging it, along with her following my strict hair care regime." Unsurprisingly, Eilish loved her locks at every stage but the blonde is a capital-L look. As Allure reported back in December, the "Therefore I Am" hit-maker teased a big hair change in 2021 after fans kept bugging her to do something different with it. She rocked the green-and-black look since July 2019. Renn tantalizingly described Eilish's blonde 'do as the beginning of "a new era" for the enigmatic pop star.