The Hilarious Reason Megan Thee Stallion Will Not Get A Tattoo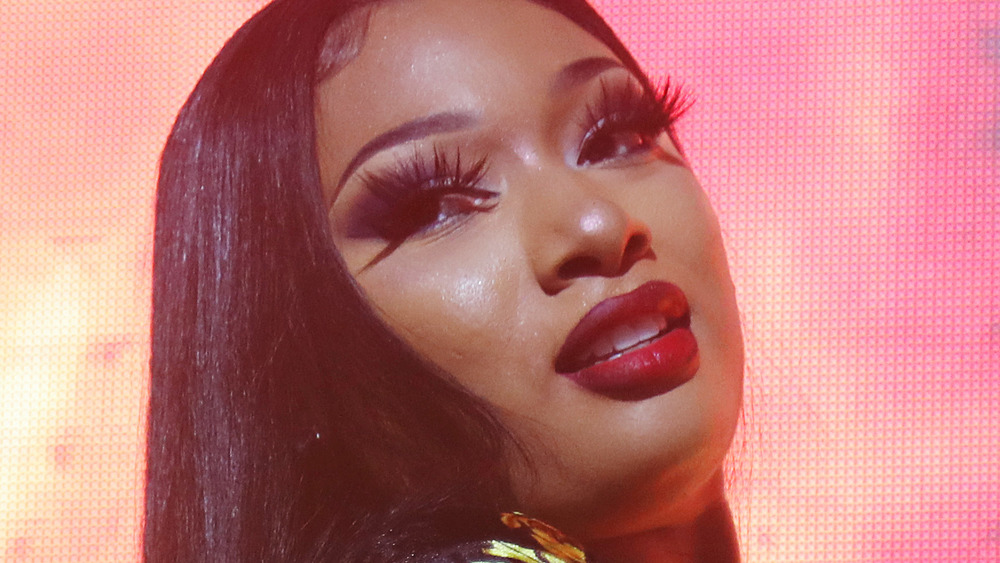 Cassidy Sparrow/Getty Images
Megan Thee Stallion is known for her body-ody-ody, with hit song "Body" celebrating her impressive curves in all their glory. During an appearance on The Late Show with Stephen Colbert (via YouTube), the chart-topping rapper revealed she was inspired to write the song after gaining weight thanks to lockdown overindulgence. "In the beginning of quarantine, I feel like, I definitely gained the quarantine 15," she admitted. Meg went on to acknowledge she wasn't quite sure how it had happened, quipping, "what are you even eating, why are you baking so much, how many honeybuns can we eat?" 
However, after some self-reflection, the proud Texan noted, "I was looking at myself in the mirror, and I'm like, 'You know what? You look good, though. We should dance about it.'" That's exactly what she did, with the irresistible hook for "Body" coming from her dancing in the mirror and appreciating how good she looked. "It's about people just celebrating their bodies," the rapper explained. When it comes to accentuating her moneymaker, however, the "Savage" hit-maker won't be adding any ink any time soon. The reason why may surprise you, but it fits with her inimitable persona.
Megan Thee Stallion is afraid of disappointing her mother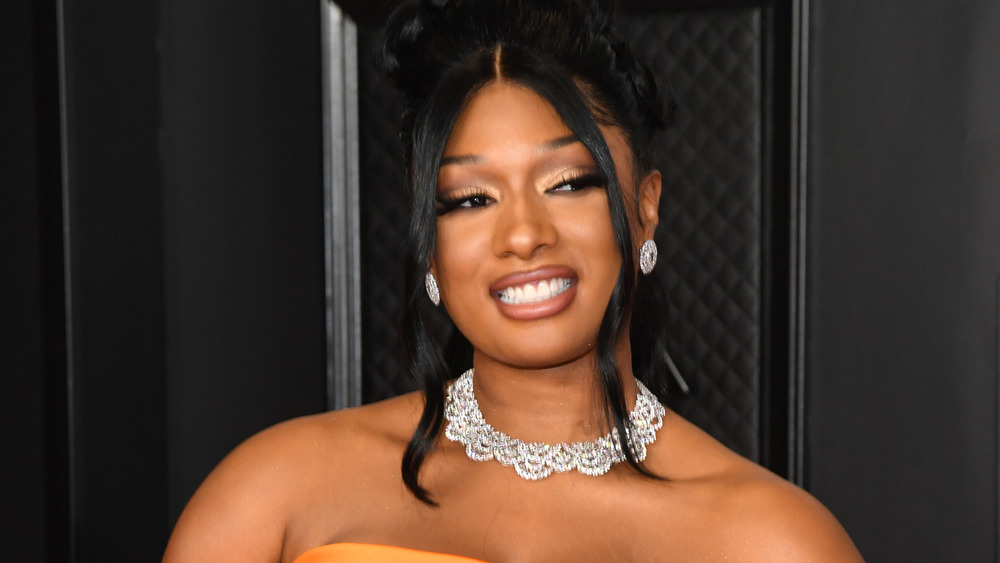 Kevin Mazur/Getty Images
Although plenty of music's biggest stars, and hip hop artists in particular, are covered in tattoos, the Houston native won't be joining their ranks. While answering fan questions with GQ (via YouTube), she opined that the desire to get inked was drummed out of her when she was younger. Megan Thee Stallion explained her mom was the inspiration behind it. "I've always been scared to get a tattoo because my mom was always like, 'Don't you get a f*****g tattoo. I'ma whoop your a**.'" As a result, "it's always been in the back of my head tattoos equal whooping." Longtime fans will know Meg's beloved mother, a former rapper herself, passed away in March 2019 after a battle with brain cancer. 
In a since-deleted Instagram video posted in December of that year, Megan Thee Stallion admitted it was tough to enjoy her career trajectory without the most important woman in her life next to her. "I've been trying to do good, been trying to keep a smile on my face, stay strong, to stay happy for me ... it's pretty hard," she revealed in the emotional clip (via Vibe). Meg returned to college the following year to get her degree in health administration, predominantly to make her mother proud, telling People, "I'm doing it for me, but I'm also doing it for the women in my family who made me who I am today."